Shopping in Hanoi
Most tourists come to
Hanoi
as a pit stop for their Vietnam expedition. However, the city is home to some of the most stunning pagodas and some very interesting shopping venues in the country. While talking about shopping in Hanoi, you will be spoilt for choices.
Starting from Bat Trang Ceramic Village to modern Metiseko, the city is full of options for shopaholics who believe in 'shop till you drop' philosophy. Also, while exploring the city shopping districts, Silver Street and Hang Gai (Silk Street) is a must visit. You will be surprised to note the old shops, which are still operational for the past 100 years. You can buy anything and everything under the sun from these shops including hand-made silk evening gown, Vietnamese farming hats, old-style lacquerware, wall hangings and other traditional objects.

Here are some of the popular shopping districts of Hanoi:

1. Weekend Night Market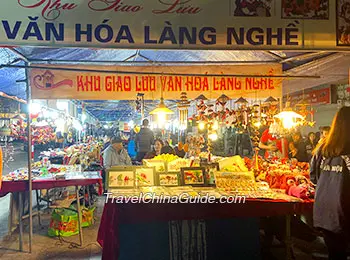 Weekend Night Market in Hanoi

Address: Hang Dao Street to Dong Xuan Market in the Old Quarter

Opening Hours: 07:00 PM to 11:00 PM (Fri – Sun)

Best time to visit: During early hours when the market opens
Held during the weekends, the Hanoi Night Market is buzzing with life during peak business hours. You can buy cheap clothing, accessories, and a wide range of street foods. You are open to haggle while shopping, and get a sweeter deal.

While the market is running, the entire Hang Dao Street and the adjoining Dong Xuan Market is kept closed for traffic.

P.S: Beware of pickpockets

2. Hang Gai Street (Silk Street)

Address: Hang Gai Street, Hoan Kiem District

Opening hours: 9:00 AM – 10:00 PM

Best time to visit: In the evening
One of the oldest places for shopping in Hanoi, the Hang Gai Street is the place to buy silk apparels as well as traditional fashionable home furnishing items. The busy street, also known as Silk Street, has outlets of some of the most luxurious apparel brands of the country, including Tan My Design and Khai Silk. Apart from that, some beautiful galleries and eateries can also be found here.

At Hanoi, you can get yourself a tailored made suit at a fraction of a cost within a day or two. So, there are several tailor-shops available spread throughout the street. If you are in a mood of getting yourself a suit, then this is the place to be.
See more about
7 Markets in Hanoi for Shopaholics
3. Dong Xuan Market

Address: Dong Xuan Street, Hoan Kiem District, Hanoi

Opening hours: 6:00 AM – 7:00 PM

Best time to visit: Apart from weekends, you can visit any time of the day
Another popular and old shopping district of Hanoi, the Dong Xuan market is very close to the Old Quarters. More than a century old, the place is known for its indoor shopping streets where you can buy accessories, electronics, souvenirs, grocery, and apparels under one roof. Often visited by locals, the place is often crowed by locals as well as the tourists.

4.Lotte Center Hanoi

Address: 54 Liễu Giai, Cống Vị, Ba Đình, Hà Nội 117000, Vietnam

Opening time: 09:00 AM - 10:30 PM

Best time to visit: Post noon, when the rush is low
The Lotte Center Hanoi is one of the biggest modern shopping malls of the city. From shopping in Hanoi to entertainment and dining, you will find a lot of options. While the first floor is dedicated to grocery shopping, the upper floors houses women fashion and apparels, male fashion, accessories, makeup, and many more. After shopping, remember to visit the 65th floor for some selfies and watching the cityscape.
See more about
Best Souvenirs from Hanoi on Your Shopping List
5. Metiseko

Address: 03 Chau Thuong Van, 86 Nguyen Thai Hoc, 142 Tran Phu

Opening time: 09:00 AM - 10:30 PM

Best time to visit: Anytime during weekdays
A lovely shop for silk products, the place is paradise for shoppers. With a huge collection of dresses and apparels, the place is apparently popular among locals for its exclusive and stunning designs. While shopping in Hanoi, you have to make a point to visit Metiseko for their dreamy collection. Apart from silk apparels, you can buy home décor items, and designer clothing.

6. Bat Trang Ceramic Village

Address: Bat Trang Commune, Gia Lam District,

Opening time: 08:00 AM - 8:00 PM

Best time to visit: During the autumn season
The Bat Trang Ceramic Village is home to local artisans who sell ceramic handicrafts and pottery items. The small market, enclosed to the 14th century village of porcelain and pottery makers, is often visited by tourists who are looking for authentic Vietnamese trinkets to take back home. The traditional Vietnamese tea set is one of the most commonly bought items from the market. These traditional sets cost around VND10, 000, but the prices are subjected to change.

Here are some of the tips for shopping in Hanoi
1. Haggling is accepted, and the fiercer you haggle – the sweeter deal you can get in the end.
2. Beware of pickpocket, especially in the shopping districts
3. Traveling by bus will be easy on your pocket, but might be time consuming. You can opt for taxis, incase you want to commute quickly
4. While shopping in Hanoi remember to grab silk and authentic lacquerware to take back home
5. After so much shopping, remember to satiate your hunger pangs
Overall, Hanoi – the city of pagodas – is one of the most visited cities of
Vietnam
. Apart from sightseeing, the place is full of options for shopping and eating.
So, what are your favorite things you want to buy while shopping in Hanoi?
- Last updated on Jan. 27, 2021 -