Hanoi Weather
Located in North Vietnam, Hanoi features typical tropical monsoon climate and has obvious rainy season and dry season. The city keeps relatively warm weather in most months and the average temperature is about 16-30℃ (60.8-86℉), rarely below 9°C (48.2℉) or above 37°C (98.6℉). However, the time from May to September in Hanoi is extremely hot. Sometimes the temperature can reach high to 39℃ (102.2℉) in August, with high humidity of 80%. The average rainfall throughout the year is about 1,116 mm. Generally, Hanoi weather from November to February is the most comfortable, with an average temperature of about 20 ℃ (68℉).
Best Time to Visit Hanoi
The best time to visit Hanoi is generally from early February to April and from October to November. Between February and April, the weather is pleasant, with an average temperature between 19°C (66.2℉) and 25°C (77℉). It has also the least rainfall in a year. The city offers travelers chances to witness grand traditional festivals like Tet Nguyen Dan, aka Vietnamese New Year. From October to November, the climate is perfect to appreciate the impressive scenery in this old capital city and the temperatures are similar to those in February to April and sometimes maybe a little cooler.
Hanoi Weather by Month
Averages for Hanoi Weather
High/Low Temperatures of Hanoi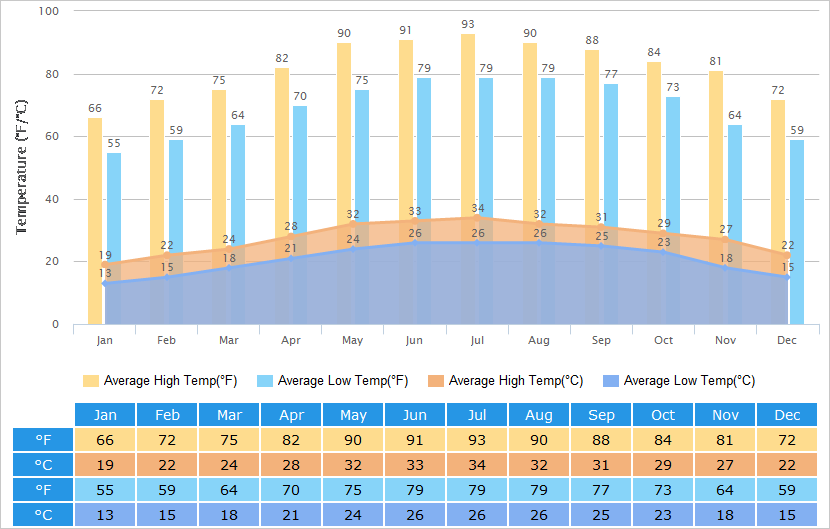 Average Temperatures of Hanoi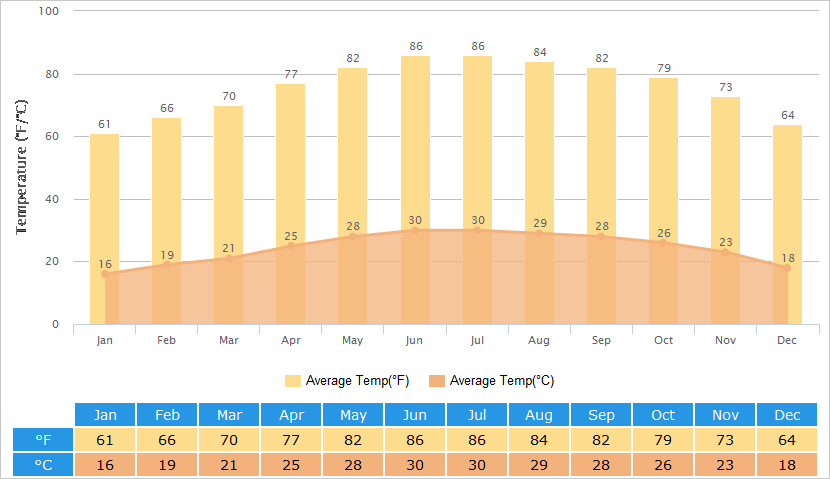 Humidity Graph of Hanoi
Average Rainfall of Hanoi
Hanoi Climate - Seasons & Travel Advice
Characterized by three distinct seasons, Hanoi's climate changes significantly with the seasons. They are respectively the cool season from November to February; the hot season from March to April; and the rainy season from May to October.
Cool Season (November – February)
Between November and February, the climate in Hanoi is cool and relatively dry, and the average temperatures usually range from 16-23°C (60.8-73.4℉). During this period, the average rainfall is at the lowest level of the year, generally less than 50mm every month. Though a little cool, it is comfortable for you to enjoy the beautiful spring views and take part in some cultural events in Hanoi. Among them, the Tet Festival is the biggest highlight you should never miss. Of course, keep yourself warm and prepare clothes like coats, jackets or sweaters.
Hot Season (March – April)
In fact, this is a transitional season as Hanoi starts to become warmer from March, and the average temperatures rise to 21-25°C (69.8-77℉). There is still not much rainfall during this period. The bright sunlight, moderate weather and less rainfall all make it one of the most recommended seasons to visit Hanoi. As this is a peak travel season and more visitors will crowd in, it is recommended that visitors should book flight tickets and hotels as early as possible. And don't forget to bring some light clothes and an overcoat is necessary for the morning and night.
Rainy Season (May – October)
If you happen to visit Hanoi in the rainy season, then pouring rains may affect your sightseeing. The highest amount of rain just falls in these months and there are about 15 rainy days each month. What comes along with high humidity is the high temperatures. Especially from June to August, the temperatures always keep about 35 ℃ (95℉) and even higher. This is not a very ideal travel time and it is easy for visitors to suffer wet mess. Do take rain gears when you plan to go outdoors. And another must in your baggage should be mosquito repellent.
Apart from the above season classification, Hanoi can also be divided into the four distinct seasons of a year: spring from March to April; summer from May to August; autumn starts from September to November; and winter lasts from December to late February.
- Last updated on Mar. 03, 2023 by Zhangyi Zhang -