Destinations
Asia
Middle East
Africa
South America
Central America
Europe
Vietnam Train
Vietnam Travel Guide
Why Choose Us?
Free 24/7 Services
100% Tailor Made
Hand-picked Hotels
Expert Local Guides
No Hidden Charge
Best Value for Money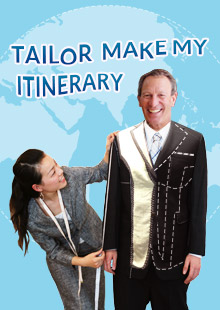 Endorsed by
The New York Times Travel Supplement has named our company as being in their opinion a large and reliable Chinese travel agency. Details...
We specially designed the following private Vietnam tours and independent travel routes to show you the most brilliant part of the country. There is for sure one that may interest you.
Best Vietnam Private Tours
Vietnam Private Tour Packages
Southeast Asia Private Tours with Vietnam
Tailor Your Vietnam Private Tour
Independent Travelers
As the country is long from south to north, the landscape and folk customs are different among areas. With the coastline of over 2,025 miles long, you can enjoy beautiful sea beaches. The rock formations and stalactites in Ha Long Bay, and historical sites in Hanoi, Ho Chi Minh and Hoi An will give you a good view. Besides, you can not only go to Mekong River Floating Markets to look around local antiques and crafts, but also admire the Water Puppet Show, a unique form of art of Vietnam. Vietnamese dishes like rice noodles and spring rolls are also worth to try.
Best Time to Go
The best time to go to Vietnam is from November to the next April in dry season. The climate in Vietnam is tropical basically and can be divided into dry and rainy seasons. The average year-round temperature is about 75℉(24℃). In addition, the dry season can also be divided into cool season from November to the next February and hot season from March to April. Tourists should protect themselves from sunburn during hot season. Try to avoid the rainy season from May to October when it rains a lot and sometimes the typhoons happen.

Appreciate the stunning landscape of Halong Bay
Vietnam transportation system is good in the whole. In terms of international transportation, there are flights from many countries all over the world, especially from the Southeast Asia, and buses from neighboring countries, as well as the train from China and the ship from Cambodia. Taking the plane or the train to and from between cities of the country is convenient. Besides, open tour bus from Ho Chi Minh City to Hanoi has become popular among tourists. Motorbikes and cyclos are the two featured and common tools inside the city. Of course, the regular taxi and city bus will help you, too.

Vietnam Train Tickets Booking
Most tourists can have a visa of Vietnam with 30-day validity and 30-day stay period. For those from Switzerland, Turkey, Brazil, South Africa, India, and Poland are likely to have a visa-free stay of 15 days. You can exchange VND in the major cities like Hanoi and Ho Chi Minh City. The gathering areas of tourists have more exchanging places. If possible, you can buy a phone card with data from Viettel, Mobifone or Vinaphone firms. Power plugs in European style with a voltage of 220V/50Hz should also be taken into consideration. In addition, the water system of the country is not developed well, so you'd better not drink the tab water directly.
History
Vietnam has a long history of 4,000 years, leaving its people many historical relics like Thien Mu Pagoda, Cu Chi Tunnels and Tomb of Tu Duc. Vietnam was once a part of ancient China, so it is influenced profoundly by Chinese culture. There are many Chinese-style buildings like the Temple of Literature, Hue Royal Palace. Besides, the country was colonized by French, leaving a lot of French-style buildings such as Saigon Central Post Office and Notre Dame Cathedral.
Geographical Features
Vietnam is narrow from east to west but long from south to north. The terrain is high in the west, while it is low in the east. Three quarters of the territory are mountains and plateaus. Besides, the country is close to South China Sea, having a coastline of over 2,025 miles. The diversity of landforms leads to the breathtaking view of mountains, rivers, and the beautiful beaches.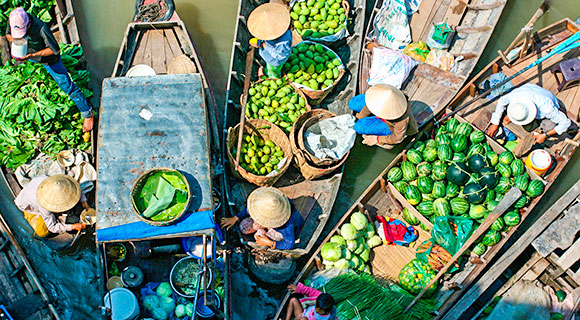 Visit the bustling floating market in Vietnam