Why Choose Us?
Free 24/7 Services
100% Tailor Made
Hand-picked Hotels
Expert Local Guides
No Hidden Charge
Best Value for Money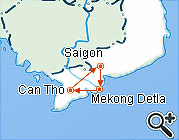 Southern Vietnam Adventure
TVN52: 6 Days Ho Chi Minh City - Mekong Delta - Can Tho - Ho Chi Minh City
Day 1
Arrival in Ho Chi Minh City (Saigon)
Upon arrival at Tan Son Nhat Airport, please take bus no. 49 in yellow to downtown area and find a hotel to get some rest. Avanti Hotel in Pham Ngu Lao Street is suggested. The bus driver can drop you by the hotel per your request at a cost of VND 40,000. If you are energetic, the night fair in Pham Ngu Lao Street is a favorable spot to go.

Tips: In order to make your independent Vietnam tour a pleasant one, try to avoid visiting the country during the rainy season between May and October. In addition, please exchange for Vietnamese Dongs in advance.

Accommodation Suggestion: Avanti Hotel (3 stars)
Day 2
Ho Chi Minh City Tour

The War Remnants Museum, Ho Chi Minh City
Today you are suggested to visit Notre Dame Cathedral Basilica, Ho Chi Minh City Hall or People's Committee, Reunification Palace, Central Post Office, the War Remnants Museum and Ben Thanh Market nearby on foot. They are very close in distance.

Notre Dame Cathedral Basilica is also called Red Cathedral for its construction with red bricks. As a typical Gothic building, it is a significant landmark in the city. The statue of Saint Mary in front of the Cathedral is given as a gift by the Roman church in 1945.

Then, go to the opposite Central Post Office, built by a French architect in the late 19th century. It displays an old Vietnamese map on both sides of the hall. As well as enjoying the sight, you can buy some souvenirs and send postcards to your friends.

Afterward, go to Ho Chi Minh City Hall, the War Remnants Museum where items relating to Vietnam War will be well presented to you, and Reunification Palace, also known as Independence Palace.

Finally, move on to Ben Thanh Market, the biggest market in the city to see piles of crafts and antiques. Please remember to make a big bargain when you have a fancy for something.

Today's independent tour of Ho Chi Minh City will end here. Get ready for the following 2-day itinerary in Mekong River Delta.

Tip: The 2-day Mekong Delta tour or Mekong River Cruise should be booked in advance. Don't forget to make the reservation at the Sinh Tourist Office, at No. 246 - 248, De Tham Street, District 1. You can also do it with another agency as they usually offer similar activities.
Day 3
Ho Chi Minh City - Ben Tre - Can Tho

Mekong River
Reach the Sinh Tourist Office at appointed time and take the bus to Ben Tre, which is home to coconut. After 2.5 hours' trip, board a motorboat and cruise Mekong River, which would be a highlight of this backpacking tour. During the cruise, you will visit a bee-keeping farm where you may hear Vietnamese traditional music, Đàn Ca Tài Tử and stop by a workshop to see the making process of coconut candies. You can try to make some candies by yourself.

Afterward, ride a motorbike through tranquil villages and admire the vast rice fields and vegetable gardens. And then take a ride on a hand-rowing boat through a creek with lines of coconut trees. You will have lunch at a restaurant by the river. After lunch, head back to Ben Tre.

At around 15:00, leave for Can Tho. Upon arrival, check in the hotel and have dinner. Later, you can take the FOC bus to Ninh Kieu Wharf for sightseeing.

Accommodation Suggestion: Can Tho Hotel (4 stars)
Day 4
Can Tho - Cai Rang - Ho Chi Minh City
In the early morning, take a motorboat to Cai Rang with the duration of about 30 minutes. The biggest floating market in Mekong Delta is located here and 06:00-08:00 is the best time for a visit.

Cruise Cai Rang floating market where Vietnamese ride a boat to transport, buy and sell items in an ancient way. Generally, there are all kinds of seasonal tropical fruits and vegetables. Mango and durian there are recommended.

After that, proceed to a local orchard to enjoy delicious fruits and then go back to Can Tho. After lunch, check out the hotel and go back to Saigon. En route, you will make a stop at Vinh Long Market.

Please remember to book the next day's Vietnam tour to Cao Dai Temple and Cu Chi Tunnels at the Sinh Tourist Office.

Accommodation Suggestion: Avanti Hotel (3 stars)
Day 5
Ho Chi Minh City - Cu Chi Tunnels - Ho Chi Minh City

A local market
At 07:45, depart from the Sinh Tourist office to Cao Dai Temple, whose minaret is in Gothic style and steep eaves in Chinese style. Then have lunch and arrive at Cu Chi Tunnels at 14:00.

Cu Chi Underground Tunnels, 155 miles (250 kilometers) long, were dug out during the Vietnam War to control the area. They even have kitchens, restrooms, hospitals, and defense doors. A section has been opened for visitors to experience the life there.

The bus will take you back to Ho Chi Minh before 18:00.
Day 6
Departure from Ho Chi Minh City
Your Vietnam independent tour ends today. Pack your baggage and check out the hotel. And then take a taxi in green and white run by Mai Linh to the Tan Son Nhat Airport at a cost of around VND 15,000. Don't forget to reach the airport 2 hours earlier for your leaving flight. Have a good trip!

More Vietnam Itineraries: