Enchanting Vietnam Highlights
TVN03: 10 Days Private Tour of Ho Chi Minh City - Mekong Delta - Ho Chi Minh City - Hoi An - Hue - Hanoi - Halong Bay - Hanoi
Tour Type:
Private tailor-made tour, with professional guide and driver
Accommodation:
Carefully selected 5-star luxury and 4-star comfort hotels
Highlights:
Sail through thousands of limestone peaks and rocks in Halong Bay.
Have an excursion to Mekong Delta to experience local lifestyle.
Discover the Imperial City of Hue,the ancient capital of Vietnam.
Enjoy Water Puppet Show, the quintessence of Vietnam culture show.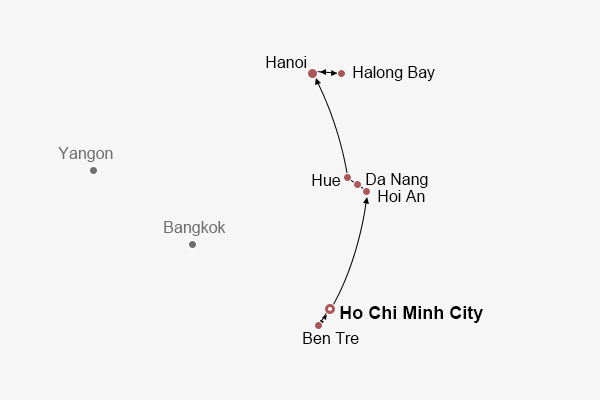 Day 1
Arrival in Ho Chi Minh City
Airport pick-up; Enjoy your free time to explore the city.
Welcome to Ho Chi Minh City, the financial hub of Vietnam! Your guide will await you at the airport holding a banner bearing your name. After a warm greeting, you will be transferred to the hotel by a comfortable private vehicle. For the rest of the day, you will be free to explore the city at your own pace.
►
Activities & Dinner Suggestion:
If you stay at 4-star Liberty Central Saigon Riverside Hotel
, the Ben Thanh Market, the city's biggest indoor market is a good place for you to stroll around. There are various goods and handicrafts. If you find something whichever you like, please remember to make a bargain with the seller. After 19:00, there will be full of many food stalls outside the market. The Banh Mi, also known as Vietnamese sandwich, is really worth a try. Afterwards, you could walk back to hotel within 15 minutes.
Staying at 5-star Hotel Nikko Saigon
, you can go to the Ho Thi Ky Food Street, which is located around 10 minutes' walking distance from hotel. You can taste some flavorful dishes here for dinner. The Nhat Quynh mixed rice paper and Co Thao beef hotpot are highly recommended. The Ho Thi Ky is also the largest wholesale flower market in Ho Chi Minh City. Besides delicious food, you can also walk through the narrow alleyways and admire the diverse range of fresh flowers.
Day 2
Ho Chi Minh City Highlights
Visit Ho Chi Minh City's China Town, Cholon, Traditional Vietnamese Medicine Museum, War Remnants Museum, Presidential Palace, Notre Dame Cathedral, and Central Post Office. (B+L)
You will have a full day tour today to visit the attractions in Ho Chi Minh City, which is also well known as Saigon. First, let's start from
Ho Chi Minh City's China Town
-
Cholon
, where you may visit some temples dedicated to the worship of Tin Hau, Avalokitesvara, and Buddha. Later, you will be guided to the first
Museum of Traditional Vietnamese Medicine
(FITO). Apart from the unique building and ornaments, you will also learn about the history of the development of Traditional Vietnamese Medicine. The displays here are exquisite and stunning and you are sure to find them really interesting. Then, we will head to the
War Remnants Museum
for the history of Vietnam War and the Second Indochina War.
After lunch, we will visit the former
Presidential Palace
, also called the Reunification Palace. While wandering around the beautifully-decorated halls, you can see various function rooms as well as elegant lacquer paintings and tapestries in the corridor. Afterwards, we will go on to visit some French colonial buildings such as the
Notre Dame Cathedral
and the
Central Post Office
.
Meals: Breakfast, Lunch
War Remnants Museum
Central Post Office, Ho Chi Minh City
Day 3
Full Day Tour to Explore Mekong Delta
A day trip to Ben Tre: cruise on Ham Luong River to visit orchards and workshops; experience local rickshaw and visit a peasant's house. (B+L)
Today you will have an excursion to the Mekong River Delta to experience the diverse culture and gain a close appreciation of the local lifestyle. In the early morning, your guide and driver will meet you at the hotel at the appointed time and then transfer you to Ben Tre. After a two-hour drive, your tour will really start by the
cruise on the Ham Luong River
, a branch of Mekong River. You will pass by various local barges stuffed with fresh fruits, vegetables, and drinks & coffees. Ask the guide to stop for a while, if you would like to try some local fruits which are really sweet and cheap. Later, you will also get off the boat and visit some workshops.
►
Enjoy Mekong River Specialty While Listening to Vietnamese Opera
The Mekong River specialty fried fish will be served as your lunch today, and you can have the tasty dish while enjoying Don Ca Tai Tu, which is also called Vietnamese Opera. Don Ca Tai Tu is popular folk tune in South Vietnam, originated from the royal music in Imperial City of Hue since the early 19th century, and it was introduced into the south during the development of the region. Now Don Ca Tai Tu has deeply rooted into the daily life of local people, as it has become indispensable at weddings, funerals, baby's one-month celebrations, birthday banquets for the elderly, and traditional festivals in the Mekong Delta area. Surprisingly, you'll find the versatile performers can sing in different languages, to bring you a better understanding of the local folks!
In the afternoon, the boat will take you to a village where you will disembark and walk to a
peasant's house
to get in touch with the rural life. After that, you will also have a chance to admire the picturesque sceneries by bicycle or a kind of rickshaw called "Xe Loi". Finally, you will reach Ben Tre by boat, and we will drive back to the hotel in Ho Chi Minh City.
Meals: Breakfast, Lunch
Boat House on Mekong River
Street Market, Mekong Delta
Day 4
Ho Chi Minh City Fly 1.5h to Da Nang; Transfer to Hoi An
Fly to Da Nang and drive to Hoi An Ancient Town. Visit Chua Ong Pagoda, Tam Ky Ancestral House, Japanese Bridge and take a boat trip on Thu Bon River. (B+L)
In the morning, you will take a flight to Da Nang. Upon arrival, you will be picked up and escorted to the well-preserved
Hoi An Ancient Town
, which was a traditional trading port of Southeast Asia thriving from the 15th to the 19th century. The town is attractive with the fusion of multiple ancient architectural styles and local features, and is even more enchanting when countless lanterns along the streets lighten up in the evening.
Today, we will have a half-day walking tour through the winding streets with some stopovers at attractions including
Chua Ong Pagoda
,
Chinese Assembly Hall
, the 200-year old
Tam Ky Ancestral House
and the famous
Japanese Bridge
. Finally, a short relaxing experience on the river by boat will conclude today's journey.
►
Taste Vietnamese Flavor, Drip Coffee!
Travel in Vietnam, and you can incredibly find coffee shops everywhere throughout the country, and coffee is a daily necessity for the locals. From chic coffee shops to small roadside stalls, Vietnamese drip coffee can be served. Here, you can see that the coffee is extracted from the ground coffee drop by drop with a stainless steel filter, and the simple method preserves the aroma of coffee to the maximum. As condensed milk and ice cubes are added, a cup of cold and delicious drip coffee is completed. While visiting the old town, the guide will take you to the popular Cargo Club Cafe for a cup of Vietnamese drip coffee, where you can also enjoy views of Hoi An from the terrace.
Meals: Breakfast, Lunch
Hoi An Old Town
Japanese Bridge, Hoi An
Day 5
Hoi An Half Day Cycling & Farming Tour
Morning farming tour in Hoi An. The rest of the day at your leisure. (B+L)
Today, your guide will take you away from the bustling city to experience the tranquil rural life around Hoi An. After breakfast, we will go to Vong Nhi Village by car, where we will then transfer to bikes for a 6km (3.7-mile) cycling journey to
Tra Que Vegetable Village
. On the way, you can enjoy the beautiful villages along the Thu Bon River, the vast expanse of rice paddies, and dotted islands of coconut groves. You will certainly be immersed in the picturesque countryside. Arriving in Tra Que Village, we will walk into
Thanh Dong Organic Farm
to learn how the organic vegetables and herbs are grown here. The farmers will be honored to introduce their farming methods for you, such as raking, sowing and irrigating. You may follow their way to water the vegetables, or pick up some seasonable ripe ones to taste. We will then leave the farm and take a local special basket boat along the Do River to
The Field Restaurant
. Warm-hearted boatman will teach you how to keep balance in a basket boat, and drive you to watch how the local fishermen casting their nets skillfully. Upon arrival, you will take part in a simple cooking class and enjoy an authentic Vietnamese lunch. Afterwards, we will return to Hoi An Ancient Town or the hotel. The afternoon will be free on your own arrangement.
Meals: Breakfast, Lunch
Basket Boat in Hoi An
Street of Hoi An Ancient Town
Day 6
Hoi An Transfer to Hue Via Hai Van Pass
Drive to Hue with a stop at Hai Van pass. Take an afternoon walking tour to visit the Imperial City, Hue Royal Palace and Tomb of Tu Duc. (B)
After breakfast, you will check out from hotel and then we will drive to Hue by a private car. The scenery along the way has been nominated as one of 50 must-see places by the National Geographic magazine. You will go through Hai Van pass which is over 500 meters (1,640 feet) high to overlook the spectacular coastline, and have a drink at the beautiful Lang Co Beach before continuing to Hue. Hue is another ancient town with a long history. We will spend the whole afternoon walking around the town and visiting some attractions including the Imperial City (The Citadel), Hue Royal Palace, and the Tomb of Tu Duc. Stay overnight in Hue.

Meals: Breakfast
Day 7
Hue City Tour, Fly 1.5h to Hanoi
Boat cruise to Thien Mu Pagoda. Visit Dong Ba Market and Minh Mang's Tomb. Fly to Hanoi, airport pick up & transfer to hotel. (B)
The poetic and picturesque Perfume River is the mother river of Hue. This morning, you will have a private boat cruise down the river to visit
Thien Mu Pagoda
, a famous and important monastery in Vietnam situated by the river. The place where the monastery stands is said to be the Dragon Vein of the Nguyen Dynasty. Next, you'll be escorted to spend some time at the busy
Dong Ba Market
and the ornate
Minh Mang's Tomb
before boarding the flight to
Hanoi
. Upon arrival, your guide will meet you at the airport and transfer you to check in the hotel.
★
What Makes Us Different?
1. Perfume River, aka HuongRiver, is a major part of the natural landscape around the city and is well knownas "the soul of Hue". Thien Mu Pagoda is just located at a geomantic treasure landby Perfume River. Different from driving to the pagoda arranged by other travelagencies, we will offer you a special dragon boat cruise on the Perfume River. Thus,you can enjoy the local scenery along the river as well as the panorama ofThien Mu Pagoda.
2. Thien Mu Pagoda has alwaysbeen a great place for the practice of local Buddhist disciples, as many monkslive inside the temple. According to these monks' life schedule, we'll arrangeyour visit in the morning. You can enjoy the natural beauty of the Thien MuPagoda, and also get a chance to see the monks chanting sutras and meditating inthe Dai Hung Palace, which are their compulsory courses every day.
Meals: Breakfast
Thien Mu Pagoda, Hue
Imperial City, Hue
Day 8
Hanoi City Highlights
Visit Ba Dinh Square, Ho Chi Minh's Mausoleum, One Pillar Pagoda, Temple of Literature, Tran Quoc Pagoda, Quan Thanh Temple, the Ethnology Museum, and Water Puppet Show. (B)
As the capital city of Vietnam, Hanoi has a long history and is rich in cultural relics and historic sites. Today you will have a full day to explore this ancient and charming city thoroughly. First, we will arrive at
Ba Dinh Square
in the center of the city. The square can accommodate one or two hundred thousand people and is a major site for celebrating festivals. You will also be guided to visit the nearby attractions to
Ho Chi Minh's Mausoleum
, his Stilt House, the
One Pillar Pagoda
, the Presidential Palace, and the
Temple of Literature
. Then, we will go to the West Lake to enjoy the enchanting scenery while walking around. We will also pay a short visit to the sedate
Tran Quoc Pagoda
and
Quan Thanh Temple
by the lake.
In the afternoon we will go to the
Ethnology Museum
. Later, we will conclude today's tour by enjoying a special
Water Puppet Performance
at Hoan Kiem Lake. It is a unique folk art with a long history that you may not see anywhere else in the world. We will then transfer you back to the hotel or you may continue to enjoy some time at Hoan Kiem Lake at your own pace.
Meals: Breakfast
Quan Thanh Temple, Hanoi
Ethnology Museum, Hanoi
Day 9
Transfer to Halong Bay; Enjoy Cruise Tour
Drive to Halong Bay for a luxury cruise and stay one night onboard. Enjoy a wonderful cruise trip. (B+L+D)
The breathtaking and elegant
Halong Bay
will be a highlight of your Vietnam trip. It is 3 to 4 hours' drive from Hanoi, but you will find it worth the lengthy transfer. After having a big breakfast at your hotel, we'll set out early in the morning.
Halong Bay is on the list of the UNESCO World Heritage sites. You will appreciate the beauty of this natural wonderland by spending 24 hours on a traditional
cruise
. You will board the cruise at around noon time and have lunch onboard while sailing out into the mysterious bay. After lunch, you will be free on the cruise to enjoy the relaxing time with comfortable sunshine, gentle breeze and the majestic sight of soaring limestone islands coming into view. This afternoon, the islands that we will cruise around are Dinh Huong and Ga Choi. We will also visit one of the 3 largest caves here, Thien Cung, Dau Go or Sung Sot. Later, you can get off the cruise and have a short spell of free time on a white-sand beach of the Gulf of Tonkin. Stay overnight on the cruise.
★
What Makes Us Different?
As the essence of Vietnamese tours, Halong Bay is beautiful and spectacular. However, some areas have been overdeveloped and quite commercialized in recent years. As a professional travel agency, we have made many field trips and strictly selected cruise ships as well as the routes. In contrast to small cruises in the offshore area, we offer you large 4-star or 5-star cruises that allow overnight-stay and sail in the deep water area of Lan Ha Bay and Bai Tu Long Bay. Rooms with outdoor balconies will be arranged for you on the cruise ship, and both buffet and set menus are available. The welcome reception, farewell dinner, and more activities will make your Halong Bay cruise pleasant and leisurely.
Meals: Breakfast, Lunch, Dinner
Halong Bay, Vietnam
Water Activity on Ha Long Bay
Day 10
Halong Bay transfer to Hanoi airport; Hanoi Departure
Disembark around noon & airport see-off. A nice journey home! (B)
You may find it interesting to participate in Tai Chi Class on top deck or enjoy sunrise if you could wake up early. Then after a morning cup of coffee or tea, you will take a rowboat to explore some of the nearby islands. As you get back to the cruise for brunch, the ship will head back to Halong City. The return journey is easy and relaxing so that you may take your time to have a rest or enjoy the gorgeous picturesque setting of Bai Tu Long Bay along the way. Upon your arrival at the dock, your guide and driver will meet and transfer you to Noi Bai International Airport in Hanoi for your departure flight home, which will signal the end of your memorable Vietnam travel. Bon Voyage!

Meals: Brunch

Friendly Notice:
If your flight departs in the next morning, you can talk to your travel consultant and add one night stay in Hanoi. We are always ready to customize the itinerary to perfectly match your schedule.
B-- Breakfast
L-- Lunch
D-- Dinner
This trip can be customized to meet your individual needs!
| Destinations | Luxury Hotels | Standard Hotels |
| --- | --- | --- |
| Ho Chi Minh City | Hotel Nikko Saigon | Liberty Central Saigon Riverside Hotel |
| Hoi An | La Siesta Hoi An Resort & Spa | Belle Maison Hadana Hoi An Hotel |
| Hue | Indochina Palace | Moonlight Hotel Hue |
| Hanoi | Pan Pacific Hanoi | Hanoi La Siesta Hotel & Spa |
| Halong Bay | Indochina Cruise | Signature Cruise |
Tour Prices
Christmas & 2024 Special:
12% off
- Book before Dec 31, 2023
Travelers
2-3 travelers
4-5 travelers
Tour Prices with Luxury Hotels

USD2429

USD2137

USD2099

USD1847

Tour Prices with Standard Hotels

USD2139

USD1882

USD1809

USD1591
Prices are per person on twin sharing basis.
The prices in red reflect 12% discount.
Any part of the itinerary e.g. tour length, activities & hotels can be tailored to your individual interests.
Price Includes
Two domestic flights(economy class seat): Ho Chi Minh City - Da Nang; Hue - Hanoi
Accommodation with daily breakfast at selected hotels
Services of a private driver and air-conditioned vehicles
Service of English speaking guides as mentioned in the itinerary
Entrance fees for all mentioned sights visited
Meals as mentioned in the itinerary
Price Excludes
International flight into and out Vietnam
Meals other than those mentioned in the itinerary
Early check-in and late check-out at hotels
Personal expenses (such as laundry, telephone, drinks, etc.)
Tips for guides and drivers
Personal travel insurance
Vietnam Visa fees
Comparison with Other Sellers
Tailor-make Your Itinerary for Free
All our tours are private family tours, which means you will not join tours with other people and no strangers will join yours. Our guests enjoy the freedom to choose a different travel style and 99% of our guests enjoy tailor-making their travel itineraries. We will make a quick reply within 24 hours.
Surprisingly Low Price
If you spare a few minutes to compare our prices with those of our competitors, you will find our prices are at least 50% lower. Why? No secret! Our company works with low profit margins, as low as 6% rather than 50% like other operators. In most cases, our competitors' prices for group tours are higher than those for our private tours. So, you can imagine what they might charge for a private trip. We strongly recommend that you make a comparison with our competitors online or in your local community. Pay attention to our well-selected chain hotels and fully packed daily activities.
No Annoying Shopping Stops
Shopping tours will not only take your time from sightseeing, but also waste your money on overpriced items. Our no shopping promise will enable you to thoroughly enjoy the trip without facing aggressive selling. All our guides are well-paid so they will concentrate on delivering the holiday experience you expect.
Some companies claim they have "No Obligatory Shopping", please be cautious as they just give their shopping tours a happy gloss. Some do not mention any shopping in itineraries, which doesn't mean they are shopping-free tours. You are advised to ask the operators directly before booking.
When visiting Ha Long Bay, you will stay onboard for one night. In this case, you will sail to the Lan Ha Bay or Bai Tu Long Bay which are more tranquil and deeper in the sea with wonderful scenery. Some agencies may only arrange the cruise trip around Ha Long Bay, which is not far from the seaside, with many annoying commercial boats to sell goods.
People to People Connected
Travelling with us, you will have many chances to get close contact with locals to know more about their real life. This is also the way to make your trip more meaningful and unique.
•
You will take a rickshaw ride through the narrow streets of the Old Quarter in Hanoi, which is home to a mix of Vietnamese architecture, ancient shops and freshly made local foods. Immerse yourself deep into Vietnamese cultures. You can also talk freely with the rickshaw driver about his families, incomes, or even personal ideas on the Vietnam War.
•
When visiting the Vung Vieng Fishing Village, you will get to know how local people make wine with wild fruits, insects and even snakes. You could also try all kinds of wines if you dare.
•
During the Mekong River cruise, you will step into the local farmers' cottages to see how they make rice paper for spring rolls, how they wave the dried water hyacinth to make products like baskets, bags, hats, wallets, toys and shoes. You will be surprised by their incredibly supple and industrious.
Eat Like a Local Traveling with Us
You should not miss the famous Vietnamese cuisines like Beef Pho and spring rolls in Hanoi, White Rose and Fried Wonton in Hoi An, Fried Fish and Fried Bean Cakes on Mekong River. We will arrange all these traditional foods in local restaurants or a family home during your trip.
Optional Tours Are Tourist Traps
Optional tours mean you will spend much more than you originally booked. Some agencies advertise low-cost tours, but you then find you have to pay high prices for optional tours of the must-see sites. Our tours are all-inclusive with transparent itineraries.
No Change Fee
Should any changes made prior to the start of the tour or even during the trip, there will be no extra charge for our services. You only need to be responsible for the cost of variations incurred with airlines and hotels.