Things to Do in Vietnam
Vietnam
, located in the east of Indochina Peninsula, extends as long as over 1,200 miles from north to south. Its history dates back to 4,000 years ago, leaving many historical relics. The country is deeply influenced by the culture of China. When traveling there, you will find many Chinese-style buildings. There are also some French-style buildings inherited from the colonial period. The scenery in
Halong Bay
and Mekong River will give you a good impression. Besides, Vietnam rice noodle soup and spring rolls, the representatives of Vietnam food are worth to try.
See more about
10 Things to Do in Halong Bay
Saigon, also known as Ho Chi Minh City, is the biggest city in Vietnam. It was once colonized by French, so the city has many French-style buildings like Red Cathedral and Central Post Office. You can spend some time to enjoy luxurious ornaments. Going to a bustling market to experience local life is also a good choice.
| | |
| --- | --- |
| Red Notre Dame Cathedral | Hoi An Ancient Town |
Hoi An Ancient Town, situated in the middle of Vietnam, was once an important business port. Designated as a World Cultural Heritage, the city is the result of the combination of the culture of Vietnam, China, and Japan. Rows of guild halls of Chinese and the Japanese Covered Bridge will give you a special sight. In addition, you can see lines of lanterns in various sizes and colors along the street at night.
Hue was the capital of the country from 1802 to 1945. The well-preserved historical buildings have made it a World Cultural Heritage Site. Along Perfume River are the Royal Palace and Thien Mu Pagoda. You can also visit elegant emperors' tombs which include Tomb of Tu Duc and Tomb of Minh Mang.
| | |
| --- | --- |
| Hue Royal Palace | Nha Trang Beach |
Nha Trang is a famous coastal city in the southeast of Vietnam. Because of the mild climate, it has attracted many tourists. The city has a beach of around 4 miles long. You can go diving there or ride a bicycle along the beachside to enjoy lines of coconut trees. A special mud bath in Thap Ba Hot Spring Center will delight both your body and mind. Having a suntan in the beach is also a relaxation.
Da Lat, a well-known summer resort in Vietnam, is filled with colorful villas in French style. Clusters of different kinds of flowers along the street make it the city of flowers. The most interesting attraction is a hotel named Dalat Crazy House built by Spanish. Climbing the winding wooden ladder, you can admire several rooms shaped like spider, tiger and other animals. The unique design and psychedelic scene will make you feel like you are in a kingdom of fairy tale.
See More Popular Destinations in Vietnam:
Sapa
Da Nang
Top Attractions
★ 1. Saigon Central Post Office
Built in the late19th century, the Central Post Office is a well-decorated building with grand droplights and flower windows. Stepping into the building, you will be astonished by its classic charm. On both sides of the hall are the maps. You can see a large portrait of Ho Chi Minh, the founder of Vietnamese Communist Party, on the middle wall. You can also send postcards or souvenirs to your families or friends.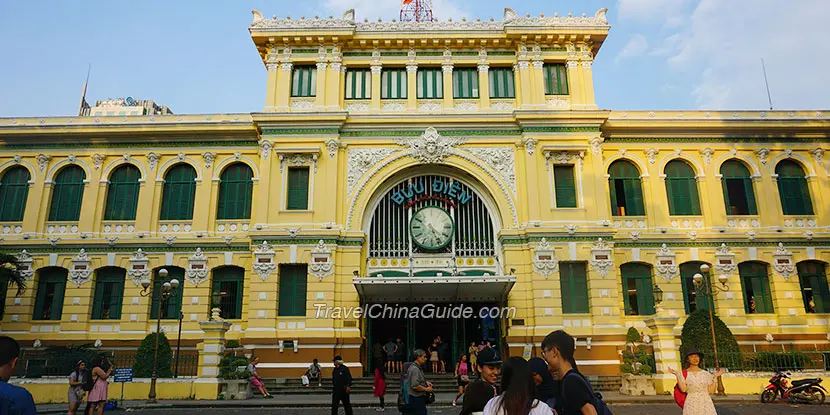 Central Post Office in Saigon
★ 2. Saigon Notre Dame Cathedral
Notre Dame Cathedral in Saigon was initially built in 1877 and has become one of the important landmarks of Saigon. It was also called Red Cathedral, as it was piled up with red bricks from France. Two towers of around 130 feet are modeled on Notre Dame de Paris. You can walk there from city center within 20-30 minutes.
★ 3. Ha Long Bay
Located in the north of Vietnam, Ha Long Bay has thousands of rock islands standing up from the ocean. The green water and various-shaped hills will impress you. You can take a sightseeing boat to enjoy the charming waterscape and karst caves.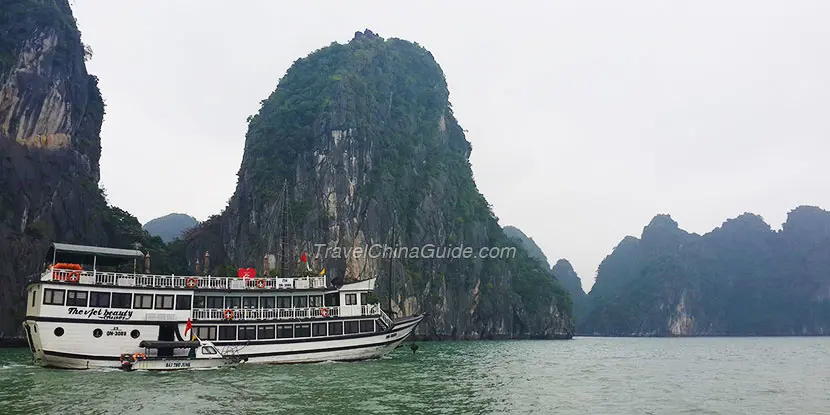 Ha Long Bay, Vietnam
★ 4. Mekong River
As the mother river of Vietnam, Mekong River has played an important role in Vietnamese lives. You can cruise the river to see colorful orchards and the Vietnamese farming or harvesting, as well as look around the two famous floating markets in Mekong River Delta, namely, Cai Rang and Cai Be Floating Markets. You can also rent a rowing boat or take a motorboat to see locals exchanging their goods onboard. It's also entertaining to pick up what you like in the bustling markets. Remember to avoid the rainy season between May and next October.
See more about
Take a Mekong Delta Cruise from Ho Chi Minh
★ 5. Cu Chi Tunnels
Situated in the north of Saigon, Cu Chi Tunnels are about 120 miles long. The tunnels have a great influence on several wars that Vietnamese had gone through. There are hospitals, meeting rooms, sleeping rooms and operation rooms inside the tunnels. Visitors are allowed to walk into the narrow tunnels to see the special structure and experience the life during the war.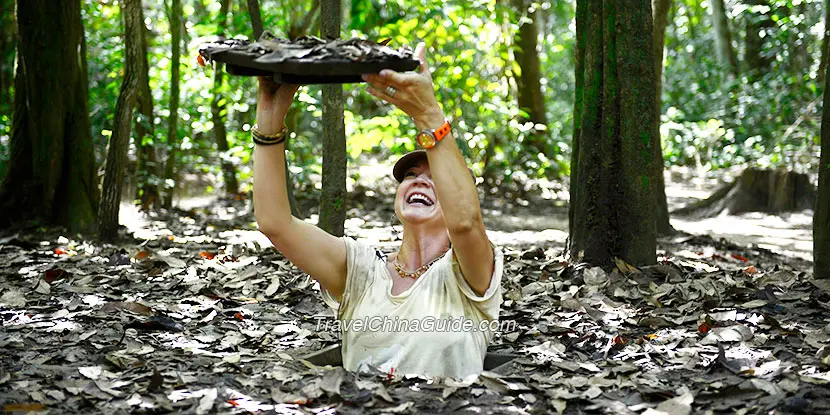 Cu Chi Tunnels
★ 6. 36 Pho Phuong
36 Pho Phuong is a popular market in Hanoi. Each street sells commodities of the same industry. You can always find different kinds of antiques and art crafts with moderately low price. There are other featured markets such as Ben Thanh Market, Anton Market in Saigon and Dalat Market.
★ 7. White Sand Dune
White Sand Dune is the most beautiful attraction of
Mui Ne
. The lake, dense tropical trees and white sands will all come into your view. You can either see the beautiful sunrise in the sand dune or ride a motorcycle over the sand.
Vietnamese dishes tastes sour and sweet. They are not greasy for using of fish sauce. Since the nation was once a French colony, some dishes have a unique French flavor.

Rice Noodle Soup is made up of rice vermicelli garnished with meat, scallions and vegetables. Due to the high quality of rice in Vietnam, the noodle tastes more delicious than that of other regions.

Spring Roll consists of pork, prawn, mushrooms and other ingredients rolled in rice paper. Dip in the seafood sauce, and you will be delighted by the taste.

More dishes: Baguette, Pho Ga, Tom Hap Nuoc Dua, Che Thap Cam, Lau Hai San chua cay…

Special Entertainments
Water Puppet Show is the most featured traditional performance in Vietnam with a history of over 1,000 years. On a water stage, it shows the activities related to Vietnamese daily lives, historical events and fairy tales. Thang Long Water Puppets Theatre is a well-known visiting spot for the show. It opens every day. The ticket price is 100,000 VND for an adult and 60,000 VND for a child less than 3.9 feet.
In the area of Mekong River Delta, there are many Vietnamese living a traditional life. With the help of locals, you can learn to make coconut candies or rice paper, which is also interesting.
- Last updated on May. 18, 2021 -