Hoi An Weather
Just like other cities located in south-central Vietnam, Hoi An features a typical tropical climate. It remains warm nearly throughout the whole year, with the average temperature keeping at a range of 22-31°C (72-88℉). It only has two seasons: the dry season and the rainy season. Much rainfall can be expected in the rainy season from August to December. Hoi An's hottest days occur between June and August when the high temperature measures about 34°C (93℉). The coolest days generally happen in December and January with the temperature hovering between 19-24°C (66-75℉).
Best Time to Visit Hoi An
The best time to visit Hoi An should be the dry season, especially between February and May. From February to May, the weather keeps warm and pleasant, with sparse rainfall. The temperature averages between 23-29°C (73-84℉) while the average monthly precipitation is generally below 60mm in these months. The light sunshine and relatively low humidity both contribute to a more comfortable Hoi An journey. Also, it is recommended to visit Hoi An on the 14th day of each lunar month when the Full Moon Festival is held, and the old town is overwhelmed by colorful lanterns.
Hoi An Weather by Month
Averages for Hoi An Weather
High/Low Temperatures of Hoi An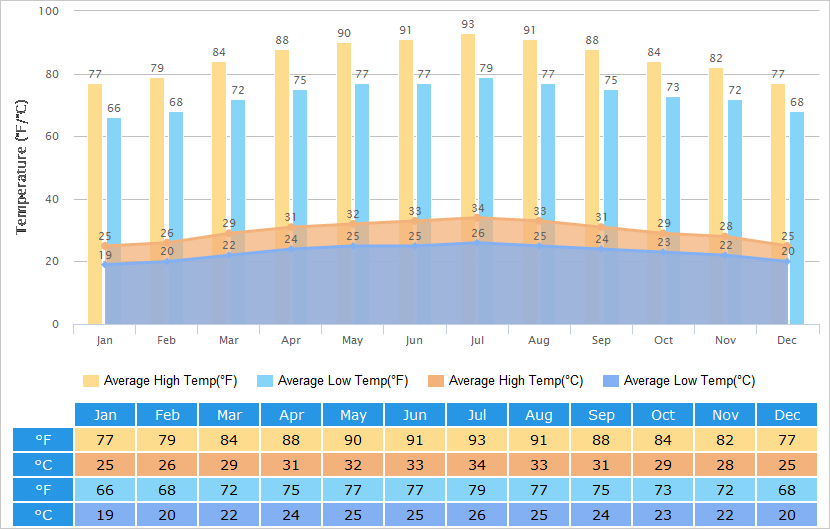 Average Temperatures of Hoi An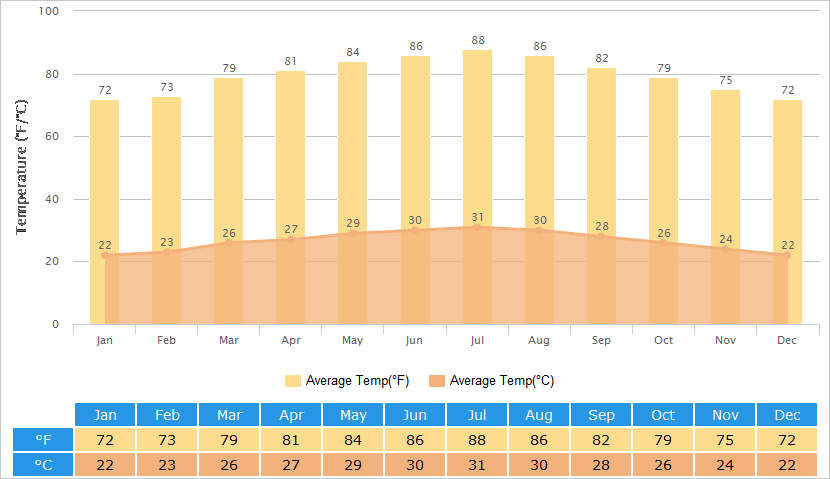 Humidity Graph of Hoi An
Average Rainfall of Hoi An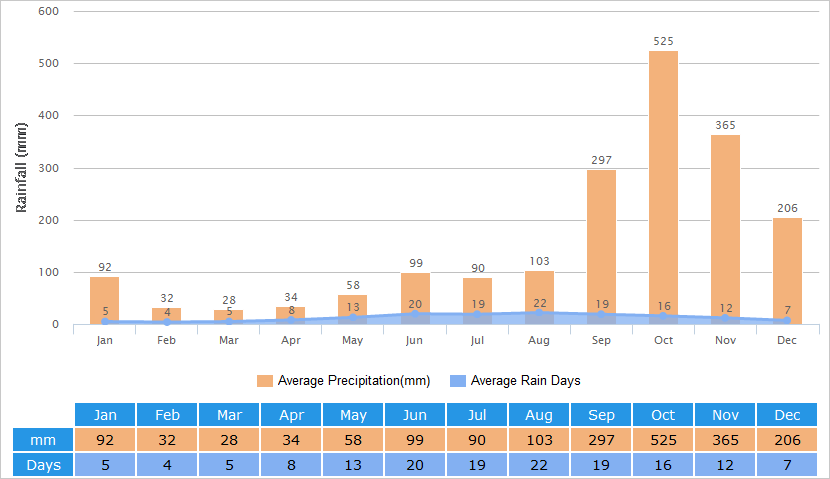 Hanoi Climate - Seasons & Travel Advice
Characterized by three distinct seasons, Hanoi's climate changes significantly with the seasons. They are respectively the cool season from November to February; the hot season from March to April; and the rainy season from May to October.
Cool Season (November – February)
Between November and February, the climate in Hanoi is cool and relatively dry, and the average temperatures usually range from 16-23°C (60.8-73.4℉). During this period, the average rainfall is at the lowest level of the year, generally less than 50mm every month. Though a little cool, it is comfortable for you to enjoy the beautiful spring views and take part in some cultural events in Hanoi. Among them, the Tet Festival is the biggest highlight you should never miss. Of course, keep yourself warm and prepare clothes like coats, jackets or sweaters.
Hot Season (March – April)
In fact, this is a transitional season as Hanoi starts to become warmer from March, and the average temperatures rise to 21-25°C (69.8-77℉). There is still not much rainfall during this period. The bright sunlight, moderate weather and less rainfall all make it one of the most recommended seasons to visit Hanoi. As this is a peak travel season and more visitors will crowd in, it is recommended that visitors should book flight tickets and hotels as early as possible. And don't forget to bring some light clothes and an overcoat is necessary for the morning and night.
Rainy Season (May – October)
If you happen to visit Hanoi in the rainy season, then pouring rains may affect your sightseeing. The highest amount of rain just falls in these months and there are about 15 rainy days each month. What comes along with high humidity is the high temperatures. Especially from June to August, the temperatures always keep about 35 ℃ (95℉) and even higher. This is not a very ideal travel time and it is easy for visitors to suffer wet mess. Do take rain gears when you plan to go outdoors. And another must in your baggage should be mosquito repellent.
Apart from the above season classification, Hanoi can also be divided into the four distinct seasons of a year: spring from March to April; summer from May to August; autumn starts from September to November; and winter lasts from December to late February.
- Last updated on Mar. 16, 2023 by Kate Liu -