Yan'an Highlights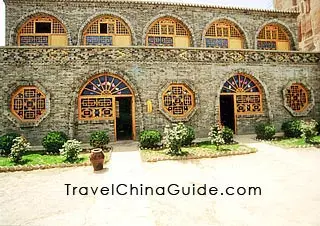 Cave Dwellings
There are several remarkable things that visitors should not miss during a visit to Yan'an. They are Cave Dwellings, Folk Songs, Drum Art, Paper-cut and many other folk crafts. It is interesting for you to take a look at these highlights then you will understand more about the place.

Cave Dwellings
The cave dwelling, alias farmers' cave, is the representative local residence of Yan'an and can be easily found on the vast loess plateau of northern China. It is a kind of energy-efficient, eco-friendly mode of living which some Chinese have adopted for thousands of years. According to the local conditions, a cave dwelling is usually dug into a hillside of tightly packed loess. With a brick facade and the inset of the peculiarly decorated door and windows, it is of primitive simplicity, showing the honest, simple, modest and reserved character as well as the bold creativity of local people. A cave dwelling is easy and cheap to construct, and solid in texture. The natural insulation of the earth makes it warm in winter and cool in summer, resulting in high energy efficiency and a perfect shield for the inhabitants.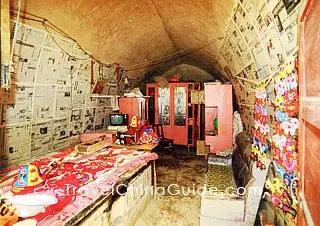 Inside the Cave Dwelling
The new fast-living era provides us many modern things however a cave dwelling is a matter of emotional attachment that local people will never give up. Nowadays a cave dwelling will be equipped with all modern facilities such as refrigerator and cable TV. Moreover it influences and inspires the modern architectural style. It will not only remain a much-loved tradition but also has a future due to its energy efficient characteristics. Dwelling in the cave houses or cave-like hotels will be an exciting and unforgettable experience during your trip to Yan'an.

Yan'an Folk Songs

Video of Northern Shaanxi Folk Song Performance
Yan'an Folk Songs, namely Northern Shaanxi Folk Songs, date back thousands of years ago. Having taken root and flourished on the Loess Plateau, they have developed into various types, depicting different aspects of the content of life. Both the traditional folk songs and the revolutionary songs are popular among the local people, showing their sensibility and desirability, including love and affection. The songs also reflect the resistance to the former feudal and colonial rulers of the old society. These songs mainly are collective creations with full-bodied local features, simple but vivid lyrics, smooth, beautiful melody and free rhythm.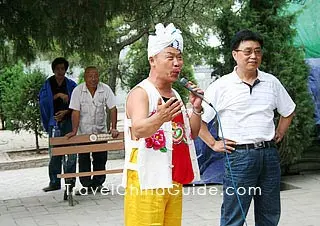 Northern Shaanxi Folk Songs
sung by a local people
The masterpieces of Yan'an Folk Songs are called Xin Tian You (Rambles in the Sky) including Journey to Gate in the Western Sections of Great Wall, Amazing Shanbei, Ballad of Sister Lanhuahua, Tell My Brother to Come Back Soon, Song of Wine, Hanging Red Lantern, the Yellow River Boatman's Song, etc. The characteristic simple, rugged, vigorous and resonant quality of the songs manifests the bold and unconstrained character and the intense inner life of local people. Should you be interested in local customs and the Chinese cultural heritage, then these Folk Songs will prove very representative of these traditions.

Drum Art
Drum Art is a special art form of Yan'an including performances of many kinds of drums such as Ansai Yaogu (Waist Drum), Luochuan Biegu, Yichuan Xionggu (Chest Drum), Zhidan Shangu (Fan Drum) and so on. Ansai Waist Drum Dance is the most famous for its rhythmic and sonorous drumbeats as well as its quick variation of body movements. When performing, the dancers wear sheepskin jackets, red sashes, puttees or boots, and white towels on their heads.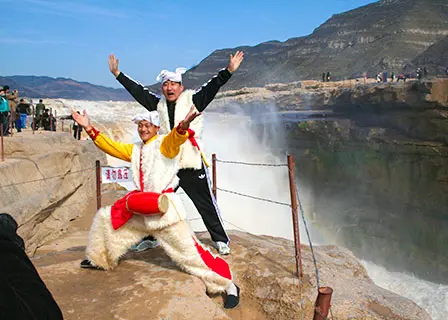 Drum Art, Northern Shaanxi People
In recent years, the vigorous Ansai Waist Drum Dance is so famous that it has become a required item for many great activities, ceremonies or festive occasions such as the opening ceremony of the 11th Asian Games, the celebration of the return of Hong Kong and Macao, etc. The dancers have also been invited to perform at the Asian Folk Custom and Art Festival in Japan. In Yan'an, the Ansai Waist Drum Dance has long been performed in many traditional Chinese festivals, especially during the month around the Spring Festival.

Paper-Cut
Paper-cut is a kind of Chinese folk art to be found in Yan'an, especially in its Ansai and Luochuan Counties. It is originated from the ornamental cutting of clothing material, depicting the various aspects of the life of local people, especially the life in cave houses. Scenes such as farming, poultry breeding, harvesting, bazaar trading, and wedding are frequently seen in paper-cut. On festive occasions, paper-cut is used as decoration on the door, window and ceiling of the cave dwelling, kang, furniture or even clothes. Its vivid description and artistic style show the wit, penetrating observation and bold imagination of the local people as well as the appealing traditional folk art and culture. Nowadays, being named 'living fossil of culture', Yan'an paper-cut has already become a popular artwork in both home and abroad.


Other Highlights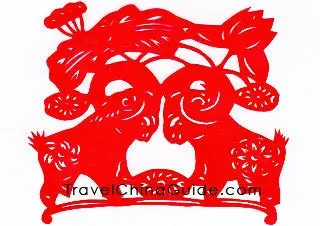 Paper-Cut
There are still many things you can appreciate in Yan'an. Shuoshu is an art form of storytelling which is welcomed among the locals of Yan'an or North Shaanxi. The stories are mainly adapted from folk legends and historical novels. With the accompaniment of music played on instruments such as lute or trichord, the storytellers usually tell their stories in conjugation with folk music and songs. You will find this kind of performance very lively and interesting.
Peasant Painting is another notable thing here. With an abstract, exaggerated and concise style, Peasant Painting here is always lively and based on the senses and emotion. The various paintings with simple, fresh brushwork, romantic imagination and bold innovation have been highly praised by many foreign experts who have suggested that Yan'an Peasant Painting can even compare favorably with Picasso works.
In addition, Yan'an New Year pictures, popular rural folk dance of Yang Ge, wood engravings, root carvings, and embroideries are also recommendable.
- Last updated on Jul. 04, 2022 -