Yan'an Dining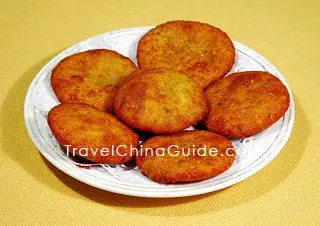 Deep-Fried Cake (You Gao)

Yan'an is famous for its huge selection of distinct and delicious snacks. The ideal location on the Loess Plateau endows it with superior natural conditions for agriculture including fertile soil, sufficient sunlight and an obvious difference in temperature between the day and the night. Consequently, Yan'an has a large variety of agricultural products as well as special local products which provide materials for making a variety of tasty foods. Snacks here are typically rich in nutrition and are also inexpensive. This makes them popular with tourists from home and abroad. Some of them are listed below:

Deep-Fried Cake (You Gao) is one of the most outstanding representatives of Yan'an snacks. It is made of broom corn millet and dates. The well-prepared cake is golden in color, soft, smooth and delicious in taste. It is better to be eaten with white sugar along with a special kind of soup. On festive occasions, You Gao is always a must. Nowadays, it is sold in many restaurants, usually at a price of CNY5 for ten pieces in a tray.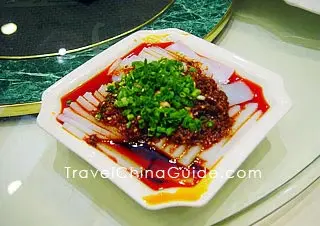 Bean Jelly (Liang Fen)

Bean Jelly (Liang Fen) is made of mung beans, haricot beans, potatoes or buckwheat. This snack is seasoned with sauces, vinegar and spices, making it very tasty and refreshing. The best Liang Fen is sold in Zichang County in the northern part of Yan'an, which is made from specially selected mung beans. It is better to be eaten as a cold dish during the sweltering summer months but it can also be heated during the winter. This snack is not only savory and healthy but also very inexpensive at only CNY1 for a bowl. So it is popular with the local people.

Buckwheat Vermicelli (Qiaomian Hele) is a special kind of vermicelli made from low-fat buckwheat which is also helpful in lowering systolic blood pressure. Qiaomian Hele in the counties of Wuqi and Zhidan in northwest Yan'an are the most savory varieties. This snack is even more delicious when combined with a particular kind of mutton broth of North Shaanxi flavor. A bowl of Qiaomian Hele is sold at a price of about CNY5.

Streamed and Stir-Fried Potato Slice (Yangyu Caca) can be found everywhere around the city and is sold at a price of just CNY2 for one bowl. It is mainly made of potatoes and flour. The sliced potatoes are first seasoned with salt, pepper, shallots, ginger, etc. and mixed with flour, then steamed and stir-fried. When eating, other condiments including sauces, vinegar, garlic, vegetable oil and so on may be added according to your taste.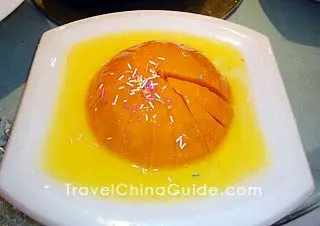 Honeydew Pumpkin (Mizhi Nangua)

Honeydew Pumpkin (Mizhi Nangua) is made of the local pumpkins. The selected pumpkin is pared and cut into several pieces. After removing the seeds, the pieces are put together to form a complete pumpkin then steamed and brushed with honeydew. This delicious snack is rich in various nutritious elements and has a curative effect on diabetes and adiposity. It is usually sold at CNY5 each.

Planished Black Bean Porridge (Qianqian Fan) is made of planished black soybeans and millet. It is a local delicacy in Yan'an with affluent nourishment and helpful for dispelling cold and keeping warm. A bowl of Qianqian Fan is usually sold at a price of CNY0.5.

In addition, there are a great number of snacks that are truly delicious and show the distinctive dietary culture of Yan'an, including Buckwheat Pancake, Pumpkin Cake, Sweetbread Soup, and Fruit Pie. Another laudable delicacy is Yan'an's excellent rice wine. Besides local snacks, food of other parts of the country, especially Xi'an food, can also be found here.

Recommended Restaurants:
Tian Meng Yuan Restaurant
Address: East Street, Baota District
Baota Food City
Address: Nanbin Road, Baota District
Specialties: snacks of Yan'an or the North Shaanxi region.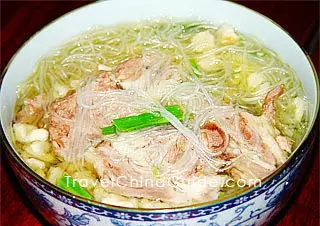 Yang Rou Pao Mo

Zhu Yuan Cun Hot Pot Restaurant
Address: Shang Lane, Da Dongmen Street, Baota District
Specialties: A hot pot restaurant chain of a famous Shaanxi brand.

Xi'an Yangrou Paomo Restaurant
South Street Branch: South Street, Baota District
Yinjia Gou Branch: Yinjia Gou Road, Baota District
Specialties: Crumbled Unleavened Bread in Mutton Stew (Yangrou Paomo); other Xi'an food and snacks.

KFC
Address: 1F, Lirong Mansion, North Street, Baota District

- Last modified on Mar. 22, 2019 -