Yan'an Transportation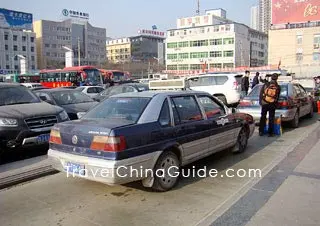 Yan'an Taxis
Yan'an has benefited greatly from the country's Western Development Drive Program and it is no longer a city with a stunted economic condition and poor transportation. The immense progress it has made in transportation infrastructure construction provides a satisfactory traffic network in and around the city.

From major tourist cities such as Beijing and Xi'an, you can easily go to the city by air, train, or long-distance bus. A well-connected railway system enables passengers from Beijing, Xi'an and several cities within Shaanxi Province to enjoy convenient rail transportation. In addition, due to the construction of many highways and freeways, there is plenty of choice of long-distance buses shuttling between Yan'an and various cities.

The traffic condition inside the city is considered passable and economical in general. Most attractions in the urban area are situated near each other and can easily be reached by city buses. Taxies there are inexpensive and convenient. Comparatively distant attractions of Hukou Waterfalls and Huangdi Mausoleum can be reached by tourist bus or a hired car.

Air
Having been in operation since 1980, Yan'an Nanniwan Airport (ENY) is both a civil and military airport. It is located 13 kilometers (about 8 miles) from downtown Yan'an. There are no international flights from this airport; however domestic airline routes connect Yan'an to Beijing, Shanghai, Guangzhou, Shenzhen, Hangzhou, Chengdu, Xi'an, Chongqing, Nanjing, Shenyang, Dalian, Wenzhou, Xiamen, Changsha, Tianjin….
Transportation between the airport and the city center is well provided for. Shuttle buses at CNY5 per person run regularly between the airport and the city center, taking about 20 minutes. A taxi is quicker and costs about CNY20. An ordinary bus service is also available just outside the airport. No.5 Bus goes to Yanhe Restaurant in the city center for CNY2 per person.
Please note that the timing of the flights varies a little according to the season, so inquire at the airport before booking tickets. Consultation Hotline: 0911-2111111, 0911-2113854

Train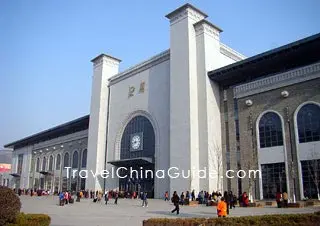 Yan'an Railway Station
Yan'an Railway Station is located at Qilipu near the city center. It is conveniently located and can be reached by many public buses such as no.1, no.10, no.12, and no.18 for a fare of CNY1. It offers direct trains to the two major cities of Beijing and Xi'an as well as several cities within Shaanxi Province including Ankang to the south, Yulin and Shenmu to the north. It is about 10 hours to Beijing by 'T train' (fast trains have 'T' before the trains' number, for example, T7/T41 from Beijing to Yan'an and T8/T42 for return trip). It is about 3.5 to 7.5 to Xi'an by ordinary train.
Information on Ticket-Selling:
Tickets can be bought at the ticket office of Railway Station. Railway Station Information Lines: 0911-2496976, 0911-2496571



See more about Xi'an - Yan'an Train

Long-distance Bus
Yan'an Long-distance Bus
Thanks to the No.210 national highway from Xi'an to Yulin passing Yan'an and many other freeways and provincial highways, long-distance bus becomes an important and convenient way to get to the city. The main long-distance bus station of the city is located at Dongguan Street in the urban area - easily reached by No.4, No.6 or No.19 public buses. From this station, buses depart daily for various cities including Xi'an, Yulin, Xianyang in Shaanxi as well as Beijing, Shijiazhuang, Lanzhou, Yinchuan, Taiyuan, and Luoyang in other provinces. Buses bound for Xi'an depart every 20 to 30 minutes from 6:30 to 21:30, and there are many buses running to other cities within the province. However, there are fewer buses headed for cities in other provinces - generally a single daily service for each city. You can contact the station to get more information.
Long-Distance Bus Station Inquiry Lines: 0911-2112531, 0911-2112534, 0911-2113350

City-bus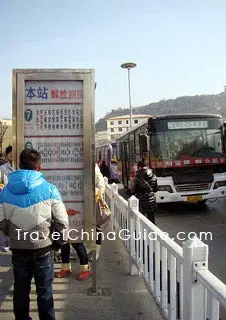 City-Bus
The city bus service in town connecting the main streets is generally good. There are about ten bus routes in the urban area of the city connecting many famous tourist attractions. Several routes to the suburbs are also available. The ticket prices vary according to the distance. Tourist sites in the urban area are situated close to each other and can easily be reached by the city buses. Here is some information on the bus routes to some of the main attractions:
Wangjia Ping Site: No.1, 3
Yangjialing Site: No.1, 3
Date Garden: No.3, 13
Pagoda Hill: No.1, 2, 3, 4, 6, 11, 12, 18, 19
Fenghuang Hill: No. 2, 3, 4, 12, 19
Qingliang Hill: No. 1, 4, 5, 6, 11, 19
Wanhua Hill: No. 10

Taxi
The city is not big, so traveling around the city by taxi is very convenient. The charge is quite cheap, with the starting price of CNY5 for the first 3km (2mi), CNY1.2 for each succeeding kilometer (0.6mi) and CNY1 fuel fee for each ride. Most drivers don't use the taximeter, so you'd better negotiate for a fixed amount of fare before getting on the car. Generally, it costs CNY10-20 for shuttling within the city, and it spends no more than CNY40 to the airport.
- Last updated on Sep. 27, 2019 -
Questions & Answers on Yan\an Transportation
Asked by ARIENAZ | Sep. 26, 2019 01:56

Reply
Hi, I would like to how to go to ganquan yucha canyon from Xi'an?
If I take fast train from Xi'an north railway station to Yan'an, then how can I go to the ganquan yucha canyon area?
Answers (1)
Answered by Jean from GERMANY | Sep. 27, 2019 01:14

0

0

Reply
From the railway station, walk north around 600 meters to get to South Coach Station. There are several direct coaches that can take you to the scenic area directly. As I know, the bus schedule is at 08:30.
Asked by Juliana from MALAYSIA | May. 17, 2019 08:22

Reply
Is there fast train or any train from Yan'an to Xi'an? What are the schedules and fares?
Is it easy to get from Ganquan to Yan'an?
Is it better to stay the night in Ganquan or Yan'an?

Any related information will be very helpful. Thank you.
Answers (3)
Answered by Alice from IRELAND | May. 19, 2019 23:26

0

0

Reply
There are 3 high speed trains departing from Yan'an to Xi'an at 7:45, 11:08, 16:42. It takes about 2.5 hours and costs about CNY95 for a second class seat. Another 20 slow trains depart from 1:00 to 16:00 and the duration is around 3.5 to 4.5 hours. It costs around CNY50 for a hard seat.
Answered by Juliana from MALAYSIA | May. 21, 2019 03:06

0

0

Reply
Do I need to book the tickets before travelling or is it possible to buy tickets when I arrive Xi'an on the 13 Jun?
Answered by Alice | May. 21, 2019 18:19

0

0

Reply
It is better to book tickets in advance since the tickets may be sold out ahead of time. You can book tickets through the e-mail: booking

travelchinaguide.com.
Asked by YangPeiqi from SUNGAPORE | Apr. 24, 2018 06:42

Reply
Is there any direct bus service from Yanan South Bus Station to Xi'an airport?
Departing frequencies, fare and trip duration.

Thanks and regards.
Answers (1)
Answered by Ellien from AUSTRIA | Apr. 24, 2018 21:56

0

0

Reply
No, there is no direct bus available. You are suggested to take a bus from South Bus Station to Xi'an North Bus Station at 17:30 or 19:00 and then catch a shuttle bus or taxi to the airport.
Asked by Peiqi from SINGAPORE | Nov. 20, 2017 05:42

Reply
I intend to take the fast train from Xi'an North to Yanan, connect a long distance bus to Yinchuan.
I have a connection problem in Yan'an. Questions. 1 what is the official name of the bus station in chinese if possible to instruct the taxi. 2 how far is the long distance bus station from the train station.
Answers (1)
Answered by Michelle from USA | Nov. 20, 2017 20:00

1

0

Reply
The station is 延安汽车站. And it's about 6km from the train station, so you can get there within 10 minutes, by the way, it charges around CNY15.