Xianyang Travel Guide
Xianyang Facts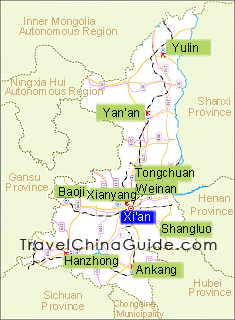 Chinese Name: 咸阳 (xián yáng)
Population: 4,356,200
Area: 13,134 square kilometers (5,071 square miles)
Location: in the east-central of Shaanxi Province, northwest China
Administrative Division: 2 districts (Qindu, Weicheng); 9 counties (Sanyuan, Jingyang, Qianxian, Liquan, Yongshou, Changwu, Xunyi, Chunhua, Wugong); 2 county-level cities (Xingping, Chenzhou)
Area Code: 029
Zip Code: 712000
GDP (2019): CNY 219.533 billion (USD 31.821 billion)
Once Capital of the Qin Dynasty with Mausoleums of Han and Tang Dynasties
Located in the central part of Shaanxi Province, Xianyang is about 30 kilometers (19 miles) northwest of Xi'an with the Weihe River immediately to the south. The charm of Xianyang always relies on its long history and numerous historical sites. Qin Dynasty (221 BC – 207 BC), the first feudal dynasty in China, was born here. What's more, there are 28 mausoleums of emperors of the Han and Tang dynasties. Qian Mausoleum and Zhaoling Mausoleum are the most well-known and the former one is famed for burying the couple emperors of the Tang Dynasty. In addition, Yuanjia Village, which is only 30 minutes to 1 hour's drive from Xianyang and Xi'an shows the local folk culture and spreads various characteristic handicraft workshops.



Pictures
Xianyang Attractions - Things to Do

Qian Mausoleum: The mausoleum contains the reposed Emperor Gao Zong of Tang Dynasty (618-907) and his Empress Wu Zetian, the only female monarch in Chinese history. The mausoleum is built against the backdrop of Liangshan Hill, and the tomb design replicates the ancient Chang'an city.



Great Buddha Temple (Da Fo Si): 10 kilometers west of Binxian County, this Buddhist site has stood for over 1,300 years. A total of 130 grottoes on the 400-meter-long rock surface store thousands of Buddha statues of all sizes. Within the temple, the 20-meter-tall Buddha is the most spectacular one.
| | |
| --- | --- |
| Great Buddha Temple | Buddha Statues, Great Buddha Temple |

Other Scenic Spots
:
Maoling Mausoleum
,
Zhaoling Mausoleum
,
Xianyang Museum
,
Tomb of Crown Prince Yide
,
Tomb of Crown Prince Zhanghuai
,
Tomb of Huo Qubing
,
Tomb of Princess Yongtai
,
Sanyuan City God Temple
,
Museum Garden of Northwest A & F University
,
Yuanjiacun Folk Village
| | |
| --- | --- |
| Sacred Way, Qianling Mausoleum | Zhaoling Mausoleum |
How to Get to Xianyang
1. Xi'an Xianyang International Airport is 13 kilometers northeast of downtown area, operating flights to over sixty cities at home and abroad. There are six airport bus lines departing daily from the pick-up points in Xi'an and Xianyang.

2. Visitors can take Bus No.59, which shuttles between them. In addition, the Xianyang Bus Station is on Xilan Lu, in Qindu District, where bus services operate for other cities and counties inside the province. The West Bus Station in Xi'an has buses running to the city departing as soon as the buses are full.
| | |
| --- | --- |
| Tile of Han Dynasty, Xianyang Museum | Terra-cotta Warriors and Horses, Xianyang Museum |
Weather
-
The area has a warm temperate continental monsoon climate which features a chilly winter and torrid summer. Overcast and rainy days are most frequent in summer and autumn. Extreme heat may sear the city in summer causing high temperature of Xianyang weather in excess of 40

C (104

F). Visitors can choose any time to visit the place. However, avoiding the height of summer and the middle of winter is recommended.
Xianyang Travel Tips

History: Xianyang is an ancient capital. The first feudal dynasty in Chinese history, the Qin Dynasty, made it the capital city and planted the seeds of its impressive history. Historically, it once served as the capital for thirteen dynasties, leaving a legacy of twenty-seven tombs of emperors and hundreds of graves of imperial household members.

Physical Features:
The northern part of the city is situated on the Loess Plateau, while the south is a part of the Weihe Plain. In general, the terrain gradually falls away from the north to the south.

Special Local Products:

Xifeng Liquor, Huanggui Thick Wine (Huang Gui Chou Jiu), Amber Candy (Hu Po Tang), and embroidery.
- Last updated on Feb. 28, 2023 by Brenda Lian -
Questions & Answers on Xianyang Travel
Asked by Harry from MALAYSIS | Jun. 03, 2019 01:43

Reply
What is the best month to visit xianyang?
Answers (2)
Answered by Phill from USA | Jun. 03, 2019 20:56

0

0

Reply
March to May, that is spring, is the best time of a year. Early autumn running through September and October is also a good season for travel.
Answered by Jason from NEW ZEALAND | Jun. 03, 2019 21:01

0

0

Reply
April, May, September and October are good months but remember to avoid National Day Holiday (Oct.1-7).
Asked by HM from USA | Jun. 17, 2015 21:37

Reply
Xianyang Museum, Yangling Mausoleum of Han Dynasty, Maoling Mausoleum, Qianling Mausoleum.
I'm looking to visit the major han and tang mausoleums in Xianyang in one or two days. Could you advise how to get around with public transportation, or what is the price of a chartered car service?
Answers (1)
Answered by Sue from SPAIN | Jun. 24, 2015 04:47

0

0

Reply
Oh, hiring a private car is the easiest way for you to choose. It will save a lot of time and meet your demands.
It is estimated that the fare is CNY500 or higher per day. The exact price also depends on how many places you want to go and the car type you choose.
Enjoy your trip!
Asked by Rabelais from UK | Mar. 08, 2015 16:24

Reply
i'm contemplating about going to teach in Xianyang or not, i'm just curious about the social life
I'm quite a social and outgoing person. I love clubbing and travelling. Can someone please advice me on what to do? Is this city convenient for me?
Answers (1)
Answered by Byran from SINGAPORE | Mar. 08, 2015 21:40

1

0

Reply
It is a fashionable city. Generally, you can easily find a bar for relaxation, such as the MR.DAVID PUB at East Weiyang Road and East Fashion Pub near Zhongshan Street. The attactions include Qian Mausoleum, Great Buddha Temple (Da Fo Si) and others. More importantly, it is very easy to travel to Xi'an, the capital city of Shaanxi Priovince. In Xi'an, you can hav more fun. Considering all, you are suggested to consider teaching in the city.
Asked by CY from MALAYSIA | Jul. 26, 2013 22:45

Reply
Local tourist coach for overseas visitors to travel around Xianyang
Can you tell me whether there are local tour companies organising sit in coach ground tours from Xi'an to surrounding places like, Zhengzhou,Yellow river area, Luoyang, Dengfeng; 4-5 days for overseas tourists. Mandarin speaking OK. I do not need private tour.
Thnak you
Answers (1)
Answered by Selina from USA | Jul. 27, 2013 02:01

1

0

Reply
I rented a minivan for two days' trip in Xi'an from TravelChinaGuide. You may ask them for help too. Here is the email:
travelchinaguide.com|booking
If they don't provide the coach to your demand, I suggest you turn to your hotel, where you may stay in one of the cities above.
Asked by Idah from SINGAPORE | Apr. 10, 2013 21:15

Reply
How do I travel from Xianyang City to Shaoxing? Please advise the possible transportations.
Answers (1)
Answered by Robin from AUSTRALIA | Apr. 11, 2013 02:44

0

0

Reply
I suggest you catch a plane at Xi'an XY International Airport to Hangzhou first in around 2h. Then at Hangzhou Xiaoshan Airport, there are frequent buses to Shaoxing directly and the bus fare is 30RMB per person.