Xianyang Travel Guide
Xianyang Facts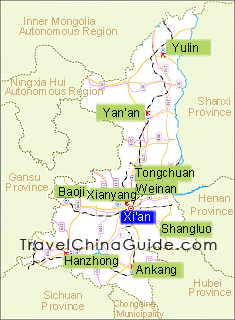 Chinese Name: 咸阳市 (xián yáng shì)
Location: Located in the central part of Shaanxi Province, Xianyang is about 30 kilometers (19 miles) northwest of Xian with the Weihe River immediately to the south.

Population: 5,040,000
Area: 10,213 square kilometers (3,943 square miles)
Nationalities: Han

Administrative Division: 2 districts (Qindu, Weicheng); 10 counties (Sanyuan, Jingyang, Qianxian, Liquan, Yongshou, Changwu, Xunyi, Chunhua, Wugong); 1 county-level city (Xingping)

Useful Telephone Numbers:
Tourist Complaints: 029-33210445
Weather Forecast: 121
Zip Code Inquiry: 184



Pictures
Xianyang Attractions - Things to Do

Qian Mausoleum: The mausoleum contains the reposed Emperor Gao Zong of Tang Dynasty (618-907) and his Empress Wu Zetian, the only female monarch in Chinese history. The mausoleum is built against the backdrop of Liangshan Hill, and the tomb design replicates the ancient Chang'an city.



Great Buddha Temple (Da Fo Si): 10 kilometers west of Binxian County, this Buddhist site has stood for over 1,300 years. A total of 130 grottoes on the 400-meter-long rock surface store thousands of Buddha statues of all sizes. Within the temple, the 20-meter-tall Buddha is the most spectacular one.
| | |
| --- | --- |
| Great Buddha Temple | Buddha Statues, Great Buddha Temple |

Other Scenic Spots
:
Maoling Mausoleum
,
Zhaoling Mausoleum
,
Xianyang Museum
,
Tomb of Crown Prince Yide
,
Tomb of Crown Prince Zhanghuai
,
Tomb of Huo Qubing
,
Tomb of Princess Yongtai
,
Sanyuan City God Temple
,
Museum Garden of Northwest A & F University
| | |
| --- | --- |
| Sacred Way, Qianling Mausoleum | Zhaoling Mausoleum |
How to Get to Xianyang
1. Xian Xianyang International Airport is 13 kilometers northeast of downtown area, operating flights to over sixty cities at home and abroad. There are six airport bus lines departing daily from the pick-up points in Xian and Xianyang.

2. Visitors can take Bus No.59, which shuttles between them. In addition, the Xianyang Bus Station is on Xilan Lu, in Qindu District, where bus services operate for other cities and counties inside the province. The West Bus Station in Xian has buses running to the city departing as soon as the buses are full.
| | |
| --- | --- |
| Tile of Han Dynasty, Xianyang Museum | Terra-cotta Warriors and Horses, Xianyang Museum |
Weather
-
The area has a warm temperate continental monsoon climate which features a chilly winter and torrid summer. Overcast and rainy days are most frequent in summer and autumn. Extreme heat may sear the city in summer causing high temperature of Xianyang weather in excess of 40

C (104

F). Visitors can choose any time to visit the place. However, avoiding the height of summer and the middle of winter is recommended.
Xianyang Travel Tips

History: Xianyang is an ancient capital. The first feudal dynasty in Chinese history, the Qin Dynasty, made it the capital city and planted the seeds of its impressive history. Historically, it once served as the capital for thirteen dynasties, leaving a legacy of twenty-seven tombs of emperors and hundreds of graves of imperial household members.

Physical Features:
The northern part of the city is situated on the Loess Plateau, while the south is a part of the Weihe Plain. In general, the terrain gradually falls away from the north to the south.

Special Local Products:

Xifeng Liquor, Huanggui Thick Wine (Huang Gui Chou Jiu), Amber Candy (Hu Po Tang), and embroidery.