Maoling Mausoleum (Mao Ling)
The tomb of
Emperor Wu
of Han - Liu Che (157 BC - 87 BC), Maoling Mausoleum is located about 40 kilometers (about 25 miles) away from Xi'an City. This mausoleum is called 'the Chinese Pyramid' since it is not only the largest but it also held the richest burial contents of all the mausoleums of Emperors constructed during the Western
Han Dynasty
(206 BC - 24 AD), and took the longest time, 53 years, to build.
Liu Che was the fifth Emperor of the Western Han Dynasty. He was a great feudal Emperor who can parallel
Emperor Qin Shi Huang
- the founder Emperor of the
Qin Dynasty
(221BC - 206BC). During his 54-year reign he exerted himself to make the country prosperous by consolidating and strengthening the unification of many nationalities. With his great talent, he made the Western Han Dynasty's power reach the highest peak and also opened the famous
Silk Road
.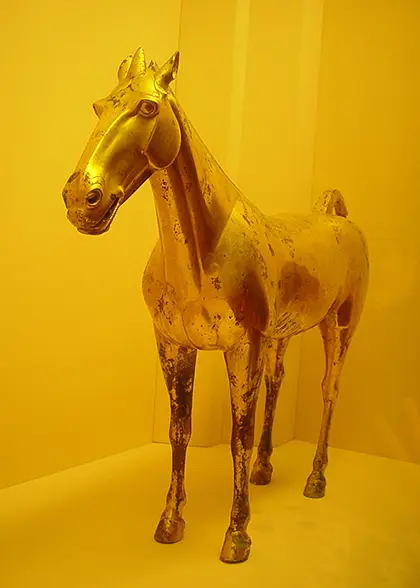 Surrounded by the city wall, the cemetery is in its self quite square. The city wall is 431 meters (about 1,414 feet) long from east-to-west and 415 meters (about 1,362 feet) long from south-to-north. In the center of each wall there is a door.
Now the ruins of east, west and north doors are still to be found in well preserved condition. The whole mausoleum is lofty and majesty. It is like a great cone in shape and even resembles a pyramid without its top. It is 46.5 meters (about 153 feet) high and the side length at the bottom, the widest part of the tomb is about 240 meters (about 787 feet). According to historic records, the Emperor Wu used one-third of the taxes to build his tomb and it was filled with an abundant array of burial objects, many of which are now exhibited in Maoling Museum.
Around Maoling Mausoleum, more than 20 tombs now still accompany Emperor Wu. Most of them are the tombs of imperial wives, meritorious ministers and worthy nobles. Here also to be found is the Tomb of Huo Qubing, which is much more famous for its magnificent stone carvings.

Maoling Mausoleum
How to get to Maoling Mausoleum from Xi'an
It takes about 2 hours from Xi'an to reach the Maoling Mausoleum by public transport.
Take a train to Xingping from
Xi'an Railway Station
, and then take Xingping Bus 11 to Maoling Bowuguan (Maoling Museum), which is about 1.2km (1,300 yards) east to Maoling Mausoleum.
Xi'an Train Schedule
Admission Fee
March to November: CNY 75;
December to next February: CNY 55
* The entrance ticket includes the museum and the mausoleum.
Opening Hours
March to November: 07:00 - 21:00
December to next February: 08:00 - 18:00
Recommended
Time for a Visit
Two hours
- Last updated on Oct. 11, 2018 -