Yuanjiacun Folk Village
Speaking of folk villages, the most distinctive and worthwhile place around Shaanxi is Yuanjiacun, located in Yanxia Town, Liquan County, Xianyang City. Here you can experience the characteristic Shaanxi folk culture and taste the most authentic Shaanxi snack food. If you want to explore leisurely, you can also stay for a night to experience the original ecological homestay with a unique style.
Yuanjiacun, a small village with hundreds of people, was no different from other small villages. However, under the leadership of successive village leaders, all the villagers united and made joint efforts. After more than 20 years of development, they successfully became the model representative of Shaanxi folk village.

There are many folk villages. Why is Yuanjiacun so successful? Perhaps you can see why by visiting for yourself.
What Are the Characteristics of Yuanjiacun?
Yuanjiacun has gathered the characteristic food of Shaanxi and even the whole of China, with hundreds of varieties and no repetition. Every stall is carefully selected and the taste is absolutely authentic. You don't have to worry about how to choose, no matter what you eat, you won't regret it. In addition, the food here pays attention to the quality of ingredients, the origin can be traced back, and you may just enjoy it at ease.
There are not only delicious food, but also a true reflection of the traditional folk life in the northwest part of China. Paper cutting house, blacksmith shop, tea house, dyeing house, vinegar and oil workshops and so on, let people seem to travel back to the ancient times.
In addition, there are many shops and entertainment facilities, such as jade shop, game shop, fish spa, archery hall, horror experience, virtual reality, bar, etc. A variety of activities will make your stay here a fulfilling and enjoyable day.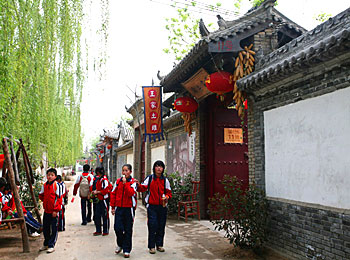 Yuanjiacun Folk Village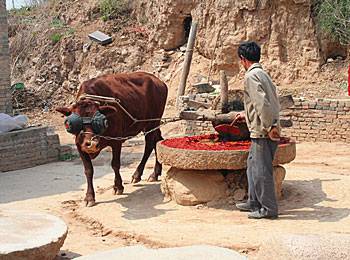 Local life in the village
How to Get to Yuanjiacun?
The transportation between Xi'an and Yuanjiacun is very convenient. There are shuttle buses from Xi'an North Bus Station and Xi'an South Bus Station every 30 or 40 minutes from 8:30 to 19:00 approximately. The whole journey is 85 kilometers and the travel time is 1.5 hours. Ticket price is CNY21.5 per person from North Bus Station and CNY24.5 per person from South Bus Station.
Travel Route Recommendation
Entrance of Yuanjiacun Village → Village History Hall → Tourist Service Center → Kangzhuang Old Street → Workshop Street → Muslim Street → Citang East Street → Theater Stage/Temple of Wealth → Citang West Street → Wang's Tea House → Shu Yuan Street → Qin Qiong Tomb → Bar Street → Art Gallery → Tourist Service Center
Three Experiences in Yuanjiacun You Should Not Miss
►
Taste Authentic Local Food
There are hundreds of delicious snacks here. For example, the star product fermented yogurt made by villagers, the milk made for yogurt is from their own cows. When you open the lid, there is a thick layer of yellow cream, which is mellow and smooth, refreshing and not greasy.
The fried dough twist in Yuanjiacun is very distinctive. It is made of flour from Yuanjiacun mill and pure rapeseed oil from Yuanjiacun oil house. Tastes crispy and delicious, and there is always a long queue at the door. In addition, the hollow noodles, Jello Stew with Rice Noodles, Fried Glutinous Rice Cake, Code Steamed Rice Noodles, Extra Soft Tofu and so on are all very popular.
►
Visit Traditional Handicraft Workshops
Walk in the simple and elegant alleys, on both sides lined with shops and workshops. There are Deruiiheng oil workshop, Daoxiangcun laozao Workshop, Lu's bean curd workshop, Wuweizhai vinegar workshop, Yongtai cloth workshop and so on. These will let you deeply understand and experience the traditional northwest folk customs.
►
Have A Pot of Tea
Tongjigong teahouse is located in the most prosperous place of Kangzhuang Old Street. The teahouse itself is an opera stage, a historical relic left over from the Ming and Qing dynasties. It is a good place to rest when you are getting tired. You can have a pot of tea and chat with friends here leisurely.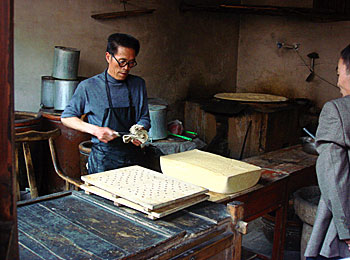 A traditional tofu workshop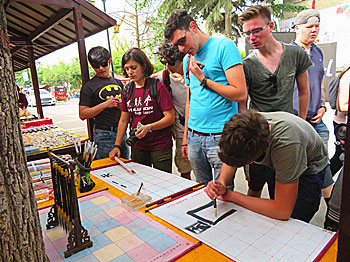 Experience Chinese calligraphy in the village
Useful Travel Information
•
The village is free of charge all day and all year round.
•
The best time to visit: The village is good to visit all year around, but spring and autumn are better because the weather is more comfortable. If possible, try to avoid holidays when there will be too many people.
•
Time to stay: Generally you need at least 3 hours to explore the area. If you walk around more leisurely, it needs about 5-6 hours.
•
Is it necessary to stay overnight? Starting from Xi'an, you can go back and forth in a day. If you like to stroll slowly, you can also stay here for a night. The homestay here, such as Lanting Homestay, Xiangshe Boutique Hotel and Zuoyouke boutique hotel, are all very distinctive.
•
About payment: You can use cash, Alipay, wechat for payment, and there are ATMs available too.
•
The tourist center provides luggage storage and wheelchair rental services. You can ask for help there if you need it.

Nearby Attraction:
Zhaoling Mausoleum (Zhao Ling)
- Last updated on Mar. 01, 2023 by Brenda Lian -
Questions & Answers on Yuanjiacun Folk Village
Asked by Zdenka from ČESKÁ REPUBLIKA | May. 03, 2019 06:25

Reply
Free ride to famen temple
There should be a free ride to Famen Temple from west gate of Tang Paradise and back when buying the ticket for both attactions. Where can i buy the tickets for both?
Answers (1)
Answered by Sharon | May. 05, 2019 18:13

0

0

Reply
If you buy the tickets of Tang Paradise and Famen Temple at full price, you can enjoy the free shuttle bus between the two sites on that day. You can go directly to the West Gate Ticket Office and Tourist Center of Tang Paradise for consultation and buying tickets.
Asked by angka from THAILAND | Dec. 16, 2018 18:28

Reply
xian railway station to Famen temple
please suggest Any Bus start from xian railway station to Famen temple ? we stay at hotel near bell tower
thanks
Answers (1)
Answered by Andrew | Dec. 17, 2018 16:49

0

0

Reply
You should take the Bus No.103 from Xi'an Railway Station to Xi'an West Passenger Transport Station first and then transfer to the tour bus to Famen Temple directly. The journey takes about 1.5 hours and the ticket costs 37.5 yuan per person. There are 5 shifts running throughout the day, and the departure time is 9:00, 10:00, 11:40, 16:30 and 17:00 respectively.
Asked by PEKOCHAN11 | Apr. 18, 2016 06:34

Reply
I would like to know how to get to Qianling from Famen Temple by bus.
Is it possible to visit both in one day? I will catch 遊2 at 8:00, visit both locations and need to be back to the Xi'an railway station by 21:30 to get on a train. Is it doable? Also, is left luggage section at the railway station open for 24 hours?
Answers (1)
Answered by Lee | Apr. 18, 2016 22:23

0

0

Reply
Actually I do not think one day is enough to cover Qianling and Famen Temple by public bus. There is no direct bus between the two places, you have to connect bus via Fufeng county and take bus or taxi to the spot. Including the visiting time and the bus transfer time, one day is really very pressing. By the way the traffic in Xi'an from 16:30 is getting bad, so you may take the risk of missing your train. Why don't you ask a travel agent to arrange a leisure tour for you?