Zhaoling Mausoleum (Zhao Ling)
Zhaoling Mausoleum, also know as Zhao Mausoleum, is the tomb of Li Shimin,
Emperor Taizong of Tang Dynasty
(618-907); he was one of the most brilliant rulers in Chinese history. Located in Jiuzong Mountain, 83 kilometers (51.5 miles) from downtown Xi'an, Shaanxi, Zhaoling Mausoleum is the largest among the 18 mausoleums of the Tang Dynasty. It is also the largest royal mausoleum in the world.
Covering an area of 87.5 square miles, Zhao Mausoleum has 190 satellite tombs that have been verified with 37 which have been excavated. The owners of the satellite tombs include famous ministers, royal families and high officials. All five forms of satellite burials in history have been represented here thereby justifying Zhaoling Mausoleum as the most typical imperial mausoleum in China. The configuration of Emperor Taizong's tomb as it overlooks the satellite ones symbolizes the utmost authority of the emperor.
The style of Zhaoling Mausoleum as it is set against the mountain is a miniature of the renovation in Tang Dynasty. Record has it that before her death, Empress Wende told Emperor Taizong that her burial site should be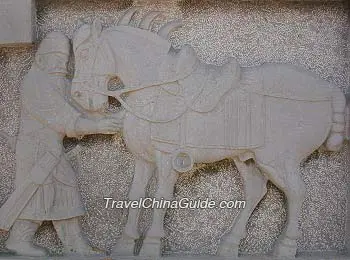 placed against a mountain so that there would be no need to build a tomb. After her burial, the Emperor wrote on the tombstone that an emperor regarded the whole world as his family. Why be bound to a mausoleum? In the mausoleum against Jiuzong Mountain, there was no gold or jade or anything precious except for some earthen and wooden wares. These were placed here to pacify thieves; their existence or loss was not important. From the excavated parts of the mausoleum, we could now say that the whole project was lavish instead of thrifty. Therefore, in setting the tomb against the mountain they protected it from theft rather than the initial propose as requested by the empress.
The construction of the Zhaoling Mausoleum lasted 107 years beginning with burial of Empress Wende in 636 until completion in 741. Rich cultural relics were left on the ground and underground. Zhaoling as a witness to the development from the beginning of Tang to its eventual prosperity. It is also a valuable treasury to help us know the culture, politics and economy of the Chinese feudal society; kept here are large quantities of calligraphy, sculpture and painting works. The epitaphs here written by reputed calligraphers can be said to be the norm of calligraphy in the beginning of Tang Dynasty. Murals here are a portraiture of the real life in Tang Dynasty with a romantic touch. Glazed pottery figures are daintily designed with bright colors.
By climbing to the top of Jiuzong Mountain, with the star-studded tombs under your eyes, you will feel like an emperor of old inspecting his ministers!
How to get to Zhaoling Mausoleum
From Xi'an:
Take a bus from Xi'an North Bus Station/ South Bus Station to Yuanjiacun Village, which is a famous folk culture village, providing all kinds of local snacks. Then, you can walk south for about 2km (1.2mi) to Zhaoling Museum where some relics from Zhaoling are exhibited. Zhaoling Mausoleum is about 12km (7.5mi) from the village, and you can take a taxi or private car there.
From Xianyang:
Take a bus from South Bus Station to Yuanjiacun Village. And then you can follow the above route to Zhaoling Museum and Zhaoling Mausoleum.
Xi'an Bus / Metro Search
Zhaoling Mausoleum
Zhaoling Museum
Admission Fee
Mar. – Nov. : CNY30
Dec. – Feb. : CNY20
Mar. – Nov. : CNY40
Dec. – Feb. : CNY25
Free for children under 1.2 meters (3.9 feet)
Opening Hours
Mar. – Nov. : 8:30-18:00
Dec. – Feb. : 9:00-17:30
Mar. – Nov. : 9:00-17:00
Dec. – Feb. : 9:00-16:30

Nearby Attraction:
Yuanjiacun Folk Village
- Last updated on Feb. 28, 2023 by Brenda Lian -
Questions & Answers on Zhaoling Mausoleum (Zhao Ling)
Asked by fatima from INDONESIA | Jul. 14, 2015 21:59

Reply
how can i reach xian railway station from zhaoling mausoleum? and how much cost for transport?
Answers (1)
Answered by Henry from GERMANY | Jul. 15, 2015 04:09

1

1

Reply
There is no direct bus. You can take a taxi (CNY25-30)or bus no. 103 or 104 (CNY1) to West Bus Station first. Then take the long distance bus to Liquan County (CNY20). After that, take the local scheduled bus to get to the destination. :-)