Hanzhong Travel Guide
Hanzhong Facts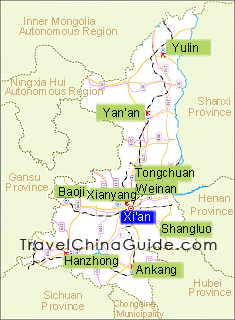 Chinese Name: 汉中市 (hàn zhōng shì)
Location: Located in the southwest of Shaanxi Province, the city lies to the south of the Qinling Mountains to the north of the Daba Mountains (see below) with the Hanzhong Basin in the center. It is bounded on the southwest by Gansu and Sichuan provinces, and adjacent to Xi'an in the northeast.

Population: 3,740,000
Area: 27,246 square kilometers (10,520 square miles)
Nationalities: Han
Administrative Division: 1 district (Hantai); 10 counties (Nanzheng, Chenggu, Yangxian, Xixiang, Mianxian, Ningqiang, Lueyang, Zhenba, Liuba, Foping)
Useful Telephone Numbers:
| | |
| --- | --- |
| Tourist Complaints: | 0916-2222504 |
| Weather Forecast: | 121 |
| Zip Code Inquiry: | 184 |
| Bank of China: | 0916-2213580 |
Hanzhong Attractions - Things to Do
Shimen Plank Road Scenic Area is a famous attraction in the northeast suburb of the city. It is famous for Shimen Plank Road, Shimen Tunnel which was the first man-made tunnel in the world, and for Shimen Dam from where you can enjoy the gripping panorama of Baohe River and the riverside natural sceneries.
| | |
| --- | --- |
| Shimen Plank Road | Shimen Tunnel |
Located in the city center, Ancient Hantai was originally the royal residence of Liu Bang - the first emperor of the Han Dynasty. Currently, it is the site of the Hanzhong Museum, housing about 12,000 cultural relics. The Thirteen Moya Carvings of Stone Gate and the Baoxie Plank Road are the most famous exhibitions in the museum.
| | |
| --- | --- |
| Ancient Hantai | Wangjiang Tower, Hangzhong Museum |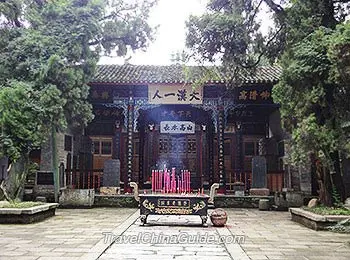 Wuhou Temple
Located in the west of Mianxian County, about 45 km (28 miles) from downtown area, the Wuhou Temple (Temple of Marquis Wu) was built in 236 to memoraliize Zhuge Liang - the most intelligent and successful strategist of the Three Kingdoms Period (220 - 280). It is said to be the first of its kind in the entire country, even 50 years earlier than the
Wu Hou Shrine
in Chengdu.
Located in Raojiaying Village, Chenggu County, the tomb is the final resting place of Zhang Qian (164-114 BC) - an outstanding diplomat and explorer during the Western Han Dynasty (202BC-9 AD), and the pioneer of the world-famous Silk Road. The tomb is 30 kilometers (19 miles) east of central downtown.
About 158 kilometers (100 miles ) northeast of the city, Foping National Nature Reserve is also the home to cute pandas and other rare animals and plants. In addition to the black-white pandas we see, the brown giant panda was also once found here. Because of the complex ecosystem which has cultivated various kinds of animals and plants, this reserve is described as the "Natural Animal and Plant Gene Base."
About 200 km (124 mi) from city center, Qingmuchan Ancient Town used to be a vital trading and military post in ancient China and now has become a famous attraction site for its well-preserved traditional blocks, old buildings, temples and ancestral halls. Huilongchang Old Street, Qingmuchuan Furen Middle School, and Weifutang's Residence are the must-see sites here.
Crested Ibis Nature Reserve
Located in northern Yangxian County, this national nature reserve was established to protect a rare bird, crested ibis from extinction. The reserve has the only rescue and care center for the crested ibis in China. The number of birds has increased from the initial seven ones in the wild to five hundred.
| | |
| --- | --- |
| Crested Ibis Nature Reserve | Crested Ibis |
Recommended Tours:
Hiking Adventure
Hanzhong Culture Appreciation: to visit Ancient Hantai, Baoxie Plank Road, Wuhou Memorial Temple.
How to Get to Hanzhong
Hanzhong Chenggu Airport is 17 kilometers (11 miles) southwest of the city proper, operating flights from to/from Beijing, Shanghai, Guangzhou, Shenzhen, Hangzhou, Xiamen, Nanjing, Urumqi, Qingdao, Kunming, Lanzhou, Yinchuan, Nantong, Foshan... A new airport will be built in Mianxian County in the near future. There are also two trains (one from Xi'an Railway Station and the other from Xi'an South Railway Station) to Hanzhong Railway Station in the city, which takes 7-8 hours. Most people go there by bus through Expressway, which is cheap and fast. The express bus can be found both in Xi'an Chengnan (South) Coach Station and Chengxi (West) Coach Station. The journey is 3.5 hours.

Thanks for the completion of Xi-Han Expressway, the distance between the two cities is halved, only about three hours needed. Buses to city proper can be found in Xi'an West Bus Station in No.92, Zaoyuan Road (East). Visitors can get buses to the districts and counties from the Xi'an South Bus Station (Mingdemen Bus Station) in Zhuque Dajie. Terminal in the other end is the Hanzhong Express Bus Station in Xinqiao Shizi (Intersection).



See more Xi'an - Hanzhong Train
Weather
-
Situated in the transition area between warm temperate zone and subtropical zone, the area has moderate and humid weather without torrid a summer. The winter wind current coming form North China is blocked by the Qinling Mountains, so winter is relatively warmer. The rainy season of Hanzhong weather usually appears during June and lasts until September. Any season is a good season to visit the city.
Hanzhong Travel Tips

History: The city gained its name from the Han River. As early as 2,400 years ago, a shire was established by the Qin Kingdom during the Warring States Period (476BC-221BC). It is the birthplace of the Han Dynasty (206BC-220AD).

Physical Features:
The region is sandwiched between the Qinling Mountains and Daba Mountains, at the upper reaches of the Han River. The river flows through the city, shaping the Hanzhong Basin in the heart of the city. Mountainous and hilly areas make up the main topography.

Special Local Products:
Xiecun yellow wine and color rice of Yangxian County, Mingmei green tea of Mianxian County
- Last modified on Nov. 22, 2019 -
Questions & Answers on Hanzhong Travel
Asked by Baihe from CANADA | Mar. 08, 2015 09:13

Reply
Ankang to Hanzhong
Ni Hao, is there an express bus between Ankang and HZ?
Answers (1)
Answered by Juana | Mar. 09, 2015 02:11

0

0

Reply
Yes, buses for this trip are scheduled from 09:30 to 18:50 every an hour. It takes around 2h and 40min.
Asked by Judith from GERMANY | Oct. 05, 2013 04:31

Reply
Is there any tour from Xi'an to the Panda Foping Nature Reserve? Or another possibility to go there?
Answers (1)
Answered by Laura | Oct. 06, 2013 04:39

5

1

Reply
I do not think it is easy for you to find the tour to reach that nature reserve, so I suggest you to reach there on your own.
To reach there from Xi'an, you need to go to the Xi'an South Bus Station where you can find the direct bus to Foping. Upon reaching Foping, you can hire a local car to reach that reserve.
Asked by Ms. Cindy from USA | Oct. 03, 2013 16:05

Reply
is the long distance or express buses to Hanzhong equiped with toilet?
Answers (1)
Answered by Potter from THAILAND | Oct. 04, 2013 01:31

0

0

Reply
For the express bus to HZ, what departure place do you refer to, Xi'an?
If you mean the departure place is Xi'an, there is no toilet on the bus and the express bus takes about three hours on the way.
Asked by SUSIE ONG from PHILIPPINES | Jun. 29, 2013 18:56

Reply
WHAT IS THE EMAIL ADDRESS OF HANZHONG CITY POLICE DEPARTMENT?
THIS IS URGENT. YOUR IMMEDIATE RESPONSE IS HIGHLY APPRECIATED.
Answers (1)
Answered by Susia from THAILAND | Jun. 29, 2013 20:48

0

0

Reply
I am afraid that it is hard to find the email of the local police office and I only know the phone number of the police office and it is 0916-2688840. Hope it helps you.
Asked by Eloise from AUSTRALIA | Aug. 09, 2011 03:51

Reply
Do buses from Xi'an to Hanzhong run every day? I am wanting to go on a Friday or Saturday.
I am from Australia but hope to get to that city quite soon after my arrival in Shanghai. Is there a website with bus information that I can access and plan before I get there?
Answers (1)
Answered by Sara from CHINA | Aug. 09, 2011 20:19

0

0

Reply
Hi, will you fly from Shanghai to Xi'an or take train from Shanghai to Xi'an?
Anyway, the buses run daily from Xi'an Chengnan Long-distance Bus Station and Xi'an Chengxi Long-distance Bus Station.