Wuhou Temple (Memorial Temple of Marquis Wu)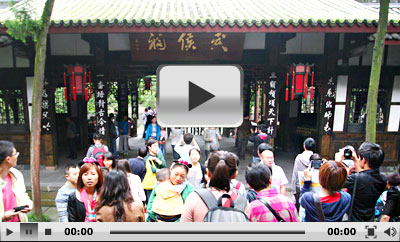 Wuhou Temple, also known as Memorial Temple of Marquis Wu, is dedicated to Zhuge Liang, the Marquis Wu (Wuhou) of Kingdom of Shu in the Three Kingdoms Period (220 - 280).

Zhuge Liang was the personification of noble character and intelligence. Memorial architectures erected in many places after his death include a famous one in Chendu.

Located in the south suburb of Chengdu, Wuhou Temple covers 37,000 square meters (398,277 square feet). The date of its establishment is unclear, only that it was built next to the temple of Liu Bei, the emperor of Shu. It was combined with the Temple of Liu Bei at the beginning of the Ming Dynasty; consequently, the entrance plaque reads 'Zhaolie Temple of Han Dynasty' (Zhaolie is the posthumous title of Liu Bei). The current Wuhou Temple was rebuilt in 1672. Surrounded by old cypresses and classical red walls, it evokes nostalgia.
| | |
| --- | --- |
| | Hall of Zhuge Liang |
The main body of Wuhou Temple is divided into five sections, the Gate, the second Gate, the Hall of Liu Bei, the corridor, and the Hall of Zhuge Liang, all of which run south to north. Inside, clay sculptures of Shu Emperor and ministers stand together, making them a special feature.

The most valuable cultural relic in Wuhou Temple is the stele set up in 809. This huge stele 367-centimeter (144-inch) high and 95-centimeter (37-inch) wide is called the Triple-Success Stele. The three successes are: an article written by Pei Du, a famous minister of the Tang Dynasty who served four emperors in succession, calligraphy by Liu Gongquan, one of the most brilliant calligraphers in Chinese history, and a statement about the morality and achievements of Zhuge Liang.
| | |
| --- | --- |
| The Sacred Way of Hui Mausoleum | Triple-Success Stele |
His great personality, his dedicated service to others, and his outstanding intelligence place Zhuge Liang above all emperors, generals, and ministers in history. A visit to the temple illuminates his status with the Chinese people.
How to get to Wuhou Temple
1. Take 1, 57, 82, 334, 335 or 1126 to Wuhouci (Wuhou Temple) Station.
2. Take
Metro Line 3
and get off at Gaoshengqiao. And then walk eastwards along Wuhouci Avenue for 3-5 minutes to find the temple.
Chengdu Bus / Metro Search
Entrance Fee
CNY 60;
Free for children under 1.3m (4.3ft)
Opening Hours
May - Oct.: 8:00 - 20:00 (tickets selling stops at 19:30)
Nov. - Apr.: 8:00 - 18:30 (tickets selling stops at 17:30)
Recommended
Time for a Visit
One hour
Travel Tip:
Tourists can take
Chengdu Sight-seeing Bus
from the tourist center of Wuhou Temple to most popular tourist attractions, such as
Research Base of Giant Panda Breeding
,
Dujiangyan Irrigation System
,
Mount Qingcheng
and
Sanxingdui Museum
.
Neighboring Attraction:
Jinli Street

Top 10 Things to Do in Chengdu
- Last modified on Sep. 21, 2018 -