Wuhou Temple (Wu Hou Shrine Temple of Marquis)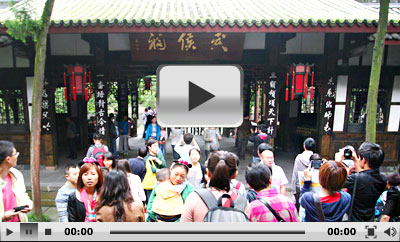 Wuhou Temple, also known as Wuhou Shrine Temple of Marquis, is dedicated to
Zhuge Liang
, the Marquis Wu (Wuhou) of the
Kingdom of Shu
in the
Three Kingdoms Period
(220 - 280). Zhuge Liang was an excellent politician, militarist, diplomat and astronomer. In addition, the Temple of
Liu Bei
, the emperor of Shuhan, and his mausoleum are well-known historical sites inside this big scenic spot.
Wuhou Temple is located in the southwestern part of downtown Chengdu. The date of its establishment is unclear. We know only that it was built next to the Temple of Liu Bei. Consequently, the entrance plaque reads "Zhaolie Temple of Shuhan Kingdom". Zhaolie is the posthumous title of Liu Bei. The current Wuhou Temple was rebuilt in 1672.


What to See inside Wuhou Temple
The main body of the Wuhou Temple, the front gate, the second gate, the Temple of Liu Bei, the Temple of Zhuge Liang and Sanyi Temple, run south to north. Moreover, the Tomb of Liubei, on the west side of Wuhou Temple, is worth a visit.

Entering the front gate, you will first see six steles, stone monuments, shaded by trees on your right hand. One of the most valuable cultural relics in Wuhou Temple is the largest stele set up in 809. This huge stele is 367 centimeters (144 inches) high and 95 centimeters (37 inches) wide. It is called the Triple-Success Stele. The three successes are: an article written by Pei Du, a famous minister of the Tang Dynasty (618-907) who served four emperors in succession, calligraphy by Liu Gongquan, one of the most brilliant calligraphers in Chinese history, and a statement about the morality and achievements of Zhuge Liang.
Passing through the second gate, the magnificent Temple of Liubei, also named Zhaolie Temple, stands in front of you. A golden sculpture of Liubei stands in the middle inside the temple, and the height of the sculpture is 3 meters (9.84 ft). A sculpture of his grandson, Liuchen, is on his left side. In the east side of the courtyard, visitors can see sculptures of Guanyu and his offspring, while on the west, are the sculptures of Zhangfei and his offsprings. Zhangfei and Guanyu are both excellent martial generals serving Liubei. A little stele is set in front of each sculpture to tell the figure's name and life experience.

Bypass the Zhaolie Temple and go down a few steps, and the Temple of Zhuge Liang comes into view. The sculptures of Zhuge Liang and his three generations of offspring are in the center of the temple. It's said that the three bronze drums with exquisite patterns in front of the statue, were made when he led the army and marched south, so the three drums are given the name, Zhege Drum. Move your eyes to the roof of the temple, where a sentence from "Advice to My Son" written by Zhuge Liang is printed. It reads "One can't show high ideals without simple living; One can't have lofty aspirations without a peaceful state of mind".
| | |
| --- | --- |
| Zhuge Liang's Statue | Sacred Way of Hui Mausoleum |
Sanyi Temple can be divided into three parts: Prayer, the Temple, and Corridors. The vivid sculptures of Liubei, Guanyu and Zhangfei are inside the Temple. The height of Liu statue is 2.8 meters (9.19 ft), while those of both Guan and Zhang are 2.6 meters (8.53 ft). The difference in height implies the relationship between emperor and officials. There are also two groups of black steles, 2.2 meters (7.22 ft) wide and 2.3 meters (7.54 ft) high.

Tomb of Liubei (Huiling Mausoleum)
The Tomb of Liubei, Huiling Mausoleum, is located in the west side of Wuhou Temple. It's reported that it has a history of over 1,700 years, and it is preserved pretty well and never vandalized to this date. The tomb is surrounded by a round brick wall, built in 1825.

How to get to Wuhou Temple
1. Take Metro Line 3 and get off at Gaoshengqiao. And then walk eastwards along Wuhouci Avenue for 3-5 minutes to find the temple.
2. Take 1, 57, 77, 82, 334, 335 to Wuhouci (Wuhou Temple) Station.

Chengdu Bus / Metro Search
Entrance Fee
CNY 50
Free for children under 1.3m (4.3ft) or under 6 years old.
Opening Hours
8:00 - 18:30 (tickets selling stops at 17:30)
Recommended
Time for a Visit
2-4 hour
- Last updated on Sep. 20, 2023 by Gabby Li -
Questions & Answers on Wuhou Temple (Wu Hou Shrine Temple of Marquis)
Asked by Fiza Ali from INDIA | Jun. 01, 2021 03:53

Reply
where does Wuhou Temple located in china ??
Answers (1)
Answered by Kevin | Jun. 05, 2021 09:39

0

0

Reply
Chengdu, Sichuan Province, China
Asked by Violet Doan from SINGAPORE | Oct. 03, 2019 09:02

Reply
Wuhou temple Chengdu
I need to go to Wuhou temple with my luggage, Where can I deposit my luggage?
Thank you.
Answers (1)
Answered by Connor from USA | Oct. 11, 2019 00:01

0

0

Reply
You can put your luggage in the tourist center of it.
Asked by mohammad from IRAN | Oct. 29, 2016 06:03

Reply
How can i go to Chengdu wohu temple from jiaotong university?
Answers (1)
Answered by Sarah from CANADA | Oct. 29, 2016 21:28

0

1

Reply
Do you refer to Jiuli Campus?
If so, you can walk about 400 yards to Jiulidi Zhonglunan to take the bus No. 109 to Wuhouci Street. Then walk another 600 yards to the temple.

If you take a taxi, it may cost you about CNY20.
Asked by Ti from THAILAND | Mar. 04, 2016 19:46

Reply
I need to go to Wuhou temple with my luggage, Where can I deposit my luggage?
Thank you.
Answers (2)
Answered by Nick | Mar. 05, 2016 20:09

1

1

Reply
Hi, I remember it is ok to store the luggage at the Tourist Service Center near the main entrance of the temple.
Answered by Ti from THAILAND | Mar. 08, 2016 04:46

0

2

Reply
Thank you very much
Asked by Jason Lee from MALAYSIA | Dec. 06, 2015 07:51

Reply
What can we do in Chengdu?
Are there like any shops or restaurants aside Jinli Street ,and how much time should I take for the whole temple for sight seeing
Answers (1)
Answered by Helen from UNITED KINGDOM | Dec. 08, 2015 02:19

1

2

Reply
Of course. Jinli Street is a famous pedestrian street. You will find various stores and restos aside the street, as well as many great snacks in the stalls on the sidewalk. For the temple, 2-3 hours are enough.