Wuhou Temple (Memorial Temple of Marquis Wu)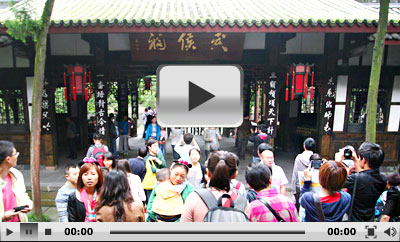 Wuhou Temple, also known as Memorial Temple of Marquis Wu, is dedicated to Zhuge Liang, the Marquis Wu (Wuhou) of Kingdom of Shu in the Three Kingdoms Period (220 - 280).

Zhuge Liang was the personification of noble character and intelligence. Memorial architectures erected in many places after his death include a famous one in Chendu.

Located in the south suburb of Chengdu, Wuhou Temple covers 37,000 square meters (398,277 square feet). The date of its establishment is unclear, only that it was built next to the temple of Liu Bei, the emperor of Shu. It was combined with the Temple of Liu Bei at the beginning of the Ming Dynasty; consequently, the entrance plaque reads 'Zhaolie Temple of Han Dynasty' (Zhaolie is the posthumous title of Liu Bei). The current Wuhou Temple was rebuilt in 1672. Surrounded by old cypresses and classical red walls, it evokes nostalgia.
| | |
| --- | --- |
| | Hall of Zhuge Liang |
The main body of Wuhou Temple is divided into five sections, the Gate, the second Gate, the Hall of Liu Bei, the corridor, and the Hall of Zhuge Liang, all of which run south to north. Inside, clay sculptures of Shu Emperor and ministers stand together, making them a special feature.

The most valuable cultural relic in Wuhou Temple is the stele set up in 809. This huge stele 367-centimeter (144-inch) high and 95-centimeter (37-inch) wide is called the Triple-Success Stele. The three successes are: an article written by Pei Du, a famous minister of the Tang Dynasty who served four emperors in succession, calligraphy by Liu Gongquan, one of the most brilliant calligraphers in Chinese history, and a statement about the morality and achievements of Zhuge Liang.
| | |
| --- | --- |
| The Sacred Way of Hui Mausoleum | Triple-Success Stele |
His great personality, his dedicated service to others, and his outstanding intelligence place Zhuge Liang above all emperors, generals, and ministers in history. A visit to the temple illuminates his status with the Chinese people.
How to get to Wuhou Temple
1. Take 1, 57, 82, 334, 335 or 1126 to Wuhouci (Wuhou Temple) Station.
2. Take
Metro Line 3
and get off at Gaoshengqiao. And then walk eastwards along Wuhouci Avenue for 3-5 minutes to find the temple.
Chengdu Bus / Metro Search
Entrance Fee
CNY 60;
Free for children under 1.3m (4.3ft)
Opening Hours
May - Oct.: 8:00 - 20:00 (tickets selling stops at 19:30)
Nov. - Apr.: 8:00 - 18:30 (tickets selling stops at 17:30)
Recommended
Time for a Visit
One hour
Travel Tip:
Tourists can take
Chengdu Sight-seeing Bus
from the tourist center of Wuhou Temple to most popular tourist attractions, such as
Research Base of Giant Panda Breeding
,
Dujiangyan Irrigation System
,
Mount Qingcheng
and
Sanxingdui Museum
.
Neighboring Attraction:
Jinli Street

Top 10 Things to Do in Chengdu
- Last modified on Sep. 21, 2018 -
Questions & Answers on Wuhou Temple
Asked by mohammad from IRAN | Oct. 29, 2016 06:03

Reply
How can i go to Chengdu wohu temple from jiaotong university?
Answers (1)
Answered by Sarah from CANADA | Oct. 29, 2016 21:28

0

1

Reply
Do you refer to Jiuli Campus?
If so, you can walk about 400 yards to Jiulidi Zhonglunan to take the bus No. 109 to Wuhouci Street. Then walk another 600 yards to the temple.

If you take a taxi, it may cost you about CNY20.
Asked by Ti from THAILAND | Mar. 04, 2016 19:46

Reply
I need to go to Wuhou temple with my luggage, Where can I deposit my luggage?
Thank you.
Answers (2)
Answered by Nick | Mar. 05, 2016 20:09

1

1

Reply
Hi, I remember it is ok to store the luggage at the Tourist Service Center near the main entrance of the temple.
Answered by Ti from THAILAND | Mar. 08, 2016 04:46

0

2

Reply
Thank you very much
Asked by Jason Lee from MALAYSIA | Dec. 06, 2015 07:51

Reply
What can we do in Chengdu?
Are there like any shops or restaurants aside Jinli Street ,and how much time should I take for the whole temple for sight seeing
Answers (1)
Answered by Helen from UNITED KINGDOM | Dec. 08, 2015 02:19

1

2

Reply
Of course. Jinli Street is a famous pedestrian street. You will find various stores and restos aside the street, as well as many great snacks in the stalls on the sidewalk. For the temple, 2-3 hours are enough.
Asked by Maya from SWITZERLAND | Mar. 05, 2014 03:58

Reply
How to get there to the Wuhou Temple from Chengdu Airport
I'm planning to visit the Temple of Marquis in Chengdu next month, but I was wondering how I can get there from the Chengdu Airport? Which subway or bus should I take?
Answers (1)
Answered by Mary from USA | Mar. 06, 2014 03:20

1

1

Reply
From the airport, you can take the airport shuttle bus line 2 to reach Tianfu Square and then change a taxi to the temple.