Mount Qingcheng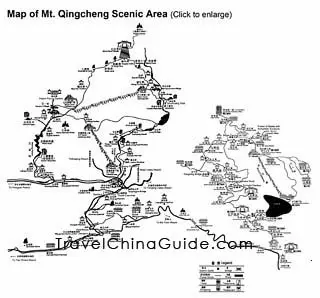 Map of Mount Qingcheng (Click to enlarge)
Mount Qingcheng, located in the southwest of the
Dujiangyan Irrigation System of China
in Sichuan Province, is one of the most famous Taoist mountains in China. It is also a very attractive and intriguing scenic spot that is covered by luxuriant and verdant trees. The mountain, which is surrounded by numerous peaks and is shaped like a city, is dubbed 'the most peaceful and secluded mountain under heaven' and combines perfectly with its evergreen scenery.
The Mount Qingcheng can be divided into two parts - the anterior part and the posterior part. The anterior part is the main part of the scenic spot, covering an area approximately 15 square kilometers (about 3706 acres) that possesses alluring natural beauty and an abundance of cultural relics and historic sites. Among them, the Jianfu Palace, the Shangqing Palace, and the Tianshi Cave are some of the most famous destinations which you are bound to be engrossed by.
Looking up at Mt. Qingcheng from its foot, you will see that Laojun Pavilion is located on the highest peak, which is known as Pengzu Peak, it is also called Laoxiao Peak, which has an elevation of over 1,260 meters (4,134 feet).
As you begin to climb up Mt. Qingcheng you will discover the Jianfu Palace, which was originally constructed in the
Tang Dynasty
(618-907) and was restored on several other occasions through the years. Now, two temples and three compounds also exist here, surrounded by lush ancient vegetation. In front of the Jianfu Palace, a lucid stream winds its way, adding more beauty to the whole environment. Going west for one kilometer (about 0.6 mile), visitors will suddenly be presented with a wooden pavilion that protrudes between a profusion of trees and steep rocks. As a result, most of visitors will have misconception impressions that they are in a large natural painting.
| | |
| --- | --- |
| Entrance of Mt. Qingcheng | Ciyun Tower |
Going west, you will arrive at the Tianshi Cave. It is the major temple here. In the cave, a stone statue in the style of Sui Dynasty (581-618), proudly stands of Zhang Tianshi (the Celestial Master Zhang) who is worshipped. According to the legend, Zhang Daoling, later known as Zhang Tianshi, cultivated himself and preached here around the end of the Eastern Han Dynasty (25-220). Hence, Zhang Tianshi is known as the founder of Taoism on Mt. Qingcheng. We also recommend that you visit the three other buildings that exist in this area - the Sanhuang Palace, the Sanqing Palace and also the Huangdi Temple. The Sanqing Palace, the main hall of the Tianshi Cave, worships the three supreme deities in Taoism; while in the Sanhuang Palace, the stone statues of Fuxi, Shennong and Huangdi (the Three Sovereigns of legendary rulers of China in remote antiquity) are worshipped.

Then, leaving the Tianshi Cave and crossing the Fangning Bridge, visitors will arrive at the Zushi Palace which is preserved from the Qing Dynasty (1644-1911). By continuing along the path, visitors will reach the next famous temple - the Shangqing Palace, and one by one a series of natural scenery and revered buildings of Taoism will present themselves to visitors. The Shangqing Palace was originally built in the Jin Dynasty; however, only a part of the buildings that were constructed in the Qing Dynasty remain. Fortunately, it is still an attractive sight where you can enjoy the unique natural scenery and historic heritages of China.
| | |
| --- | --- |
| Shangqing Palace | Sanqing Hall |
By visiting Mt. Qingcheng, visitors will be able to savor the pleasure of the perfect combination of the unique landform, moderate climate, natural beauty and cultural relics and historic sites of Taoism in this area.
How to get to Mount Qingcheng
From Chengdu:
1. Take bullet trains from
Chengdu Railway Station
to Qingchengshan Railway Station. Then take bus no. 101 to Mt. Qingcheng (Front Mountain).
See detailed
Chengdu - Qingchengshan Train
2. Take regular bus from
Xinnanmen Bus Station
or East City Bus Station to Qingchengshan.
From Dujiangyan:
1. Take bus no.101 from Dujiangyan Scenic Area to Mt. Qingcheng.
2. Take bus no. 101 from Lidui Park Station or Qingchengshan Railway Station to get there.
3. Take bus no. 102 from Dujiangyan Passenger Transportation Center to Qingchengshan Railway Station and then change bus no.101 to get there.
Chengdu Bus / Metro Search
Entrance Fee
Front Mountain: CNY 80
Rear Mountain: CNY 20
Ten-Thousand Buddha Cave: CNY 5
Crystal Cave: CNY 10
Cable Car
Front Mountain: CNY 35 (single trip), CNY 60 (round trip)
Rear Mountain:
Jinli: CNY 30 (single trip), CNY 55 (round trip)
White Cloud: CNY 45 (single trip); CNY 80 (round trip)
Boating
CNY 5 (Yuecheng Lake on the Front Mountain)
CNY 2 ( Cuiying Lake on the Rear Mountain)
Opening Hours
Mar. 2 to Nov.: 08:00 to 17:00
Dec. to Mar. 1: 08:00 to 18:00
Recommended
Time for a Visit
Half a day

Top 10 Things to Do in Chengdu

10 Best Places to Visit in Chengdu for First-time Visitors
- Last updated on Apr. 25, 2023 -
Questions & Answers on Mount Qingcheng
Asked by Patapong from THAILAND | Mar. 27, 2023 08:02

Reply
At here, I need to take my grandmum to go. Is there car all trip? Or do they walk only?
Between cable car to another cable car. Is it smooth Road for walk or is there a many stair or car to take us to go?
How many Km. For walk between cable car? And it is smooth road or up and down road?
Answers (1)
Answered by Bella | Mar. 27, 2023 18:31

0

0

Reply
They are mostly stairs between cable cars. If your grandmum cannot walk a lot, hire a sedan chair for her and the carriers will take her up there.
Asked by jewelmore from CHINA | Nov. 04, 2019 19:55

Reply
We are planning to arrive at Qingcheng mountain at 10:30am.
And start hiking up. Wondering if there's any good taste fair price restaurants along the trail for the lunch?
Answers (1)
Answered by Elva from NEW ZEALAND | Nov. 06, 2019 19:03

0

0

Reply
Yes, there is. You will find some restaurants and locals selling snacks on the way.
Asked by Rebecca from AUSTRALIA | Oct. 27, 2019 04:52

Reply
Hi, is this area part of the Chengdu 144 hour visa?
Answers (1)
Answered by Daniel from USA | Oct. 28, 2019 23:10

0

0

Reply
Yes, it is.
Asked by Norazizi Ab Aziz from MALAYSIA | Oct. 23, 2019 21:04

Reply
Whats transport can i take from Qingcheng go to Dayi?
After went to Qingcheng Mountain, we are planning to go to Xiling Snow Mountain. whats transport should i take as i have research just show me to take a taxi. thanks
Answers (1)
Answered by Luke from UNITED KINGDOM | Oct. 27, 2019 18:11

0

0

Reply
I didn't find any public tranport. Maybe you need to hire a car to go there.