Thatched Cottage of Du Fu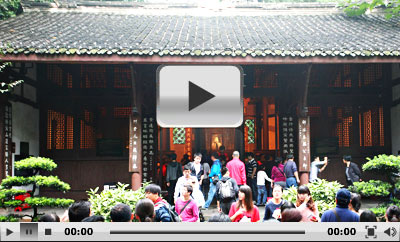 Pictures
Thatched Cottage of Du Fu is about 5km (3 miles) west of Tianfu Square. Just as the name implies, it was the home of a famous poet, Du Fu, in Tang Dynasty (618-907).

Du Fu was born in Gongyi City, Henan Province in 712. In 746, he took the official examination in Chang'an (now known as Xi'an) and continued to live there for more than ten years after the failure. But, in order to get away from the An-Shi Rebellion breaking out in 758, he fled to Chengdu in 759. With the help of friends, the thatched cottage was built in 760 beside the Flower Bathing Brook on the western outskirts of Chengdu. During the four years stay there, he composed more than 240 poems that are considered to be precious national treasures.

After his departure from Chengdu, Thatched Cottage of Du Fu was abandoned for a long time and became dilapidated. Hundreds of years later in the Northern Song Dynasty (960-1127) a new temple was built on the original site to commemorate this outstanding person in Chinese literature.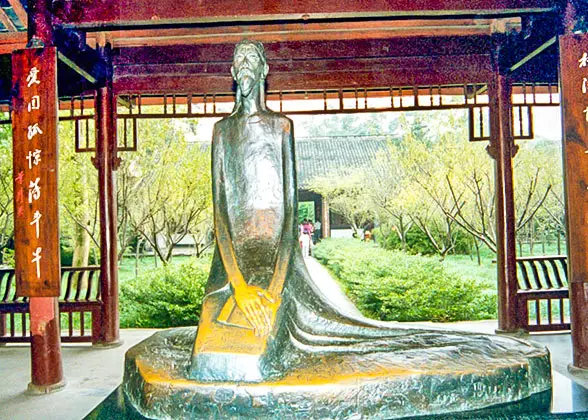 Bronze Statue of Du Fu
From then on, Thatched Cottage of Du Fu was renovated and enlarged repeatedly. There were two very important reconstructions in 1500 and 1811 respectively, both of which set the scale and structure of the present thatched cottage. Today, it is a shrine to Chinese literature and a commemorative museum in the form of a traditional garden.

The Thatched Cottage of Du Fu covers a total area of 24 hectares (about 59 acres), and is the combination of both Fan'an Temple in the east and the Plum Garden in the west. Construction inside belongs to the Qing Dynasty (1644-1911) style, with gardens in the unique compound style of traditional Chinese gardening. Inside the thatched cottage: gardens are quiet; streams are winding; bridges and pavilions are interwoven; trees reach for the sky; plum trees and bamboos stand side by side; and classical architectural styles bring you a strong cultural atmosphere. Besides, whenever you walk here, you will feel uplifted, because the plum blossoms in spring, the lotus flowers in summer, the chrysanthemums in autumn and the orchids in winter will bring you the enjoyment of both man-made beauty and nature's romance.

The area includes several amazing structures. Next to each other in a line that divides the whole thatched cottage area into two parts are the Screen Wall, the Gate, the Lobby, the History in Verse Hall, the Faggot Gate, and the Gong Bu Temple. On each side there are cloisters and other attached buildings echoing each other. This layout gives the place solemnity, simplicity, elegance, and grace.
| | |
| --- | --- |
| History in Verse Hall | Thatching |
| | |
| --- | --- |
| Shrine of Du Fu | Tablet Pavilion |
To the east of the Gong Bu Temple stands the Tablet Pavilion, which is on the original site of the Thatched Cottage of Du Fu. It has 5 main and 4 attached rooms with thatched roofs and is surrounded by bamboo fences, vegetable gardens and herb plots. All these endow a strong atmosphere of culture. Again, the grand bronze statue of Du Fu in the Memorial Hall and the vivid earthen figure of Du Fu in Gong Bu Temple all impart a feeling of deep respect for the poet.
The Du Fu Thatched Cottage stretches out its arms to welcome visitors from all over the world.
How to get to Thatched Cottage of Du Fu
1. Take bus 35, 58, 82, 151, 165, 170, 1024 or g74, and get off at North Gate of Dufu Caotang (Thatched Cottage of Du Fu) station.
2. Take
Metro Line 4
to North Caotang Road Station, and then walk south for about 15 minutes to get there.
Chengdu Bus / Metro Search
Entrance Fee
CNY 50
Free for children under 1.3 meters (3.9 feet) and no more than 6 years old
Opening Hours

8:00 - 18:30
Ticketing stops 1h before the closing time.

Nearby Attractions:
Sichuan Museum
: the largest comprehensive museum in southwestern China; numerous historical collections.
Huanhua Stream Park
: the largest urban forest park in Chengdu.

Top 10 Things to Do in Chengdu

10 Best Places to Visit in Chengdu for First-time Visitors
- Last updated on Sep. 19, 2023 by Gabby Li -
Questions & Answers on Thatched Cottage of Du Fu
Asked by Marcus from CANADA | Nov. 11, 2016 14:56

Reply
Can I get to Chengdu Du Fu Cottage by subway?
If yes, what subway line and station do I get off and exit?
Thanks
Answers (1)
Answered by Simon from FINLAND | Nov. 11, 2016 21:31

0

2

Reply
You can take subway line 4 to North Caotang Road Station, Exit B. Then walk south along North Caotang Road around 0.6 mile to arrive at the scenic spot.
Asked by Mabel from SINGAPORE | Apr. 25, 2016 04:52

Reply
I am intending to visit Dufu Thatched Cottage Chengdu on my last day in the morning.
My flight is at 1400hrs. Will it be very rushed? How far is there away from the airport?
Will rolling my luggage around the Temple be seen as disrespectful?
Answers (1)
Answered by David from USA | Apr. 26, 2016 02:09

0

1

Reply
1. The time is enough. You may spend 2 or 3 hours to visit it.
2. It is about 12 miles (19km) from the airport. You can take a taxi to the airport directly. The fare may be CNY 50-60.
3. Well, as I know, the scenic area provides luggage storage service. You'd better to put the luggage there.
Asked by Marry from INDONESIA | Sep. 04, 2015 09:25

Reply
Panda Base to Du Fu Thatched Cottage
Hi,
Anyone know how to get to there from Panda Base? And Wide & Narrow Alley from there?
Thanks!
Answers (3)
Answered by Heidi from USA | Sep. 06, 2015 21:17

2

0

Reply
From the panda base, there is no direct transportation mode, so you need to transfer. Take the bus No. 87 to Dongwuyuan (Zoo) Station, where you can transfer to the bus No. 64 to East Qingjiang Road. The walk about 0.6 miles, you will reach the cottage. If taking a taxi, the fare is CNY55-60.

From the Dufu Caotang to take the bus No. 58 to Jinhe Road. Then walk about 580 yards, you will reach to Wide & Narrow Alley area.
Answered by Marry from INDONESIA | Sep. 07, 2015 07:52

2

0

Reply
Awesome! Thank you so much.
If I want to go from Wide & Narrow Alley to there, meaning I need to take the same bus no.58, am I right?
Answered by Heidi from INDONESIA | Sep. 07, 2015 20:16

1

0

Reply
Yes, you are right. Walk to Jinhe Road to take the bus No. 58 to the cottage directly.
Asked by Mr.Jerry from CHINA | Mar. 02, 2010 22:20

Reply
Can i take bus from Cheng Du Railway Station to this sight? If so, which bus? Thanks
Answers (2)
Answered by Mr.Tommy | Mar. 03, 2010 00:58

0

0

Reply
Hello,Mr Jerry. You can take bus no.802 from Chengdu North Railway Station to there.
Answered by Mr.Mr. Peter from MARS | Mar. 31, 2011 02:57

1

0

Reply
yes, the # 52 bus stops across the street from the river walk to the south gate.