Tongchuan Travel Guide
Tongchuan Facts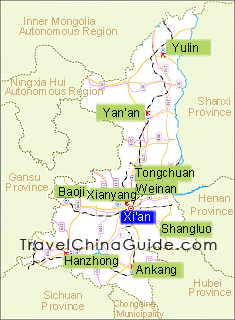 Chinese Name: 铜川 (tóng chuān)
Population: 803,700
Area: 3,881.1 square kilometers (1,498.5 square miles)
Location: in the central area of Shaanxi Province, northwest China
Administrative Division: 3 districts (Wangyi, Yintai, Yaozhou); 1 county (Yijun)
Area Code: 0919
Zip Code: 727000
GDP (2019): CNY 35.472 billion (USD 5.142 billion)
Featuring the Yaozhou Kiln Museum
Located in middle Shaanxi Province, Tongchuan is to the northwest of Weinan, northeast of Xianyang and southeast of Yan'an. It is 68 kilometers (42.3 miles) away from Xi'an and 72 kilometers (45 miles) away from Xi'an Xianyang International Airport. There were many famous figures in Tongchuan history. The most famous one is Sun Simiao, a medical expert in the Tang Dynasty (618 - 907) famed as king of medicine. His former residence in Yaowang Mountain has become a hot tourist attraction where tourists can see ancient buildings and large-scale murals of the Yuan Dynasty (1271 - 1368) as well as learn about the culture of traditional Chinese medicine. Li Yuan, the founder of the Tang Dynasty, and his son Li Shimin once commanded to build a palace in Yuhua Mountain to avoid the summer heat. The site is well preserved. Tongchuan is also the birthplace of ancient Yaozhou Kiln. The Huangbao Ancient Town is a main Yaozhou Kiln producing base. If you want to know about the history of Yaozhou Kiln and see the exquisite Yaozhou Kiln, you can go to Yaozhou Kilin Museum.
Tongchuan Attractions - Things to Do
Yuhua Mountain
It is where the great Buddhism Master Xuanzang in Tang Dynasty (618-907) passed away. Sceneries on the mountain vary in different seasons. Especially in winter, the skiing competition and ice sculpture shows attract thousands of tourists.
Statue of Medicine King,
Yaowang Mountain

Statue of Meng Jiangnǚ,
Jiangnǚ Memorial Temple
Yuhua Palace
Located on Yuhua Mountain, it is the largest temporary palace of the Tang Dynasty and also the place where Xuanzang translated parts of the Buddhism sutra. Together with its fairy landscape, it was once a holy place of Buddhism in the Tang Dynasty.
| | |
| --- | --- |
| Yuhua Palace, Tongchuan | Yaowang Mountain |
Chenlu Ancient Town
On the top of a mountain in Yintai District, Chenlu has been the most important porcelain production base of northwest China since the Yuan Dynasty (1271-1368). Actually its porcelain kilns can be traced back to more than 1,400 years ago before the Tang Dynasty. The special architecture styles and local customs add more interest to the town.
Yaozhou Kiln Museum
Located in Huangbu Town, it is by far the largest ancient porcelain kiln site theme museum in China, which shows the precious kiln relics and production tools more than 1,000 years ago. Many exquisite porcelain wares of the Tang and Song (960 - 1279) dynasties were made there, among which the Song Dynasty decorated celadon was honored as 'The Top Decorated Celadon of Northern China'.
| | |
| --- | --- |
| Porcelain displayed in Yaozhou Kiln Museum | Visitors in Yaozhou Kiln |
Yaowang Mountain
Located east to Yaozhou District, it is where the famous medical scientist of Tang Dynasty Sun Simiao (also called 'Medicine King') lived in his late life in. Profound history, mysterious medical care culture, rock sculptures and stone tablets forest are highlights of the mountain.



Other Spots: Jinyang Lake, Jiangnv Memorial Temple, Xiangshan Mountain
Recommended Tour:
Yaozhou Kiln Tour: two day to Tongchuan Yaozhou Kiln - Yuhua Palace - Huangdi Mausoleum
How to Get to Tongchuan
Tongchuan is north to Xi'an and is the necessary pass from Xi'an to Huangdi Mausoleum in Yan'an. From Xi'an to Tongchuan, visitors can take a bus at Xi'an Chengbei Bus Station or Xi'an Bus Station beside the railway station. Middle sized buses or city buses can reach most of the tourist spots. Highways is the most important transportation infrastructure of Tongchuan. Nearly all counties and villages can be reached by bus from the city's bus stations such as Tongchuan Bus Station, Beiguan Bus Station and Yaozhou Bus Station.
Weather
-
Tongchuan belongs to the warm continental climate. The average annual temperature is from 8.9

C (48

F) to 12.3

C (54

F). Winter is cold and summer is hot. It's better to visit in spring or autumn when Tongchuan weather is pleasant. On February 2nd in Chinese lunar calendar, the locals hold temple fair on Yaowang Mountain. In March and April in Chinese lunar calendar, Buddhism culture activities are held in Yuhua Palace. From January to February, the skiing festival is held on Yuhua Mountain. Those special activities can be good reference for you to decide when to go.
Tongchuan Travel Tips

History: Tongchuan belonged to the Yong State in the Xia Dynasty (21st - 16th century BC). It firstly appeared in the history as an administrative county in 155 BC of the Western Han Dynasty (206 BC - 24). In the Three Kingdoms Period (220 - 280), it belonged to Beidi Shire of the Wei Kingdom. In 446, it was called Tongguan County. The name remained until 1946 when it was changed into Tongchuan, which then became a prefecture-level city in 1966.



Physical Features: It is where the Loess Plateau and Guanzhong (Middle Shaanxi) Basin connect.



Local Highlights: Tongchuan is famous for its Buddhism culture, health protection culture and ancient porcelain kiln sites. In addition, it produces 30% of the whole province's coal.



Special Local Products:
Handicrafts: peasants' paper-cut, replicas of ancient porcelains
Food: apple
- Last updated on Apr. 12, 2021 -
Questions & Answers on Tongchuan Travel
Asked by Mr.Yang from CHINA | Jun. 01, 2009 04:44

Reply
I've heard that Tongchuan is a coal city. Due to the exploration of coal, the environment of the city is polluted. Is this true? Nowdays how is it like?
Answers (1)
Answered by Ms.Liu from CHINA | Jun. 04, 2009 03:40

0

0

Reply
In the past, Tongchuan is heavily polluted. CCTV once reported that Tongchuan cannot be seen through the satellite. The locals realized it's a big threaten to their health and generations. They do their best to protect the environment and control the pollution. Now, the city has become much cleaner. In the past, it's very hard to see swans in the city. But today they dare to fly there and regard the city as their home. It shows that the environment of Tongchuan has become good.