Ankang Travel Guide
Ankang Facts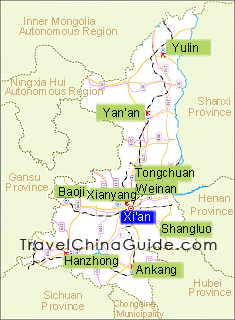 Chinese Name: 安康 (ān kāng)
Population: 2,668,900
Area: 23,391 square kilometers (9,031 square miles)
Location: in the southeast of Shaanxi Province, northwest China
Administrative Division: 1 district (Hanbin); 9 counties (Hanyin, Shiquan, Ningshan, Ziyang, Langao, Pingli, Zhenping, Xunyang, Baihe)
Area Code: 0915
Zip Code: 725000
GDP (2019): CNY 118.206 billion (USD 17.134 billion)
Boasting Fascinating Natural Landscape
Located in the southeast of Shaanxi Province, Ankang neighbors Xi'an to the north, and shares boundaries with Hubei to the east and Sichuan to the south. It is easy to reach Xi'an in 2 hours by bullet train, so a trip to Xi'an after visiting Ankang can be taken into consideration. As Qinling Mountain stands in the north of Ankang and the Daba Mountain cuts through the southern area, Ankang boasts fascinating natural landscapes. Xiangxi Cave and Nangong Mountain National Forest Park are two widely-known natural scenic spots in Ankang. Moreover, Ankang has cultivated a splendid culture in the long history. There are more than 650 historical sites, including ancient relics, ancient temples, cliff carvings and modern cultural relics.
Ankang Attractions - Things to Do
Xiangxi Cave
It is located in the southern suburb of the city with Hanshui River to the north and Bashan Mountain to the south. Covering an area of over 3.9 square miles, the scenic area can further be divided into Xiangxi Cave, Wenwu Mountain, Niuti Mountain, Wugong Mountain and Santian Gate. It is a beautiful landscape with places of cultural interest.

Legend says that Xiangxi Cave was once the place where Lu Dongbin (one of the eight immortals) educated himself, therefore adding a more ethereal flavor to the Cave. Peaks over peaks embrace the sight with clear creek bubbles. It is a fairyland of sweet flowers, fresh grass and rare trees. Elegant towers and pavilions add to the beauty of the area, many of which are historic relics whose first construction started as early as Tang Dynasty (618-907). A huge ladder was built along the mountain. People imagine it is the route for celestial beings to get to heaven.

Every year, Xiangxi Cave attracts many visitors by its charming scenic beauty and classical buildings. It is a paradise for you to return to nature and refresh your minds!
| | |
| --- | --- |
| Entrance Fee: | CNY 40 |
| Opening Hours: | 08:00-20:00 |
---
Nangong Mountain National Forest Park
It is situated in the east of Langao County, about 92 kilometers (57 miles) from the downtown of Ankang City. It is the first national forest park in Shaanxi Province. Covering an area of about 7,648 hectares (18,899 acres), this beautiful park gathers together hills, waters, rocks, numerous plants and animals. It is famous for its remnants of ancient volcano eruptions and glaciers, virgin secondary forest and a great Buddhist's relics.

This forest park is a natural botanical and zoological garden. There are about 1,800 species of seed plants and ferns, and 300 kinds of wild animals. It is a paradise of endangered plants and rare wild animals, such as Chinese dove trees, trembling poplars, cuckoopints, katsura trees, giant salamanders, golden pheasants, golden eagles and civet cats. One 'must-see' is a thousand-year old oak which rises again, and fourteen saplings of seven tree species grow in its trunk.

As this mountain is at an elevation of about 1,000 meters (3,281 feet) to 3,000 meters (9,842 feet), trees are divided into four clear forest belts there, forming a totally different glorious forest landscape in four seasons.

Since ancient times, this mountain had been a sanctum of Taoism and Buddhism. In 1126, a Taoism temple was built here and gradually evolved into the sacred place of Buddhism. In 1820, a great Buddhist monk died here and his remains were kept for hundred of years, adding mystery to the grand mountain.

The Nangong Mountain also abounds in fantastic caves and craggy rocks, which present an infinite variety of shapes. The waterscape in this national forest park is another 'must-see'. Streams wander through the magnificent mountains and deep valleys; Waterfalls dash down thousand feet as if the Silver River fell from azure sky. About 20 ponds in different sizes and colors are added into this natural world. In addition, this mountain with peaks peeps through clouds and mist. Seen from the summit of the Nangong Mountain, the beauty of the sunrise is beyond description. Nowadays, the Nangong Mountain National Forest Park has become an excellent scenic area for sightseeing, leisure and spending summer.
Entrance Fee:
CNY 100 (March 1 to November 30)
CNY 60 (December 1 to end of next February)
Opening Hours:
08:00-18:00
---
Yinghu Lake
The lake is 18 kilometers (11 miles) southwest of the city's downtown, formed by the construction of Hydropower Station on the Han River. As the largest artificial lake in Northwest China, it also has pavilions and towers, with corridors and halls to vantage points with emerald mountains surrounding.
Tips:
1. At the evening of the Mid-Autumn Festival, the park holds an open-air activity for admiring the bright full moon.
2. From April to May, the mountain flames with azaleas. Camping and mountain climbing activities are held here.
3. On June 24th (lunar calendar), it is a Ho Hsien-ku's Birthday. Rich and varied folk activities are held in this national forest park.
| | |
| --- | --- |
| Entrance Fee: | CNY 70 (All-inclusive ticket) |
| Opening Hours: | 08:30-17:00 |
| | |
| --- | --- |
| Yinghu Lake | Yinghu Lake |
How to Get to Ankang
1. Ankang Airport is 8.1 kilometer (5 miles) from the downtown area. At present, it only operates flights shuttling from Xi'an with 40-minute flight.
2. Ankang is a four-hour ride from Xi'an by train, and ten hours by bus.
Weather
-
Having a subtropical continental monsoon climate, Ankang weather is warm but dry in spring, and overcast and rainy in autumn. Summer is rainy but may be attacked by drought, while the winter is chilly, seldom rainy or snowy. Warm springs and cool autumns are the best seasons to visit this place.
Ankang Travel Tips

History:Ancient tribes living in this area were conquered by the Chu Kingdom in the Spring and Autumn Period (770 BC - 476 BC). It was a vital place contested by Qin and Chu kingdoms during the wars in Warring States Period (476 BC - 221 BC), and then it belonged to the Hanzhong Shire, established by the Qin Dynasty (221 BC - 206 BC).



Physical Features: Ankang lies at the north foot of Daba Mountain, south of the Qinling Mountains. The Han River flows through the city from west to east. Its highest point is in the eastern part of the Qinling Mountains with an altitude of 2,965 meters (9,728 feet), while the lowest is in the outlet of the Han River from the city's territory, only 170 meters (558 feet) above the sea level.



Special Local Products: green tea, winter peaches
- Last updated on Jun. 28, 2022 -
Questions & Answers on Ankang Travel
Asked by Meghan from CHINA | Mar. 10, 2019 04:34

Reply
Ankang a dragon boat activity there during that holiday? Does anyone know? Thanks
Someone told me this place has Dragon Boat races during the Dragon Boat holiday. Does anyone know please?
Thank you
Answers (1)
Answered by Nancy from AUSTRALIA | Mar. 11, 2019 02:20

0

0

Reply
Yes, there is and it will be held in Dragon Boat Festival which falls on June 7 this year.
Asked by Paul W from NEW ZEALAND | Jun. 09, 2016 20:03

Reply
Need information from Ankang city to Guan Jia Xiang, Lan Ni Wan Cun
I will need some local to help. I want to visit my friend by surprise. My flight will arrive Xi'an in the evening. Thanks alot.
Answers (3)
Answered by Amy from UNITED KINGDOM | Jun. 11, 2016 20:28

1

0

Reply
Hi, Paul! There are direct buses to AK from the airport. The buses are scheduled at 9:30, 10:30, 11:30, 12:30, 13:30, 14:30, 15:30, 16:30, 18:00, and 19:30. The fare is CNY 91.5. If you cannot catch the last bus, you may stay near the airport and set off on the next morning. Upon arrival, take a taxi to the village for about CNY 50-60. :)
Answered by Paul W from NEW ZEALAND | Jun. 12, 2016 05:33

0

0

Reply
Hi Amy thanks for this .Just want to clarify the direct bus is from Xi'an airport to AK or to Xi'an city. From AK to that Village by taxi do you have any idea how long it will take or need to do booking. Thanks
Answered by Amy | Jun. 13, 2016 03:26

0

0

Reply
1. You can take a direct bus to AK from the airport.
2. It takes about 40 to 50 minutes. :)
Asked by Wes from USA/KOREA | May. 26, 2015 13:02

Reply
What is the best way to get from the Xianyang airport to Ankang?
I will most likely be staying in AK for one year. What is the best way to get there from xianyang airport? I thought the easiest way would be a connecting flight, but it seems there aren't any flights to AK. Perhaps its just not easy to search local Chinese flights from outside of China. I'm also concerned about how my wife can get to AK when she comes to visit. Also is there a website that has a map and list of local AK bus routes?
Answers (1)
Answered by Ben from UNITED KINGDOM | May. 27, 2015 02:06

0

0

Reply
No direct flight is available due to the short distance between. While in the airport, there are 6 direct buses to AK, leaving at 10:00, 12:00, 13:30, 15:00, 16:30 and 18:30. The bus fare is CNY91.5 and the duration is about 3.5 - 4 hours.
I'm afraid there is no website for the bus route in English, you are suggested to take a taxi. Taxi price is reasonable, which will be a good choice for you.
Asked by Peter from USA | Aug. 27, 2013 02:50

Reply
How can I go from Ankang's express bus terminal to Ying Hu in Shaanxi?
Is there a tourist bus at local express bus terminal that goes to Ying Hu, or do I need to take a city bus to a tourist bus stop/terminal? Thanks
Answers (2)
Answered by Hank from USA | Aug. 28, 2013 02:42

2

0

Reply
From local West Bus Station, there are direct buses for Yinghu Lake and the bus takes about 30 minutes to reach the lake.
Or I heard there is direct bus at Cross road of Anhuo Road (Anhuo Lukou), but the bus only operates during peak season.
Answered by Pete from USA | Aug. 28, 2013 07:20

0

0

Reply
Thanks, Hank, that helps a lot.
Asked by Sterling from USA | Jul. 19, 2012 02:53

Reply
Are there any English Language schools in Ankang?
Can anyone tell me if there are any schools that just teach English language to Chinese people in that city?


Answers (2)
Answered by Flora | Jul. 19, 2012 03:20

0

0

Reply
Well, there are some training schools teaching English in that city, such as Aston English School at No. 3, Yinghu Road, Hanbin District.
Answered by chinaboy | Jul. 25, 2012 21:07

0

0

Reply
Aston English has a school in that city, check them out google Aston English and it should bring up their website. As far as I know they have vacancies there now. If you're interested in teaching you should give them a try. They're pretty good at what they do, I taught for them in a few places.