Heihe National Forest Park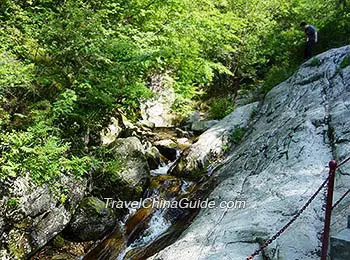 Heihe National Forest Park is at the headstream of Heihe River in Zhouzhi County, some 80 kilometers (50 miles) southwest of Xi'an. Located in the northern piedmont of Qinling Mountains (a major east-west mountain range in southern Xi'an), the park covers an area of 7,462 hectares (18,439 acres) with a green coverage of 94% which makes it a natural oxygen bar. The park land embraces unique natural scenery, human landscape and abundant resources of wild animals and plants. The beautiful scenery in a peaceful environment brings one close to nature. There are more than 100 scenic spots distributed in four main scenic zones. Heihe National Forest Park is praised worthy as the "northern Shangri-la".

The park is left undisturbed. When wandering in Heihe National Forest Park, your eyes will feast upon many wonders. There are many rare animals, plants and dense primordial forest. Some 248 kinds of wild animals live in the forest, among which are the giant pandas, golden monkeys, takins and forest musk deer. And also there are about 1,700 kinds of plants. Among them, the Yulan Tree, Tiejia Tree and Lixian Tree are all ancient rare species as old as 800 years. Primordial forest runs on both sides of the serpentine riverway. The trees are mainly Chinese pines, oaks, lindens and white birches.

The fresh water rivers, with low sediment, make up main channels or anabranches of Heihe River. The ever changing river gradient makes the stream flow along the sinuous ravine, resulting in 28 special sceneries, including deep pools, waterfalls, fords, torrents and valleys. The Black Dragon Pool mirrors the flourishing plants on the mountain. The Waterfall of Big Urn Pool springs from a ditch among the cliffs and pines. Under the waterfall the Big Urn Pool moderates the flow. At the mouth of Small Double River, there lies the Carp Peak, a huge granite peak in a carp shape, with a height of 100 meters (109 yards). On top of the peak is the Guanyin Temple with a breathtaking narrow access lane. The limestones residues deposited at the bottom of the gorge appear as if thousands of white dragons congregate there, hence the name Dragon's Backbone Gorge.

The historical sites add another dimension to natural landscape. Being one of six major arteries in ancient times, Tangluo Plank Road once stretched about 240 kilometers (150 miles) along the cliff. It was the most direct of the six ancient roads and also the most hazardous. Throughout history the road was fought over by many armies. It is now in total disrepair. Visitors now cannot walk on it, but some relics can be found on the cliff, including a few sections of the wooden path, and squared or round holes used to hold the planks.

In Houzhenzi Town, Yingpanliang and Xiejialiang are two barrack sites for stationing troops. There are now villages with few traces of their military past.

Sanyi Temple, a Qing Dynasty (1644 - 1911) relic, is about 5 meters (5.5 yards) in height, with an area of 20 square meters (24 square yards). It was named after an occurrence that took place 1,500 years earlier - the oath in the peach garden of three sworn brothers Liubei, Guanyu and Zhangfei of Three Kingdoms Period (220 - 280). Now the site only remains a small dilapidated temple and a stele.
Recommended Tour Line

Park Service Office (Shuiyuan Villa) --- White Dragon Sucking Water --- Yudong Spring --- Black Dragon Pool --- Dragon's Backbone Gorge --- Heihe Canyon --- Thin Strip of Sky --- Small Stone Arch --- Two Rivers

After arriving in Two Rivers you may:
1. go west: Hopping Fish Pool --- Dragon's Horn Peak --- Primordial Coniferous Forest --- Damang River
2. go southwest: Sweet Water Spring --- Relic of Ancient Plank Road --- Houzhenzi Ancient Town --- Guanyin Cave --- Elephant's Trunk Sucking Water --- Waterfall of Big Urn Pool --- Guest-Greeting Pine --- Fishing Platform
Folk Custom
Every year, thousands of participants come to the Tiejia Holy Tree Temple Fair on 9th June in the
lunar calendar
. The reverent disciples worship the fairy Tiejia and pray for favours in good harvest.
How to Get to Hehei National Forest Park
By shuttle bus (from Xi'an Bus Station on Fengqing Road) to Zhouzhi County Bus Station: approximately 2~2.5 hours. Then transfer to the regular bus from Zhouzhi County to Houzhenzi, Banfangzi or Damanghe, but get off at the Park Service Office (Shuiyuan Villa): approximately another 1~1.5 hours.
Since the attractions in Heihe National Forest Park are a bit far away from each other, it is recommended to hire a car to travel. You can hire a 4-passenger car from Xi'an at the cost of about CNY 500-600 per day for a round trip.
Xi'an Bus / Metro Search
Admission Fee
March to November: CNY 50
December to the next February: CNY 25
Opening Hours
06:00-20:00

Recommended Nearby Attractions:

Taibai Mountain National Forest Park

The Old Town of Foping

Zhouzhi National Nature Reserve

Louguantai

Xianyou Temple Museum

Cuifeng Mountain Forest Park
- Last updated on Dec. 25, 2018 -