Qinling Mountains
Qinling Mountains is a geographical dividing line between Northern China and Southern China. They run west to east, stretching across Gansu Province, Shaanxi Province and Henan Province. The Qinling Mountains is covered by large scale plants, which are home to many wild animals such as giant pandas and golden monkeys.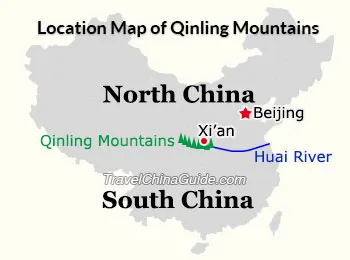 Location Map of Qinling Mountains
Qinling Mountains Facts

Other names: Nan Mountain, Zhongnan Mountain


Length: more than 1,600 kilometers (994 miles) from Gansu Province in the west to Henan Province in the East


Main peaks: Zhongnan Mountain, Mount Huashan, Taibai Mountain


Highest peak: Taibai Mountain with a height of 3,771.2 meters (12,372.7 ft)

A Geographical Boundary between South and North China
In China, people always regard the area south of the Qinling Mountains-Huaihe River as southern China, and the area to the north as Northern China. To the north of the Qinling Mountains, the climate is temperate; rivers freeze; leaves turn yellow and fall down; annual precipitation accumulates to less than 800 mm; the main crop is wheat. To the south of Qinling, the climate is a subtropical monsoon climate; rivers do not freeze; trees are green all year round; annual precipitation is more than 800 mm; the main crop is rice. Moreover, Qinling is the dividing line between the Yangtze River Basin and the Yellow River Basin.
The Northernmost Habitat of Giant Pandas
The Qinling Mountains are the northernmost habitat of wild giant pandas in China, and the population density of Qinling pandas ranks first in China. There are about 270 giant pandas living in the Qin Mountains, with these Qinling pandas distributed in 7 areas, like Taibai Mountain and Qingmuchuan. They usually live at an altitude of over 2,600-3,500 meters (8,530-11,483 ft).
| | |
| --- | --- |
| Taibai Mountain- The Highest Peak of Qinling | Mt. Huashan- Most Dangerous Peak of Qinling |
Main Peaks of Qinling
As the highest peak in the Qinling Mountains, Taibai Mountain is quite popular among mountain climbers. Many climbing enthusiasts like to spend a whole night reaching its peak. In the early morning, they can record a beautiful sunrise with cameras or mobile phones. Hiking along the way, mountainous scenery changes. For example, visitors may experience green trees at the mountain's foot, but snow scenery at the peak. After climbing, tourists could also enjoy the hot spring for relaxation.

Zhongnan Mountain, also called Nanshan, is the middle section of the Qinling Mountains with the height of 2,604 meters (8,543ft). Moreover, it is the birthplace of Taoism. Zhongnan Mountains National Forest Park is a good place for visitors to appreciate some remaining Taoist temples, such as Zhaoyin Temple, and Bamboo Forest Temple, as well as steep cliffs and springs. In addition, Qinling Tunnel is a wonderful structure through Zhongnan Mountain, which is 18.02 kilometers (11.20 miles) long, reputed to be the longest double-hole highway tunnel in the world.

One of the main peaks of the Qinling Mountains, Mount Huashan is situated in Huayin City, 120 kilometers (75 miles) to the east of Xi'an. Mount Huashan Climbing is pretty popular among tourists, but quite adventurous due to its steep cliff. Moreover, Mount Huashan is a holy place of Taoism in China. At the present time, there are at least 20 Taoist temples scattering on the mountain.

More Peaks of Qinling
What to See on or around Qinling Mountains
- Last updated on Apr. 12, 2021 -
Questions & Answers on Qinling Mountains
Asked by Vincent from FRANCE | May. 04, 2019 20:40

Reply
Do you know if it's possible to do a hiking by myself in qinling range to arrive to Taipai peak?
But not by the touristic way (not the stairs). I wanna cross the differences peaks around Taibai mount with my camping stuff.
Have a good day
Answers (1)
Answered by Molly from ARGENTINA | May. 07, 2019 01:00

0

0

Reply
Well, it is not allowed for single tourist to hike since it is too dangerous.