Zhuque National Forest Park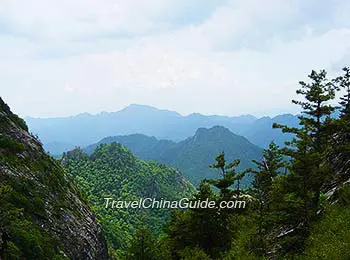 Qinling Ridge Area
Zhuque National Forest Park, 37 kilometers (23 miles) from the city center, is located in the south of Huxian County of Xi'an. With an altitude climbing from 500 meters (1,640 ft) to 3,015 meters (about 9,892 ft), this park covers 2,621 ha (about 10.1 sq mi).The basic attractions of Zhuque National Forest Park are green mountains and clean water, which constitute the natural forest landscape resources.
Due to the delightful climate, this park has become the home to an abundance of wildlife. Over five hundred and eight species of plants, nineteen species of birds, and eighteen different kinds of beasts, amphibians, reptiles and other creatures live in the forest park. Among the wildlife, there are some national valuable and rare plants and animals, including some kinds treasured in Chinese traditional medicine. Since being constructed, the park has been expanded to five main landscape areas including 105 scenic spots. The five landscape areas are Qinling Ridge Area, Reed River Area, Dragon Pool Area, Strange and Elegant Peak Area and Glacier and Greens Area.
Qinling Ridge Area
Qinling Ridge Area, located to the north of Qinling Ridge, is famous for its harmonious surroundings. As is well-known, Qinling Mountains sit on the boundary of southern and northern China. The mountain area is mostly covered by various trees. When standing on the top of Qinling Ridge, you can feast your eyes on the views of south and north in the distance. Scenic spots in Qinling Ridge Area include Yunxiu Peak, Green Valley with Lark Singing, Heavenly Mountain Gate, Wengong Shrine and others.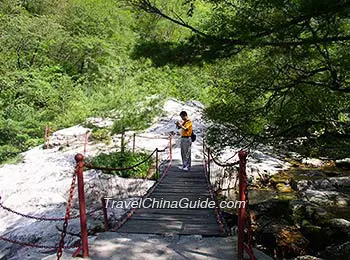 Wengong Shrine, built in the Ming Dynasty (1368-1644), functions to commemorate Han Yu, a famous litterateur and philosopher in the Tang Dynasty (618-907). At that time, the worship of Buddhism was wide-spread and the imperial court spent a lot of money on the construction of Buddhist temples so the imperial court massively gathered money from the populace. As Han Yu proposed opposition, he was transferred to deserted places and died there. Later, in honor of Han Yu, people built a shrine to pay respect. Nowadays, we can only see the steles of Wengong Shrine.

Reed River Area
Reed River Area is famous for the grace of the environment. In the open area, the Reed River flows through the graceful landscape. Such a delightful view surrounded by green mountains, rivers and attractive flowers seems to be a quiet and beautiful painting. When you are tired, you can find pavilions and huts for rest here and there. Scenic spots in this area are Placid Lake Park, Thrush Ridge, Reed River, Golden Toad Rock, Pen Rack Mountain, Wenchang Lawn, Rhinoceros Horn Rock and others.
There is a legend about Golden Toad Rock. A filial man named Liu Hai was very poor, but he took good care of his blind mother. Later, because of his benevolence he became an immortal and went to Heaven. A golden toad, which Liu often played with and took care of waited for him for a long time. Finally, the golden toad turned into a rock. So the shape of the Golden Toad Rock is like a toad looking up to the sky.
Pen Rack Mountain is so named due to the shape of the mountain. It's said that Han Xiangzi, one of the Eight Immortals in the legend of China, often discussed some profound ideology with his friends under Pen Rack Mountain. The open area where they discussed ideology is called Wenchang Lawn. A rock beside the lawn looks like a horn of a rhinoceros, thus it is called Rhinoceros Horn Rock.
Dragon Pool Area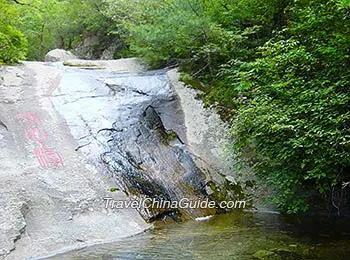 Pool Area
Dragon Pool AreaA landscape of waterfalls is the special gift of Dragon Pool Area. A zigzag river flows through the mountains. The waterfalls here deserve to be enjoyed. You can feel that a poem or a painting seems to come into sight. There are eighteen scenic spots in this area, such as Heavenly Waterfall, Double Pools Waterfall, Ink Masks of Poem Master, Camel Peak, Double Turtles Searching Ways and others.
Heavenly Waterfall is the most splendid and biggest waterfall in Dragon Pool Area. The drop height of this waterfall is over 100 meters (about 109 yd). Looking at the blue sky and the waterfall dropping from cliff, you can feel that the magnificent view seems to be the Milky Way falling from the heaven.
Strange and Elegant Mountains Area
As the name suggests, the main landscape of Strange and Elegant Mountains Area lies in mountains. The shapes of the mountains here vary and most of the mountains are very steep. The pines here grow in the uneven places, which prevents the pines from growing upright. Instead, they become crooked and even downward. Another feature of the pines is that many of them grow branches on one side only. The grand view gives us the impression of going into Yellow Mountain, a renowned mountain range in Anhui Province. 23 scenic spots can be enjoyed in this area, among which there are Buddha Palm Peak, Zodiac Peak, Luoshen Fairy Rock, Panda Rock, Golden Star Pool, Lying Fairy Rock and others.
Glacier and Greens Area
"Wonder" is an appropriate word to describe Glacier and Greens Area. This is the highest scenic area, which features a landscape of mountains, rocks and plants. On the major peak, the icecap seems high enough to reach the sky. Staying in the surroundings, you can feel that you are in a fairyland. In the area, there are 14 scenic spots. The major ones are Immortals Mountain, Rock of Monkey King Paying Homage to Buddha, Icecap Peak, and Jade Flowers Brook.
The Monkey King (Sun Wukong) is a powerful figure in Journey to the West, one of the four Chinese classic books. He protected Xuanzang, a monk who was appointed to get Buddhist liturgy from Tianzhu (India). Rock of Monkey King Paying Homage to Buddha is so named due to a legend. It's said that after succeeding in protecting Xuanzang, the Monkey King became a Buddha. As he traveled here, he was greatly attracted by the scenery. One day, seeing a cliff like a sitting Buddha, he thought of the blessings of Buddha and hurried to pay homage.
How to get to Zhuque National Forest Park
1. Take Huanshan Tourist Line 1 at North Square of
Big Wild Goose Pagoda
and get off at Zhuque National Forest Park. It costs CNY 8-10.
Bus Schedule: 08:30 - 11:30 from North Square of Big Wild Goose Pagoda to Lou Guan Tai; Return at 13:30-17:30.
2. Take bus 928 from Xi'an South Bus Station, which is close to South Third Ring Road, get off at Huxian Bus Station. There you can take bus 803 to Huxian South Bus Station. Then take the regular bus, which leaves at 10:00 and 17:00, to Zhuque National Forest Park.
3. Take bus no. 911 from Xi'an Coach Station, located on no. 13, Fengqing Road, to Huxian Bus Station, change bus no. 803 to Huxian Souh Bus Station and then take regular bus to Zhuque National Forest Park.
Xi'an Bus / Metro Search
Admission Fee:
Mar. - Nov. : CNY 45
Dec. - Feb. : CNY 25
Children between 1.2 meters and 1.4 meters in height: CNY 22.
Seniors over 65 years old: Half price
Cable Car:
CNY 80 for a round trip;
CNY 50 for a single trip
Opening Hours:
06:00-18:00

Further Reading:

Taiping National Forest Park

Zhongnan Mountains
- Last updated on Jun. 28, 2022 -