Zhongnan Mountains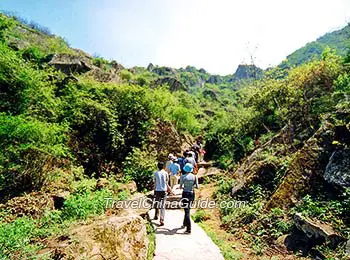 The Zhongnan Mountains are of the birthplaces of Taoism and are also called Taiyi Mountains. Situated 9.3 miles (15 km) to the south of Chang'an District in Xi'an, these mountains form the middle section of the Qinling Mountains. They extend from Meixian County in Baoji City in the west to Lantian County in the east of Xi'an. With an altitude of 12,359 feet (3,767 meters), Taibai Mountain is the highest peak from where the western highlands graduate down to lowlands in the east. The area is famed as a Wonder Land in China on account of its winding hills and valleys. Endowed with covering of prolific natural flora the Zhongnan Mountains are a real scenic stunner because of their majestic and enchanting landscape. Besides, with their considerable altitude, Zhongnan Mountains can be one of the best summer resorts.

Zhongnan Mountains have played a significant role in the local development of both Buddhism and Taoism. Buddhism was introduced to Chang'an (today's Xi'an) during the Han Dynasty (206 - 220 AD). This was a central stronghold for the expansion Buddhism until the end of Tang Dynasty (618 - 907). Later, the mountains became a refuge for a number of monks forced to escape an anti-Buddhist movement. The numbers of Buddhist temples mushroomed and included the Straw Hut Temple (Caotang Temple), Jingye Temple, Baita Temple and Xiangji Temple. Meanwhile, as the cradle of Quanzhen Taoism, Taoist temples continue to survive, such as the Taoist sites at Louguantai Forest Park, which enhance the appeal of the Zhongnan Mountains. All in all, when in Xi'an, there are several scenic spots in Zhongnan Mountains worthy of a visit.

Zhongnan Mountains National Forest Park
Created in 1992 and covering an area of 18.5 square miles (48 square kilometers), Cuihua Mountain National Geopark is an important part. It consists of three areas, namely steep cliffs, rock formations and barrier lakes. Zhongnan Mountains National Forest Park can be divided into four scenic spots, Cuihua Mountain, South Wutai Mountain, Stone Turtle Valley and Arhat Plateau. Also, there are some temples located there such as Zhaoyin Temple, Bamboo Forest Temple, as well as springs like Pearl Spring, Deer Running Spring and Tiger Running Spring.
Ticket Price: CNY 20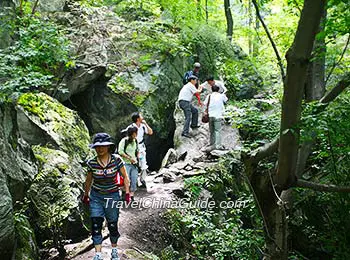 As one of main branches of the mountains, Cuihua Mountain is famous for its rock formations, caves and lakes shaped by geological processes. It has been designated as a National Forest Park and world Geology Park. Here, you may witness many giant stones towering in different postures that add character to the splendid scenery. Cuihua Mountain has several peculiar lakes and notable among these are Tianchi Lake and Ganqiu Lake. The lakes are can be covered with a thick mist at all times of the year, and look especially gorgeous at sunrise and sunset. These are also good spots for fishing and boating for tourists.

South Wutai Mountain is well-known as a sacred place of Buddhism. There are five main peaks towering up in this mountain, so visitors can have a whole view of the beautiful scenery from the mountain foot. The peaks are steep and sharp covered verdant plants, with many valleys and streams scattered between the hills. South Wutai Mountain is a significant birthplace of Buddhism, and there have been hundreds of temples there of which a few have survived the wars. Throughout history many celebrities have visited here to enjoy the summer resort or to pray in the temples.
Guifeng Mountain
Guifeng Mountain, also called Jianshan Mountain, is steep and straight with an altitude of 5,013 feet (1,528 meters). It is surrounded by a three-faced cliff, and the mountain owes its name to its cucurbit shape. Near the mountain, High Crown Falls cascades sharply down 65 feet (20 meters) which is quite grand and gorgeous. Along the waterfall, the pool beneath suddenly becomes calm and tranquil, and visitors can feel inner peace and mentally refreshed. When touring in Guifeng Mountain, visitors also can enjoy camping or self-service barbecue.
Ticket Price: CNY 15
In brief, many celebrities from home and abroad have been fascinated by the splendid landscape and profound culture in Zhongnan Mountains, where countless Buddhist and Taoist masters as well as brilliant poets have left their mark and masterpieces.
How to get to Zhongnan Mountains
1. Take Huanshan tour line 1 to reach Straw Hut Temple, Guifeng Mountain and Louguantai directly.
2. Take Huanshan tour line 2 to reach Zhixiang Temple, Shibian Pass, South Wutai Mountain and Cuihua Mountain directly.
3. Take public bus 500 at
Xi'an Railway Station
and get off at the South Wutai station, then walk southward 109 yards (100 meters) to South Wutai Mountain.
- Last updated on Dec. 25, 2018 -