Xi'an History
Xi'an, home to a lot of profound Chinese civilization, has a history of more than 3,000 years. Benefiting from the fertile land and comfortable climate in ancient times, the rulers of 13 successive dynasties have set up their capitals here. Therefore, a wealth of historical heritages has been left, such as Terra Cotta Army, Giant Wild Goose Pagoda, City Wall, Bell Tower, Drum Tower and so on.

Xi'an History Facts

When was Xi'an founded/ established: About 3,000 years ago in Western Zhou Dynasty


Used Name: Chang'an, Haojing, Daxing, Xijing


When was Xi'an the capital of China:
| | | | |
| --- | --- | --- | --- |
| 1 | 1046 BC - 771 BC in Western Zhou | 2 | 350 BC- 206 BC in Qin |
| 3 | 200BC - 9 AD in Western Han | 4 | 9 - 23 in Xin |
| 5 | 190 -195 in Han | 6 | 313 - 316 in Western Jin |
| 7 | 319 - 328 in Former Zhao | 8 | 352 - 385 in Former Qin |
| 9 | 386 - 417 in Later Qin | 10 | 534 - 557 in Western Wei |
| 11 | 557 - 581 in Northern Zhou | 12 | 581 - 618 in Sui |
| 13 | 618 - 904 in Tang | | |
Prehistoric Times (1.7 million years ago - the 21st century BC): Habitat of Lantian Men and Banpo Men
As early as 1 million years ago, Lantian people inhabited in Lantian County of Xi'an. In the Yangshao Culture Period, about 7,000 years ago, the prototype of the city was already here. The Banpo site is the representative of Yangshao culture which is an important Neolithic pottery culture in the middle reaches of the Yellow River. The base of this region's agricultural production must have started when the Banpo Man made living here about 6,000 years ago.

Western Zhou Dynasty (1046 BC - 771 BC): Xi'an was Founded and then Used as the Capital
In the Western Zhou Dynasty about 3,000 years ago, the ruler Wenwang set up the city- Fengjing, which served as the religious and cultural center, to the west bank of the Fenghe River near to present Xi'an. Since then, the history of Xi'an as a city began. Later, Wuwang's heir built the political center on the east bank of the Fenghe River, namely, Haojing. Subsequently, Wuwang combined the two centers and named the capital Fenghao, which would be the first recorded dynasty founded the capital in Xi'an.

Warring States Period (475BC - 221 BC): Territory of Qin State
Coming to the end of the Eastern Zhou Dynasty (770 BC - 256 BC), a chaotic time, namely, the Warring States Period, there were seven powerful states in China. Qin, one of the seven states, was located in the center of Shaanxi Province, including Xi'an, and in east Gansu Province.

Qin Dynasty (221BC - 207 BC): Capital of the First Unified China
Later, Ying Zheng, Emperor Qin Shi Huang, set up the first feudal dynasty in Xianyang, consisting of current Xi'an and Xianyang cites after unifying the other six states. Although this dynasty soon fell, a great number of historical relics were left, for example, Terra Cotta Army.

Han Dynasty (206 BC - 220): Capital & Where Silk Road Started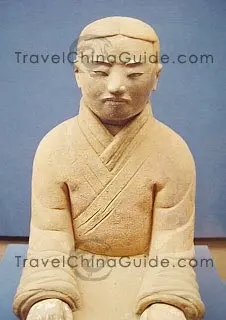 The Western Han Dynasty (206 BC-24AD), the third dynasty setting up its capital in Xi'an, constructed its capital - Chang'an on the relics of the Qin's Xianyang. Chang'an was the then political, economic and cultural center of China, and the largest city of the whole world. Now, we can still tell the glorious history of Xi'an at that time by the ruins of Weiyang Palace. The famous 'Silk Road' which starts from the Chang'an City appeared during the period of Han Wudi.

Sui Dynasty (581-618): A New Capital Was Built Nearby to Replace the Old One Destroyed by War
At the beginning of the Sui Dynasty, the capital was still in Han Chang'an City. However, the Han Chang'an City was seriously destroyed owing to long years of wars from 220 to 589. Therefore, the emperor built a new city just to southeast of the old Chang'an City, called Daxing City.

Tang Dynasty (618-907): A Metropolis All Over the World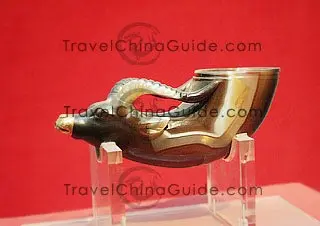 The first emperor of Tang renamed Daxing City as Chang'an City again and carried out additional repairs and expansions. In the period of Emperor Taizong (626 - 624), the Daming Palace was constructed, and became the political center of the whole dynasty later. Chang'an was one of the largest economical, political and cultural centers in the world at that time and numerous overseas travelers and businessmen came here, enjoying the city's glamour. Tang was the most prospersous time in the 3,000-year-long Xi'an history.

Besides, Buddhism also expanded rapidly in Chang'an with the support of the governors. The existing Giant Wild Goose Pagoda is possibly the most outstanding representation of Buddhist architecture of that time.

Since the end of the Tang Dynasty, Chang'an City lost its top position gradually; however, it was still one of the vital prefectures in the later dynasties. In 1369 of the Ming Dynasty, Xi'an gained its current name officially. Later, the current City Wall, Bell Tower, Drum Tower have been constructed.

Qing Dynasty (1644-1911): An Important Garrison in the Northwest
In Qing Dynasty, two garrisons in the northeast and southeast of Xi'an City were built. When the Yihequan Movement happened, Empress Dowager Cixi and Emperor Guangxu once fled all the way west to Xi'an.

Xi'an Modern History
October 22, 1911: The local revolutionaries destroyed the rule of the Qing Dynasty.
1925: the national army led by Dr. Sun Yat-sun overthrew the reactionary warlord.
December 12, 1936: Zhang Xueliang and Yang Hucheng captured the Generalissimo Chiang Kai Shek in Xi'an by initiating a military exhortation, namely, the Xi'an Incident. The incident spurred the Kuomintang to unify the Communists for resisting the Japanese army.
May 20, 1949: The City was liberated by the Chinese People's Liberation Army.
May 25, 1949: The People's Government of Xi'an City was launched.



Further Reading:
Shaanxi History Museum: Rich collections of historical relics excavated in or around Xi'an.
China History: 5,000 years long dating back to Xia Dynasty in 21st century BC.
- Last modified on Dec. 06, 2018 -
Questions & Answers on History of Xi'an
Asked by Ivy Hor from MALAYSIA | Oct. 12, 2016 09:00

Reply
My son and I would like to visit the 3 Kingdoms, which city should I first land - Chengdu or Xi'an?
We have only 6 nights max.
Answers (2)
Answered by Vicky from USA | Oct. 14, 2016 01:57

1

0

Reply
You may go to Chengdu first, and then XA. In Chengdu, you can see Wuhou Temple. In XA, you can see Zhuge Ancient Town. :)
Answered by Ivy Hor from MALAYSIA | Oct. 14, 2016 08:13

0

0

Reply
Great, thanks for your advise. Is 6 nights sufficient to see both cities??
Again thank you 😉👌
Asked by Michelle from MALAYSIA | Apr. 24, 2016 10:38

Reply
Terracotta entance fees
How much does one need to pay for the entrance fees to terracotta and is there any other compulsory fares needed?
Answers (1)
Answered by Iris from POLAND | Apr. 24, 2016 21:26

1

0

Reply
The fee is CNY150 during Mar. 1 to end of Nov. and CNY120 for the rest of the year. And no extra fee is needed unless you wanna hire a guide there.
Asked by Michelle from MALAYSIA | Mar. 28, 2016 05:31

Reply
Terracota warriors
Hi
I have only one day in xian. Therefore , i am thinking of visiting the terracotta alone. Anyone know if i can rent a taxi from down town? How far and how much will that be?
Answers (1)
Answered by Peter from AUSTRALIA | Mar. 29, 2016 01:03

0

1

Reply
Yes, you can take a taxi to the attraction from downtown. The distance is about 25 miles (40 km). The fare is around CNY 110-120.
Asked by James Thompson from USA | Sep. 27, 2015 11:17

Reply
What is the best way to get to Xi'an China from US?
I am traveling from North Carolina to to meet a friend there and would like to stay about a month. Anyone have any advice?
Answers (1)
Answered by Kate from THAILAND | Sep. 27, 2015 20:38

3

4

Reply
Go to New York or Washington to take a flight to Beijing first and then transfer to a domestic plane to your destination.