Xi'an Weather in March
March is the month when Xi'an steps into the spring season. Generally speaking, the weather is changeable! On sunny days that happen mostly in the month, the temperature climbs up to 14

C (57

F), and people may wear thin clothes. However, sometimes a small snow in early March or a cold rain appears to bring the city back to winter. Rains may happen, very small and last for just a few hours at a time.
Spring wakes up everything. Trees put forth buds and leaves, grasses sprout, and bright flowers bloom. Warm sunshine, gentle breeze and the vitality everywhere make this month a pleasant time for travel to Xi'an.
Averages for Xi'an Weather in March
Temperature: 8°C / 46°F
High Temperature: 14°C / 57°F
Low Temperature: 4°C / 39°F
Humidity: 66%
Rainfall: 29 mm
Rainy Days: 7 days
Sunrise: 06:33 ~ 07:13
Sunset: 18:40 ~ 19:04
Air Quality in March
Average AQI:138

What to Wear in Xi'an in March
Layered clothing will help you to cope with the changeable weather - long sleeve T-shirt for sunny days, thin sweater and coat for rainy days and maybe an overcoat or down jacket in case of snow. Also, you need to be aware of the big temperature difference between day and night and always take appropriate clothes for the cold mornings and nights.


Where to Go in Xi'an in March
Late March in Xi'an is the best time for enjoying flowers. Qinglong Temple put on a beautiful bright spring clothes made of cherry blossoms, attracting an endless stream of tourists. In the campus of Xi'an Jiaotong University, there is also a sea of cherry blossoms, making the campus a fairyland. Another choice of appreciating flowers is the Xi'an Botanical Garden, where various flowers such as cloves, sweet acanthus, roses, etc. are competing beauty.

7 Things to Do in Xi'an in Spring

Top 10 Things to Do in Xi'an
Spring is pollen season. If you are allergic to pollen, try not to get to close to the flowers and remember to bring your allergy medication. You might also consider wearing a facemask. With the changing weather it is easy to catch a cold, so it is important to also bring cold medicines.
What is the temperature in Xi'an in March?
High/Low Temperatures of Xi'an in March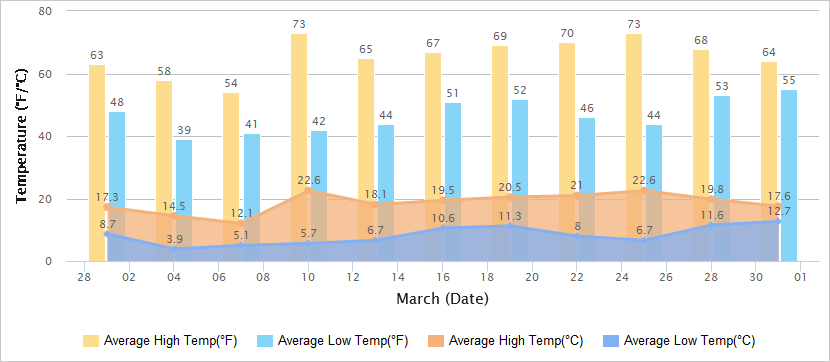 Air Quality of Xi'an in March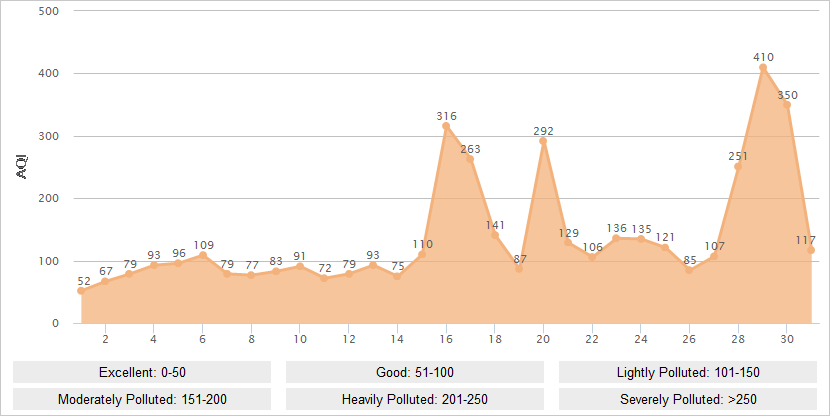 Historical Xi'an Weather in March
Mar
Temperature
Sunrise / Sunset

Humi-
dity

(%)

High
Low
1
17.3°C / 63.1°F
8.7°C / 47.7°F
07:13 / 18:40
25
2
15.7°C / 60.3°F
3.0°C / 30.4°F
07:12 / 18:41
32
3
16.6°C / 61.9°F
1.6°C / 34.9°F
07:11 / 18:42
35
4
14.5°C / 58.1°F
3.9°C / 39.0°F
07:09 / 18:43
35
5
15.0°C / 59.0°F
3.3°C / 37.9°F
07:08 / 18:44
51
6
14.6°C / 58.3°F
7.5°C / 45.5°F
07:07 / 18:44
67
7
12.1°C / 53.8°F
5.1°C / 41.2°F
07:06 / 18:45
44
8
19.3°C / 66.7°F
3.7°C / 38.7°F
07:04 / 18:46
51
9
20.4°C / 68.7°F
7.2°C / 45.0°F
07:03 / 18:47
43
10
22.6°C / 72.7°F
5.7°C / 42.3°F
07:02 / 18:48
49
11
21.9°C / 71.4°F
9.3°C / 48.7°F
07:00 / 18:49
50
12
18.3°C / 65.0°F
11.1°C / 52.0°F
06:59 / 18:49
67
13
18.1°C / 64.6°F
6.7°C / 44.1°F
06:58 / 18:50
68
14
19.7°C / 67.5°F
7.3°C / 45.1°F
06:56 / 18:51
48
15
19.8°C / 67.6°F
9.5°C / 49.1°F
06:55 / 18:52
45
16
19.5°C / 67.1°F
10.6°C / 51.1°F
06:53 / 18:53
41
17
22.0°C / 71.6°F
7.6°C / 45.7°F
06:52 / 18:53
54
18
26.5°C / 79.7°F
10.4°C / 50.7°F
06:51 / 18:54
49
19
20.5°C / 68.9°F
11.3°C / 52.3°F
06:49 / 18:55
51
20
12.4°C / 54.3°F
7.5°C / 45.5°F
06:48 / 18:56
67
21
17.1°C / 62.8°F
7.5°C / 45.5°F
06:46 / 18:57
66
22
21.0°C / 69.8°F
8.0°C / 46.4°F
06:45 / 18:57
42
23
18.4°C / 65.1°F
6.0°C / 42.8°F
06:44 / 18:58
37
24
21.0°C / 69.8°F
7.1°C / 44.8°F
06:42 / 18:59
38
25
22.6°C / 72.7°F
6.7°C / 44.1°F
06:41 / 19:00
34
26
25.9°C / 78.6°F
8.1°C / 46.6°F
06:40 / 19:01
37
27
22.7°C / 72.9°F
9.7°C / 49.5°F
06:38 / 19:01
37
28
19.8°C / 67.6°F
11.6°C / 52.9°F
06:37 / 19:02
46
29
13.8°C / 56.8°F
8.4°C / 47.1°F
06:35 / 19:03
66
30
18.3°C / 65.0°F
7.9°C / 46.2°F
06:34 / 19:03
60
31
17.6°C / 63.7°F
12.7°C / 54.9°F
06:33 / 19:04
34
- Last updated on May. 11, 2020 -