Qinglong Temple
Qinglong Temple, also known as the Green Dragon Temple, is located in the southeast of the ancient city of Xi'an, only 1.5 km (about one mile) away from the Big Wild Goose Pagoda. It is a famous Buddhist temple with ancient architectures and a Cultural Relics Museum. Qinglong Temple is one of the cradles of Esoteric Buddhism, one of eight Buddhist sects, and the cradle of the Japanese Shingon Buddhism. Meanwhile, it is well-known for cherry blossom appreciation in springtime.
| | |
| --- | --- |
| Qinglong Temple | Inside the Temple |
Built in 582, it was called Linggan Temple before being renamed Qinglong Temple. Many Japanese monks were sent to Qinglong Temple to study Buddhism during the Tang Dynasty (618 – 907). Consequently, the temple had its heyday in the middle years of the Tang Dynasty. Unfortunately, it was destroyed in 1086, and remained unknown to the world for almost a millennium until 1963 when it was restored.

Qinglong Temple has a close connection with Buddhism. The prominent Chinese monk Hui-kuo (746 - 805) lived in the temple where he studied the Esoteric Buddhism. Mid-way through the Tang Dynasty, six famous Japanese monks came to the temple to study Buddhism from him. The most accomplished one among these was Kukai, who was initiated into Esoteric Buddhism by his teacher Hui-kuo. After Hui-kuo died in 805, Kukai returned to Japan and founded Shingon Buddhism. For this reason, the temple is considered holy by Japanese Buddhists, especially Shingon followers.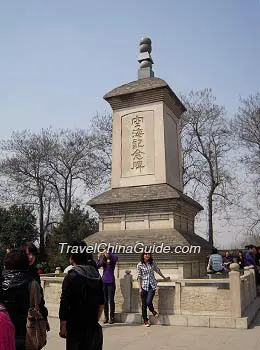 Monument of Kukai
Nowadays, in an area of about 15,000 square meters (4 acres), one can find several elaborate buildings, some of which related to Kukai and his teacher Hui-kuo. They are the Cultural Relics Museum, Kukai Monument, Yunfeng Pavilion, Hui-kuo & Kukai Memorial Hall, and the Poem Tablet.

Enter by the east gate, and you will find the Cultural Relics Museum to your right. This three-storey museum displays cultural relics unearthed in the temple as well as those appertaining to the Sino-Japan relationship. Two paintings named "Ancient Qinglong Temple" and "Across the Sea to Tang China" respectively, are quite valuable.

To your left are special buildings. The first one you will encounter is Kukai Monument, which was erected in 1982 in memory of Kukai. This 32-foot monument is made of bluestones and white marbles with five stones from Japan on its top. On the west of the monument is Feiyun Pavilion, fronting the Qinglong Spring. Keep walking west for a few minutes and you will see the Hui-kuo & Kukai Memorial Hall, where sutras transcribed by Kukai, portraits of Kukai and his mentor Hui-kuo and other relics are kept. Also, the Poem Tablet can be found in the temple. On this one can see a brief introduction to Qinglong Temple, sculptures of Kukai, and oft-quoted poems written by eminent poets during past dynasties on their visits to the temple.
Cherry Blossom Appreciation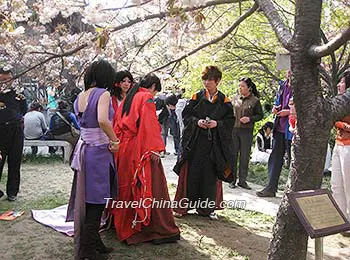 Cherry Blossom Festival in Spring
Cherry blossom trees are more commonly known to the West as Japanese Cherry Trees, famous for their blossom. When it comes to cherry blossom appreciation in Xi'an, the first place to enter the minds of the local people is Qinglong Temple. About one thousand cherry blossom trees of over ten species are planted within the temple grounds. In springtime, the garden is filled by blossoms and their delicate fragrance. Every year during March and April, endless streams of tourists come to appreciate this splendid sight. There is also Cherry Blossom Festival generally held from every March 15 to April 15. The days of the springtime blossoms maybe transient but beautiful memories of the season will last forever.
How to Get to Qinglong Temple

By Bus:
1. Take bus No. 19, 25, 33, 41, 45, 48, 118, 221, 237, 242, 269, 400, 517, 521, 525, 526, 528, 606, 607, 903 or Tourist Line 6 and get off at Qinglongsi (Qinglong Temple) Station. Then walk along Yanxiang Road towards northwest for about 6 min to get there.
2. Take bus No. 31, 33, 252 or 612, and get off at Qinglonglu Dongkou Station. Cross the road and enter through the north gate of the temple.

By Metro:
Take
Metro Line 3
and get off at Qinglong Temple. Get out from Exit A. Then walk along Yanxiang Road towards northwest for about 5 min to get there.
Xi'an Bus / Metrol Search
Admission Fee
The temple is free of charge, but the ticket is needed, which you can get with your passport.
Opening Hours
October 16-March 14: 06:30-18:00
March 15-October 15: 06:30-21:00
Recommended
Time for a Visit
Two hours
Recommended Nearby Attractions

Xingqinggong Park

Big Wild Goose Pagoda

Da Ci'en Temple
Print
- Last updated on Apr. 12, 2021 -
Questions & Answers on Qinglong Temple
Asked by DOMINIC from MALAYSIA | Mar. 17, 2017 03:14

Reply
How to go to Qinglong Temple from Terracotta Army?
Plan to go to the Army then to the temple to see the cherry blossom on 9th Apr.... Will it be full blossom by then?

Thanks
Answers (1)
Answered by Angela from AUSTRALIA | Mar. 19, 2017 02:41

0

0

Reply
You may take bus no. 307 from the Terracotta Army Museum to Qinggong Shichang; walk westwards for a few yards to take subway line 3 at Tonghuamen Station. You will arrive at the temple after 4 stops.
The best time to view the flowers is from mid-March to the late April. You can surely go there on 9th Apr.
Asked by INA2506 | Feb. 26, 2017 23:09

Reply
Qinglong Temple to Big Wild Goose Pagoda
Please advise how transportation from Qinglong Temple to Big Wild Goose Pagoda.

and How long . Thank you Ina - Indonesia
Answers (1)
Answered by Kaitlyn from UNITED KINGDOM | Feb. 28, 2017 01:41

0

0

Reply
Take subway line 3 from the temple to Big Wild Goose Pagoda Station, Exit B. Then walk south to arrive at the scenic area directly.
Asked by Tommy from MALAYSIA | Mar. 24, 2016 09:14

Reply
Cherry Blossom Month & Dates at Green Dragon Temple
Hi when is the usual cherry blossom dates at this temple?
Answers (1)
Answered by Sonya from SINGAPORE | Mar. 24, 2016 20:14

0

0

Reply
Generally speaking, from the end of March to the middle of April is the best time to appreciate the cherry blossom in that temple. :)