How Many Days in Xi'an Needed?
How many days in Xi'an are needed? Generally, it needs 2 – 4 days to explore the most worthy attractions such as Terracotta Army, City Wall, Bell Tower & Drum Tower and Muslim Quarter for tasting local snacks. Besides, appreciating relics at Shaanxi History Museum or taking a walk around Giant Wild Goose Pagoda are also highly recommended activities. To have a discovery trip, you may need more days. This article will focus on answering the question "how many days needed in Xi'an?" from a common tourist's point of view.
How Long to Spend in Xi'an: 2 - 4 days in General
| | |
| --- | --- |
| 1 day | Terracotta Army, Xi'an City Wall |
| 2 days | Terracotta Army, Xi'an City Wall, Muslim Quarter, Giant Wild Goose Pagoda, Shaanxi History Museum |
| 3 days | The above plan for '2 days', plus Mt. Huashan, or Famen Temple, or Han Yang Ling (Yangling Mausoleum of Han Dynasty). |
| 4 days | 3 days in Xi'an, and further visit to Pingyao Ancient City, or Luoyang Shaolin Temple, or Beijing. |
1 Day's Tour in Xi'an
In the morning, you can tour around Terracotta Army first, which is about 1 hour drive from downtown. It is praised as one of the "Eight Wonders of the World", which is the must-see in Xi'an. With more than 2,200 years' history, the scenic has 3 main pits in display nowadays. You can fully appreciate the diverse facial features of the terracotta soldiers and bronze chariots and horses here. After returning to downtown, it is suggested to make full use of time to visit City Wall. As the ancient military defensive system, it is mainly equipped with East, West, South and North Gates. On the City Wall, you can enjoy the leisure time by taking sightseeing battery car or riding a bicycle.
2 Days' Travel in Xi'an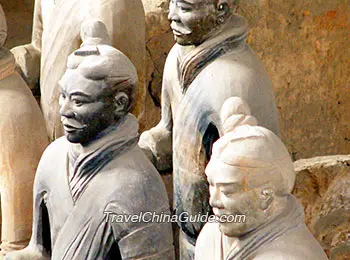 Terracotta Army
On the first day, you can visit Terracotta Army and City Wall like the above 1-day itinerary. At night, tasting street foods at Muslim Quarter is strongly recommended. Almost every famous and delicious Xi'an snack can be found here, including Crumbled Unleavened Bread in Mutton Stew, Osmanthus Persimmon Cakes, Honey Cold Glutinous Rice and Stir-fired Bean Jelly. You can also shopping at Muslim Quarter. There are many souvenirs shops that sell distinctive local products with reasonable prices.

See also:
Xi'an Must-eat Foods
Best Xi'an Street Food that You Must Try
9 Best Xi'an Night Markets
Next day, you are advised to visit Shaanxi History Museum first in the morning because it only issues 6,000 free tickets a day. You can get a ticket for free at the ticket office by showing your valid passport. The museum has a two-storied central hall and four side halls where you can explore the Chinese history and appreciate rare relics. After lunch, you can continue the tour to visit Giant Wild Goose Pagoda. The function of this pagoda is to collect Buddhist relics that were taken back from India by the hierarch Xuanzang. Many high-end shopping malls are around the square of Giant Wild Goose Pagoda, providing places for you to have dinner and amusement. If time permits, you can stay till night to appreciate the amazing night scene and musical fountain.
3 Days' Sightseeing in Xi'an
For the first 2 days, you can refer to the above 2 days' Travel in Xi'an. On the third day, you can arrange a tour to Mount Huashan, or Famen Temple, or Han Yang Ling (Yangling Mausoleum of Han Dynasty).
Huashan Mountain is famous for its steep paths, precipitous crags and breathtaking natural scenery. The different scenic spots of its five peaks attract lots of tourists every year. East Peak is the best place to watch sunrise; South Peak is the highest one; West Peak has a Taoist temple named Cuiyun Palace; North Peak equips with precipitous cliffs; Middle Peak is located at the center of other 4 peaks. After touring around, you are suggested to take West Cable Car down for enjoying the spectacular scenery.
Located about 120 kilometers (75 miles) away from Xi'an downtown, Famen Temple has a history of over 1,700 years. It is known as a royal temple and a holy Buddhist site because it houses the Buddha's relics of Sakyamuni, the founder of Buddhism. Famen Temple is considered as the "No. 2 Cultural Symbol of Shaanxi", ranking only second to the Terracotta Army. It is worth to spend one day to tour around.
Han Yang Ling (Yangling Mausoleum of Han Dynasty), around 25 kilometers (16 miles) away from city center, is an important cultural relic and the first underground museum in China. It is a joint tomb of Liuqi, an emperor of the
Western Han Dynasty
(202 BC - 9 AD) and his empress Wang. Here, you can also see many terracotta figures. Although smaller than Terracotta Warriors, they have more various expressions and postures.
4 Days' Travel in Xi'an
If you have 4 days for sightseeing in Xi'an, you can explore the city according to the itineraries mentioned before for the first three days. On the fourth day, you are suggested to extend the trip to visit Pingyao Ancient City, Luoyang Shaolin Temple or Beijing city.
In the morning, you can take a high speed train from
Xi'an North Railway Station
to Pingyao Ancient City directly in about 2.5-3 hours. With the history of more than 2,700 years, the ancient city still well preserves the layout and architecture during the
Ming
and
Qing
Dynasties (1368-1911). You can see ancient architectures and learn local customs here.
If you want to spend a day in Luoyang Shaolin Temple, you can take a high speed train from Xi'an North Railway Station to Luoyang Longmen Railway Station in 1 – 1.5 hours. Then head to Shaolin Temple by car. Besides showing the culture of
Chinese Buddhism
, the temple has Martial art performance. You can see the true Chinese Shaolin Kung Fu. You can also take photos with Kung Fu masters after the show.
Going to Beijing is also a recommended choice. The high speed train to Beijing takes 4.5 to 6 hours on the way. You can start off in the early morning and have lunch in Beijing. In the afternoon, start off for the sightseeing in Beijing.

Further Reading:
Top 10 Things to Do in Xi'an
10 Best Places to Visit in Xi'an
Best Time to Visit Xi'an
7 Things to Do in Xi'an in Spring
What to See in Xi'an in Autumn - 9 Best Destinations
What to Do in Xi'an in Winter - 7 Best Destinations
Where to Stay in Xi'an China – 8 Best Areas
- Last updated on Apr. 19, 2021 -