Xian Dining -- Local Snacks

Shaanxi Sandwich (La Zhi Rou Jia Mo)
Recommended Shaanxi Sandwich Restaurants
You should never miss the chance to enjoy the fragrant Shaanxi Sandwich (Rou Jia Mo) when having Cold Noodles (Liang Pi). Shaanxi Sandwich is a kind of toasted wheat flour flat bread stuffed by finely braised and chopped pork. The combination of these two kinds of foods is said to be the ideal dinner for the locals all the year round, just costing no more than CNY10. In fact, the tasty cooked pork is a kind of time-honored Xian snacks, especially cooked by the Fan's which has a 60 years' history.
| | |
| --- | --- |
| Shaanxi Sandwich (Rou Jia Mo) | Cold Noodles (Liang Pi) |

Cold Noodles (Liang Pi)
Recommended Cold Noodles Restaurants
The most popular snack of Xian should be the Cold Noodles, a kind of noodle-like cold dish made of steamed rice or wheat flour. This is a typical food of Shannan area and also deeply favored by Xianers for a long time. Generally, there are two kinds of Cold Noodles here — Rice Noodles (Mi Pi) and Wheat Noodles (Gan Mian Pi), and the differences between them are that the previous one is tasted a little softer and seemed whiter in color. While eaten, the rice noodles are mixed with several kinds of seasonings including special hot red pepper, sauce, salt, vinegar, mashed garlic and bean sprout.

Dumpling Stuffed with Hot Gravy (Guan Tang Bao Zi)
Guan Tang Bao Zi is a kind of the small-sized steamed stuffed buns, containing stuffs and the hot gravy together. It is one of the most well-known specialities of Xian, especially served by the Jia Brothers' Restaurant in the
Muslim Quarter
.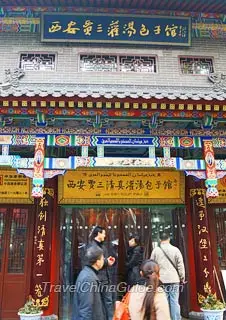 Jia Brothers' Restaurant
Jia Brothers' Restaurant
When you are in Xian, it should not be missed to taste the Jia Brothers' Guan Tang Bao in the Muslim Quarter. It is one of the noted restaurants in the city, attracting a great number of locals and travelers every day. Here, you can enjoy the fresh Guan Tan Bao stuffed with mutton, beef or vegetable as well as the sweet eight-treasure porridge at a reasonable price.
Average cost: CNY15 per person
Location: No.93, Beiyuanmen Street in the Muslim Quarter, Lianhu District
Bus routes: Nos.4, 6, 7, 12, 32, 43, 206, 215, 300, 600, 603, 608, U-7, You8 (get off at the Bell Tower)

Cooked Beef/Mutton (La Niu /Yang Rou)
The Moslem Cooked Beef/Mutton is a traditional Xian snack which has been famous from the end of the Qing Dynasty. Firstly, the selected beef or mutton should be prepare, and then some fragrant seasonings are added, after several courses, the fresh, soft and tasty Cooked Beef/Mutton is done well. Besides of the locals' popular snack, it is also a good gift to friends and relatives.

Vegetable Stew with Lamb/Beef Ball (Rou Wan Zi Hu La Tang)
This is a delicious breakfast cooked by the skillful Muslims. Usually, besides of the fresh lamb or beef balls, the soup also has several kinds of vegetable, such as potato and cabbage. In the winter morning, having a bowl of hot Hu La Tang will make your body warm promptly.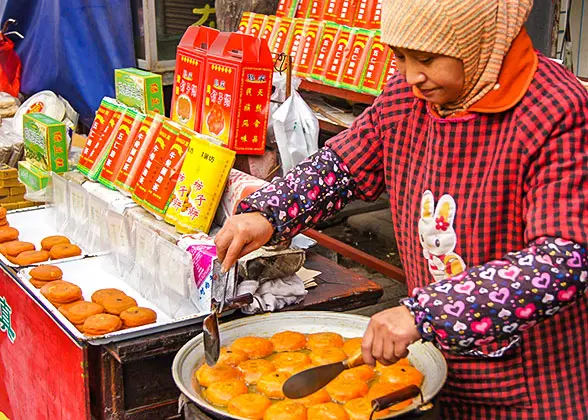 Osmanthus Persimmon Cakes
Osmanthus Persimmon Cakes (Huang Gui Shi Zi Bing)
Its material is the noted persimmon produced in Lintong District. Firstly, the persimmon mixed with flour should be made into small pastes which will be stuffed with different kinds of sweet fillings. Finally, these pastes will be fried in hot edible oil until the skin turn to golden. The Muslim Quarter has a number of restaurants serving Osmanthus Persimmon Cakes at very reasonable price all the year round.

Osmanthus Thick Liquor (Huang Gui Chou Jiu)
This liquor is a necessary drink when you enjoy the Shaanxi Cuisine. Traditionally, the sweet liquor should be made by crushing the selected glutinous rice together with the distiller's yeast and the fragrant Osmanthus. Now, there are a number of time-honored restaurants supplying this liquor, such as the Xian Restaurant.

Glutinous Rice with Jujube( Zeng Gao)
The sweet Glutinous Rice with Jujube is a traditional breakfast in central Shaanxi. The selected and well-arranged glutinous rice and jujube are steamed together in a certain container called Zeng for over 5 hours. Every morning, the itinerant hawker will sell Zeng Gao in the city's streets and lanes.

Honey Glutinous Rice (Feng Mi Zong Zi)
Zong Zi (glutinous rice) is a traditional food eaten by Chinese usually in the Dragon Boat Festival yearly. However, in Shaanxi, it can be enjoyed all the year round because the locals are fond of it so much. The honey glutinous rice is a popular snack in the hot summer for its sweet and cold flavor.

Honey Cold Glutinous Rice (Feng Mi Liang Gao)
A little different from the Honey Glutinous Rice, it is added sesame and rose jam as well as cut into small pieces when eating. This sweet and cold glutinous rice is a good snack in the hot summer. It can be found everywhere in the Muslim Quarter. Usually, the price is CNY3-CNY5 per box.
| | |
| --- | --- |
| Honey Cold Glutinous Rice | Steamed Glutinous Rice |

Steamed Glutinous Rice (Jing Gao)
This Steamed Glutinous Rice should be the cheapest but popular enough snack in the Muslim Quarter at a price of CNY1 for one. Although it is not very large in size, a number of sweet and fragrant jam and nut is included. It is better to eat it hot.

Jello Stew with Rice Noodles (Fen Tang Yang Xue)
Another popular branch of the Crumbled Unleavened Bread in Mutton Stew (Yangrou Paomo), it mainly uses the solidified blood of sheep. When eating, the blood is cut into thin strips and accompanied with chili, bean curd and parsley in the hot soup.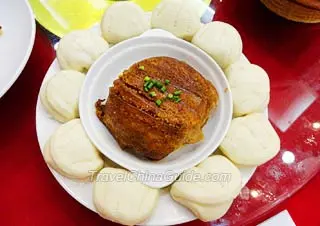 Steamed Meat
Steamed Meat (Fen Zheng Rou)
Firstly, the fresh beef, mutton and wheaten flour should be selected, and then pickle these materials by Chinese prickly ash, fennel and the other seasonings. After well steaming, the meat will be tasted soft and fresh enough. Now, it is a kind of popular snacks for the locals all the year round so that you can find it at any Shaanxi restaurants, especially in the Muslim Quarter.

Crispy Fried Noodles (Jin Xian You Ta)
It is a traditional snack in Xian originated from the Tang Dynasty, which is noted for its complicated cooking skill, delicious flavor and unique appearance. The steamed noodles are often eaten with some tasty sauces. Besides of the local restaurants, it is easily for you to enjoy it in the city's streets or lanes at a very reasonable price.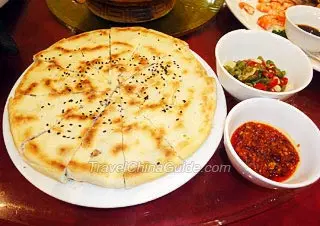 Qianxian County Crispy Pastry

Qianxian County Crispy Pastry (Qian Xian Guo Kui)
Cook on a pan till dry and crispy, Guo Kui, a kind of baked wheaten cake, is a traditional homely food in Shaanxi Province. It is so noted for its large size that is said to be in the shape of a Chinese pancover. The pancake made in Qianxian County is deeply favored by the locals for its beautiful shape looking like chrysanthemum and lingering aftertaste. You can buy it both in the restaurants and in the supermarkets.

Extra Soft Tofu( Dou Fu Nao)
In fact, the extra soft tofu is a common snack in China, but the tofu cooked in Qianxian County, Shaanxi has kept its unique flavor. It is made of the crushed soybeans which are soaked in water firstly, and then boiled to a solid tofu. When served, a series of seasonings are added to bring out the fresh flavor. It is also a kind of welcome breakfast for locals that can be found easily.

Stir-fired Bean Jelly (Chao Liang Fen)
The Cold Bean Jelly (Liang Fen), is a homely food in central Shaanxi that is often cooked in hot summer. When eating, the vinegar, sauce, salt and little mustard are added. And, the stir-fired Bean Jelly is more popular in winter which is added with salt, sauce and chili. Besides of the Muslim Quarter, you can taste Bean Jelly at any Shaanxi flavor restaurants.