10 Famous Xi'an Noodles
Xi'an
has a profound history of planting and processing wheat. Accordingly, the most representative food in Xi'an are diversified noodles. These noodles each distinguish themselves by the make-up of the dough, toppings or the cooking method. For people who are eager to savor the differences among these delicacies, here are the 10 famous Xi'an noodles you can't miss!
No.1: Biang Biang Noodles

Chinese name: biang biang 面biáng biáng miàn
Biang Biang Noodles may be the most famous Xi'an noodles. 'Biang Biang' is the sound when cook flaps the dough, so as to ensure the noodle's chewy taste. In the authentic Biang Biang Noodles restaurant, one single noodle can reach 5 centimeters (2 inches) wide and 1 meter (39 inches) long. No wonder some people say that one noodle can already make you full. Besides, it is a native style to have garlic and noodle soup while eating noodles.
| | |
| --- | --- |
| Biang Biang Noodles | Steamed Cold Noodles |
No.2: Steamed Cold Noodles (Liang Pi)

Chinese name: 凉皮 liáng pí
Steamed Cold Noodles can be made from either wheat or rice. Three different versions of this specialty are listed below. The first version is cold wheat flour noodles with generous sesame paste, called Ma Jiang Liang Pi. This is a local halal cooking style and focuses more on the fragrance of sesame, instead of sour or spicy flavor. The second version is processed steamed wheat flour noodles (Gan Mian Pi), and can be the most chewy version. Many people like the combination of wheat gluten and sliced cucumber in this dish. It tastes spicy and sour. The third version is steamed rice noodles (Mi Pi). This style is popular for the spicy chili oil inside, which is made of fennel, pepper and dried chili. In Xi'an, people usually enjoy Liangpi together with a piece of a Rou Jia Mo (Chinese hamburger).



Read More: Top 10 Restaurants to Eat Liang Pi in Xi'an

No.3: Hot Oil Noodles

Chinese name: 油泼面 yóu pō miàn
This name describes the key making procedure of the noodles. After sprinkling chopped green onions, pepper powder and chili powder on the boiled noodles, the cook will pour hot oil on these ingredients. This procedure is to increase the spicy and aromatic flavor as much as possible. After mix them well, you can readily savor the delicous noodles. You can also choose to add toppings including stewed pork, egg and tomato sauce as well as soy sauce and vinegar per your preference.

No.4: Yangling Style Dipping Noodles

Chinese name: 杨陵蘸水面 yáng líng zhàn shuǐ miàn
When having Yangling Style Dipping Noodles, two bowls are needed. One is to hold boiled noodles and the other to hold dipping sauce. The sauce is usually made of mashed garlic, tomato sauce, red chili oil and vinegar, trully appetizing. Some restaurants also add green vegetables such as spinach into the sauce. By the way, Yangling Style Dipping Noodles are also called belt-like noodles (Ku Dai Mian), for the noodles is quite long with a width of about 5 centimeters (2 inches); and this feature explains why the price is set per piece of noodle, instead of per serving.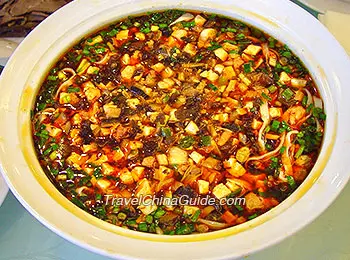 Qishan Noodles with Minced Pork
No.5: Qishan Noodles with Minced Pork

Chinese name: 岐山臊子面 qí shān sào zi miàn
Side ingredients are of vital importance to this dish, locally called sao zi, including not only minced pork, but also daylily, agaric, tofu, egg, chili and carrot, which all add refreshing taste to Qishan Noodles. Compared with other Xi'an noodles, this kind of noodles are much thinner and smoother. Though the soup looks red, there is not so much spicy flavor but more sour and salty taste.

No.6: Spinage Noodles

Chinese name: 菠菜面 bō cài miàn
Xi'an people use fresh spinage juice instead of water to make this green noodles. The fragrance of spinage is well combined with chili powder, minced garlic and green onion. Upon taking the first bite, you will be impressed by the spinage noodles' peppery taste and al dente texture. Not to mention that this healthy dish can also provide you with much needed vitamin and iron!

No.7: Buckwheat Noodles

Chinese name: 荞面饸饹 qiáo miàn hé le
Apart from the green spinach noodles, there are also dark yellow Xi'an noodles made of buckwheat. Red chili oil, mashed garlic and mustard all together bring this dish a distinct flavor. Moreover, the buckwheat noodles can be made into two versions, cold dish and hot one with soup. If you come to Xi'an in summer, the cold buckwheat noodles can surely arouse your appetite by its smooth and refreshing taste. In contrast, the hot buckwheat noodles in soup are more spicy and salty.
| | |
| --- | --- |
| Buckwheat Noodles | Huxian County Handmade Noodles |
No.8: Huxian County Handmade Noodles

Chinese name: 户县软面 hù xiàn ruǎn miàn
Huxian used to be a county near Xi'an and people from this place are good at making noodles. According to the custom, people will mix water and flour and then keep kneading until the flour dough looks smooth. A pinch of salt in the flour will make the noodles very chewy. The finished dough will be put aside for at least thirty minutes in order to make it easy to roll and cut into noodles. There is no strict limit on the makeup of the toppings, including pork sauce, tomato and egg sauce; it can also be made into hot oil noodles.

No.9: Huxian County Dipping Noodles

Chinese name: 户县摆汤面hù xiàn bǎi tāng miàn
As another famous dish of Huxian County, the dipping noodles are very similar to Yangling Style Dipping Noodles mentioned above. But this dish focus more on the dipping sauce, and the noodles are relatively much thinner. Regular dipping sauce contains chopped daylily, agaric, fried bean curd, tomato, garlic sprout, leek, green onion and minced pork. The sour and spicy flavor are well balanced. When eating, remember not to dip noodles in the sauce for too long.

No.10: Liquan County Baked Noodles

Chinese name: 礼泉烙面 lǐ quán lào miàn
Here comes another special Xi'an noodle, which may remind you of instant noodles to some extent. The noodles are baked to be done in advance. Before eating, the noodles can be enjoyed quickly after they are soaked by hot water or hot soup for a while. Thus, the scrumptious taste of this dish depends greatly on the hot soup. Local people usually choose bone broth and add with pepper, cinnamon and other spices. Chili oil, fried bean curd and minced pork also play important roles in the soup. The match of red soup, green sliced leek and yellow flaky egg will definitely whet your appetite.

Xi'an Dining:

Further Reading:
10 Most Popular and Tasty Chinese Noodles Recipes
- Last updated on Apr. 12, 2021 -