Best Western Restaurants in Xi'an
There are many best western restaurants in Xi'an serving all kinds of western food. Most of them are gathered around the Big Wild Goose Pagoda area, Gaoxin area or the Bell tower area. The following is a list of some nice western restaurants in Xi'an.

La Seine Restaurant Français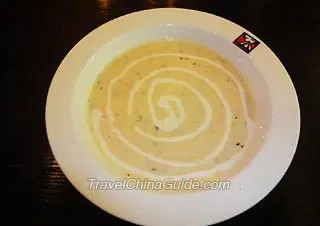 It is one of Xi'an's most exclusive restaurants and also the only French restaurant. It has a good location for a fantastic and full view of the Bell Tower. You can enjoy delicious French-cuisine and wines as well as a pianist or a violinist playing here. The soup, cold and hot dishes, cheese, desserts, vegetarian set menu are all worth a try! There are also luxurious VIP rooms where you can enjoy yourself comfortably. Generally, its atmosphere is quiet, romantic and posh.
Specialties: Fois Gras; Escargots Appetizer; Roast Lamb Fillet; Paris Sea Salt Steak
Average cost: CNY300
Location: Building No. 3, Tangyan Xinyuan Community, No. 59, North Section of Tangyan Road

Small World Café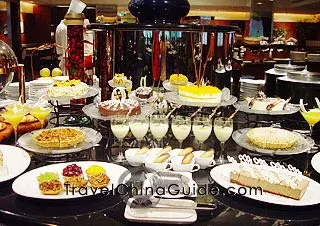 As one of the best best western restaurants in Xi'an, it is owned by a pretty Dutch woman. You can taste nice coffee, Pizza, Salad, Cake and Fried Chicken here. It is favored by a lot of foreigners. This restaurant is like a serene garden and you can have a look through the window at the Old City Wal. You will find yourself in an old-world here.
Specialties: Pizza, Salad, Fried Chicken, Beefsteak, Cream of mushroom soup, Pork Chops
Average cost: CNY95/person
Location: No. 90, East Section of South Huancheng Road

Mr Pizza
It is really a nice restaurant to find western food, including various pizza, oven-baked penne, sandwiches and Texas Stew. It is also a nice option for vegetarian food. The entire dining area is nonsmoking!
Specialties: Four-cheese and Pepperoni Pizzas, Real Oven-baked Penne, Tuna Sandwiches, Chocolate Brownies
Average cost: CNY80/person
Qujiang Branch
Location: Unit 1, Building No. 1, Furong Xintiandi, No. 56, West Furong Road
Keji Road Branch
Location: C88, 3F, Jinying Shopping Mall, Keji Road

St. Louis Portuguese Restaurant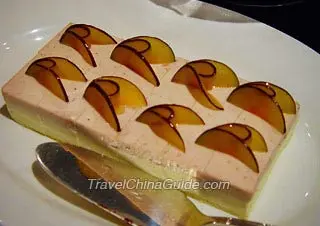 It is a typical Portuguese restaurant with pretty good Portuguese dishes and goose liver. You will get a strong feeling of being at home because of its nice decoration, especially being there at night. Nowadays, this restaurant can be regarded as one of the best western restaurants in Xi'an.
Specialties: Goose Liver, Beefsteak, Portuguese Egg Tart, Silver Pout, Almond Shrimp
Average cost: CNY200-300/person
Location: 1F, Rose Building, No. 25, Keji Road, Gaoxin District (near Shangri-la Hotel)

The Morning After Restaurant
It is one of the most comfortable restaurants in Xi'an. You can find steaks, German pork knuckle, sushi, cheese, vegetable curry and a wide array of Asian fish here. Menus in Norwegian, Italian, Japanese and Korean are provided.
Specialties: Pizza, Tiramisu, Roast Weever
Average cost: CNY100/person
Location: 1F, East Gate of G-Park, No. 22, Xinghuo Road

Isola del Nord Italian Restaurant
Being one of the best western restaurants in Xi'an, Isola del Nord is a nice Italian restaurant serving authentic Italian cuisine. It mainly provides Southern Italian cuisine mixed up with the light Japanese cuisine. It has a comfortable dining environment and the waiters here can speak English fluently.
Specialties: Italian style pizza; fresh, clean feeling décor; good wine selection
Average cost: CNY190/person
Location: 11F, building B of K.I.Tower, No. 1, Xihua Gate, Beilin District

Azur Restaurant
It is an all-day self-serve western style restaurant serving the best of Mediterranean and European cuisines in Xi'an. Its decoration is elegant, nice and comfortable. The dishware there is distinctive. An open kitchen is also a feature here.
Specialties: Beef Pot, Ice Cream, seafood
Average cost: About CNY240/person
Location: 1F, East Wing Lobby, Sofitel Hotel On Renmin Mansion, No. 319, Dongxin Street, Xincheng District

Peter's Tex – Mex Grill
This is a comfortable restaurant decorated with South American style. There are native-flavored American breakfast, sandwich, distinctive TEX-MEX dishes and many self-created desserts. Besides, the delicious salad, Texan Burrito, and pizzas also attracting many foreign and Chinese eaters!
Specialties: Texan Burrito, pizza, Potato Skin, Milk Shake
Average cost: About CNY90/person
Location: 4F, Cade Plaza, No. 64, west section of South Erhuan Road, Yan'ta District

Jane's Garden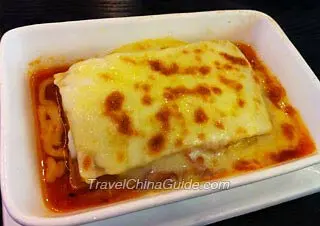 It combines French idyllic style and American rustic style to be a distinctive western food club. There are western food, café, cigar areas, American countryside club, reading area, private cinema and outdoor garden. It is on the list of Best Western Restaurants in Xi'an. It mainly serves western food, southeastern Asia food, coffee and originally baked food. This is really a great place for relaxation and dating!
Specialties: Tiramisu Coffee, Italian Cappuccino Coffee, American Coffee, western dessert, fruit platter
Average cost: CNY110/person
Location: 8F, Fengrun International Building, Taibai Overpass, Beilin District (near Vivo city)

Bacchus Italian Restaurant
It is a fashionable western restaurant, with large dining hall, attractive decoration in the lobby and pleasant tables and dining wares. Going through the lobby, you will find some separated rooms for private dining. Also the waiters are very friendly here, so it is highly recommended!
Specialties: Sicily Pizza, Roast Sausages, Tomato Soup, Black and White Yoghurt
Average cost: Almost CNY100/person
Location: 1F, Chengjian Building, No. 15, Gaoxin Road

MED Restaurant & Bar
Average cost: CNY210/person
Location: 2F, Wangfujing Shopping Mall, Nanguan Street

Xi'an Dining:
- Last modified on Sep. 29, 2018 -
Questions & Answers on Best Western Restaurants in Xian
Asked by Green Tea from USA | Aug. 03, 2014 03:41

Reply
Korean/ Japanese BBQ Grill that has english menu/ translation near by subway station in Xian
Hello I am looking for Korean/ Japanese BBQ Grill restaurants that are approximately close (10-15 minutes walk) from the nearest subway. Please provide me the address and the restaurant name in chinese characters too...

Thank you for your help :)

Green Tea


Answers (1)
Answered by Emily from IRELAND | Aug. 03, 2014 21:55

1

0

Reply
Sorry, I have no idea of one with English menu, but near Xiaozhai suwbvay station, there is a self-service BBQ grill - Han Du Li, which may meet your demand. It is close to the exit A and on the 5th floor of Kami Square. Its Chinese name is 韩都里.
Asked by Ms.NIJINI from NORWAY | May. 07, 2011 18:45

Reply
Sushi (Xian Restaurant)
Any restaurant where I can get good sushi?
Answers (2)
Answered by Mrs.Susan from CHINA | May. 08, 2011 01:15

2

0

Reply
You can find a Youjia Sushi at Haoyouduo, Xiaozhai, 122, Chang'anzhong Lu. You may go there to have a taster.
Answered by Ms.NIJINI from NORWAY | May. 08, 2011 05:36

0

1

Reply
Thank you Mrs. Susan
Asked by Mr.TENNANT from UK | Mar. 03, 2011 04:11

Reply
i would be gratefull for any information on indian food, in the city:)
Answers (1)
Answered by Ms.Jane | Mar. 04, 2011 03:38

2

0

Reply
The most famous Indian restaurant is located to the west of the Big West Goose Pagoda, named Indian CACAIA (印度菜菜). Also on the same streets, there are other two Southest-Aisan restaurants.
Asked by Ms.Wani from SINGAPORE | May. 30, 2010 00:56

Reply
Where can i find Singapore cuisine here in Xian? I'm here for 1 week already but yet to see any Singapore cuisine restaurant.. I'm staying in Shan Xi Shan Shui Shangwu Hotel.. Maybe in town area or somewhere nearby here! If probably halal ones.. if not just a Singapore/ Malaysia cuisine would be ok!
Answers (4)
Answered by Mr.Sandy | Jun. 05, 2010 22:24

1

0

Reply
That is not easy to find Singapore and Maylasia suisine, I don't know any. Thailand and India food are more easy to find.
Answered by Ms.wani from SINGAPORE | Jun. 13, 2010 06:59

0

0

Reply
Hi.. So where can we find thailand and India food? Are there open on this monday to wednesday, since its public holiday, we want to go out and have a great meal out there.. =) Thankx for the prompt reply, but my apology for replying quite sometimes due to busy schedule..
Answered by Ms.Meng | Jun. 17, 2010 01:16

1

0

Reply
There is a Singapore restaurant in Xian called Larry's Kitchen, whic is located in Zhubashi street, just opposite to the Drum Tower. As for Indian food, please go to Yin Du Cai Cai (印度菜菜), which is one of the most popular Indian Restaurant in Xian. You could find it at Da Tang Tong Yi Fang, just to the west of the Big Wild Goose Pagoda. Here is a picture: http://www.dianping.com/photos/496576 Not far from it, there is another nice Southeast-Asian restaurant called Delhi Darbar.

Answered by Ms.Wani from SINGAPORE | Jun. 17, 2010 10:35

0

0

Reply
Hi Ms Meng..
Thankx for the info.. Because it been weeks that me n friends searching for the restaurant! =)