Ancient City of Pingyao - Things to Do
Pingyao Ancient City Map (Click to enlarge)
The past prosperity of Shanxi lies in Pingyao, while the soul of Pingyao lies in its Old City. Founded during the Western Zhou Dynasty (1046 – 771 BC) and rebuilt in 1370, the Ancient City of Pingyao is nowadays one of China's four best preserved old cities together with Lijiang Old Town, Huizhou Ancient City and Langzhong Ancient City. It has no charming landscape, green mountain or clear waters. What is unique there, is the well-preserved ancient city with a grand City Wall, traditional residences, former security guard companies, time-honored shops, and even the previous government office. In 1997, it was inscribed as a world cultural heritage.
The Ancient City of Pingyao is also called 'Turtle City' because of its turtle-like city wall. First on the must-go attractions of Pingyao is ancient city wall. There are six gates along the wall. Four of them are symmetrically set on the east and west sides, looking like the four legs of the turtle. The Southern Gate and Northern Gate resemble the head and tail respectively. Looking down from the top, it is exactly like a giant turtle with the crisscrossing lanes forming the patterns on its shell.
If you want to have a glimpse of the past prosperity of the Pingyao Ancient City, you should not miss the Ancient Ming-Qing Street. Serving as the central axis, it has been the busiest commercial block of the city for hundreds of years. This 450-yard-long street gathers around 80 antique stores, including exchange shops, pawnshops, security guard companies, and other handicraft workshops. Walking along the Ming-Qing Street must feel like being back in the crowded bazaar in the old days. Not only can you view quaint buildings, but also buy specialties, snacks, and souvenirs there.
| | |
| --- | --- |
| City Wall | Ancient Ming-Qing Street |
The nearly 200-year-old Rishengchang Former Bank, located near the center of the Ancient City, is the first 'bank' in China's history and is known as the 'Father of the Bank in China'. It once controlled the lifeblood of the nation's economy in the Qing Dynasty (1644 – 1911), with more than 30 branches throughout the country. It is now an ancient bank museum, displaying historical items and local architecture style. There you can know the development of China's banks and Jin Merchants, a renowned business group in Shanxi Province.

See also Xietongqing Ancient Bank
Ancient Security Guard Company
The Ancient Security Guard Company can be seen as an earlier delivery agency, but it only conveyed silver, gold, and other valuable items for exchange shops and rich men. Brimming with a lot of security guard companies is another highlight of the old city. You may drop by the most famous one near the northern end of the Ancient Ming-Qing Street. Here you can have a better understanding of this organization by viewing the distinctive carriages, cases, and other delivery tools. There is also a special training court for security guards to practice martial skills. With various weapons as the backdrop, why not pose in a Kung Fu movement and take a picture there?
The well-preserved Ancient Government Office to the west of the Ancient Ming-Qing Street is the largest one in China with an area of 31,000 square yards (25,920 square meters). 149 magistrates in the Ming and Qing Dynasties (1368 - 1911) worked and lived there successively. The core area of the site is the solemn law court. If you are lucky enough, you may see a performance of an old trial at the law court. Deep in the building is the prison. The low-light environment there may make it feel creepy. You may even find shabby bedding and prisoners' uniforms, as well as rusty torture equipment there.
| | |
| --- | --- |
| Ancient Government Office | City God Temple |
Located to the east of the Ancient Ming-Qing Street, the Temple of City God is a sacred place for people to pay homage to the City God, God of Wealth, and Kitchen God. Eminent officers and ordinary people who made great contributions to local people are also worshipped here. With an area of 8,800 square yards (7,340 square meters), this traditional temple has many exquisite pavilions and towers. The colored glaze decorations of the Ming and Qing Dynasties are still shining under the sun, making this place even grander.
This is one of top things to do where people show their respect to Confucius, a renowned educator who founded Confucianism. With an area of 10,000 square yards (8,361 square meters), it is the best preserved Confucius Temple in China. This temple was also a state-run academy in the olden days. At that time, the dream of most scholars was to serve as an official. Taking the imperial examination was the only way for them to gain the title. There is an exhibition in the fifth court of the temple, introducing the development and procedure of the old examination.

How to get to the Ancient City of Pingyao
Taiyuan is about 60 miles (97 kilometers) from the ancient city and you can take coaches or trains to get there. With the opening up of the Pingyao - Beijing and Pingyao - Xi'an High Speed Railways, a quick transfer from Beijing and Xi'an is also possible.



From Taiyuan:


Take a bus from Jiannan Bus Station to Pingyao. Duration is about 2 hours. Get out of the station and walk west along East Zhongdu Street. Turn left at the first corner of Beiguan Road. Then walk south to the North Gate of the city.

Take a bullet train at Taiyuan South Railway Station to Pingyao Ancient City Railway Station. The train ride only takes around 40 minutes. Upon arrival, take bus no. 108 and get off at Ancient City North Gate Station. You will see the north gate of the city.



From Beijing or Xi'an:
Take a high speed train from Beijing West Railway Station or Xi'an North Railway Station to Pingyao Ancient City Railway Station. Upon arrival, follow the above instruction to the city.
See also Beijing - Pingyao Train, Xi'an to Pingyao Train
Click to check the real-time China Train Schedule

Admission Fee
Combo Ticket (valid for 3 days): CNY 125;
Free for children under 1.2m (3.9 feet).
Opening Hours
Old City: All Day
Spots inside the city
March to November: 8:00 – 18:00
December to next February: 8:00 – 17:30

Note:
1. If you just wander around inside the city and don't enter the scenic spots, a ticket is not required.
2. The combo ticket is valid for three days, but visitors are allowed to visit each attraction only once during the ticket validity.
3. Attractions covered by the combo ticket:
Ancient City Wall, Ancient Government Office, Rishengchang Former Bank, Qingxu Taoist Temple, Temple of the City God, Temple of Confucius, Tianjixiang Museum, Huiwulin Military Arts House, Ancient Security Guard Company Museum, Tongxinggong Security Guard Company, Weitaihou Exchange Shop, Weishengchang Exchange Shop, Former Residence of Lei Lvtai, Baichuangtong Exchange Shop, No. 1 Ancient Security Guard Company in North China, Xietongqing Exchange Shop, Museum of Chinese Chamber of Commerce, Pingyao Ancient Residence Museum, China Rare Newspaper Museum, Museum of Ancient Weapons, Temple of Erlang God, Ma's Compound.
Outside the Old City, there are two temples worth visiting. One is Shuanglin Temple, which is about four miles (six kilometers) southwest of the city. It is famous for the over 2,000 vivid colored sculptures created during the Yuan, Ming, and Qing Dynasties (1271 – 1911). The other is Zhenguo Temple, with a history of over one thousand years, located 7.5 miles (12 kilometers) northeast of the city.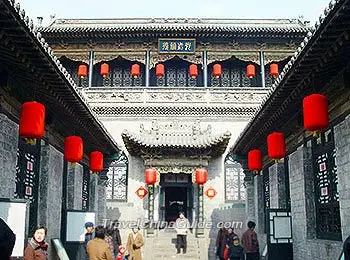 Qiao's Compound
Traditional Residences Nearby
Around the ancient city also cluster many famous old style residences. About 25 miles (40 kilometers) to the north lies the famous Qiao Family Compound, which boasts a unique layout and various delicate carvings. Another one is Wang Family Compound, which is about 22 miles (35 kilometers) to the southeast. It is regarded as a Chinese architectural museum for its abundant artistic works, such as various elaborate sculptures.
Other residences, such as Cao Family Compound, Chang Chang Family Compound, and Qu Family Compound, are all not very far away and worth visiting.

In addition to the ancient residences, Mt. Mianshan is the only mountain close by the ancient city, boasting beautiful natural scenery and abundant Buddhist and Taoist temples.

Also, it is worwhile a viist to Zhangbi Ancient Fortress, an ancient miniature castle constructed according to Chinese astrology.



Recommended Guided Tours:
2 Days Pingyao Tour from $269
3 Days Pingyao City Tour from $399
More Pingyao Tours
- Last modified on Jun. 16, 2019 -
Questions & Answers on Ancient City of Pingyao
Asked by Sim from AUSTRALIA | Jun. 16, 2019 18:26

Reply
Transport from Pingyao Railway Station to inside Ancient City.
I am planning to catch K603 from Beijing. The train arrives at The railway station at 4:49 am.
Would I have any trouble finding a transport to accommodation inside of the walled city at that time of the day?
Answers (1)
Answered by Andy from USA | Jun. 16, 2019 19:04

0

0

Reply
As most of the bus lines operate after 7:00 so that you can take taxi directly, which takes less than CNY10.
Asked by andrei from PHILIPPINES | Sep. 29, 2016 15:17

Reply
Can we visit Pingyao Old City for 2 hours? we will not enter into the scenic spots. Thanks
Answers (1)
Answered by Barry from NEW ZEALAND | Sep. 30, 2016 04:10

1

0

Reply
Well, I am afraid that 2 hours is too short even if you don't enter the scenic spots. You are advised to spare at least half a day for it. :)
Asked by Bogdan from POLAND | Jun. 26, 2016 06:30

Reply
Hi! Is the joint ticket for Pingyao Ancient City valid only one day or for more days?
Answers (3)
Answered by Oliver from UK | Jun. 27, 2016 04:59

1

0

Reply
The joint ticket is valid for two days, so it is fine to finish all the spots within two days.
Answered by Bogdan from POLAND | Jun. 27, 2016 05:01

0

0

Reply
Many thanks, Oliver
Bogdan
Answered by Nusa from SLOVENIA | Aug. 26, 2018 10:20

0

0

Reply
Seniors have free admission to most places of interest, also the wall.
For me this was the best spot of one month travel around China. Also the
Harmony Hostel in the centre where I stayed 2 nights I liked very much.
I recommend it!
Asked by Jes from SINGAPORE | Oct. 13, 2015 21:22

Reply
We intend to visit Pingyao for 1 day trip if our schedule is tight.
We will travel there by train from Taiyuan and We need some advise for the trip.

1) Which railway is nearer to the Ancient City? Ancient Railway or PY railway?
2) As our schedule is tight, we prefer to visit the 2 temples Shuanglin and Zhenguo and then to the ancient
city. Please advise how to travel to the 2 temples from the railway station and back to the Ancient city before
we take the rail back to Taiyuan ?
3) Or is it much cheaper to book a cab from Taiyuan hotel and to PY and back to our hotel(downtown)?
Answers (3)
Answered by Lily from NEW ZEALAND | Oct. 13, 2015 22:21

0

0

Reply
Hi, Jes. I visited the ancient town last year.
1. The latter rail station is nearer to the ancient city.
2. Upon arrival, you may charter a car to the two temples, and then back to the Ancient City Railway Station. It costs about CNY 80 or 100 for a round trip. For the back trip, I suggest you take a high speed train at the Ancient Railway Station to Taiyuan South, which is nearer to Taiyuan Hotel.
3. No, it would be more expensive to book a cab from Taiyuan. So taking a train is a better choice.
I hope my advice can help you.
Answered by jes | Oct. 14, 2015 03:29

0

0

Reply
Thanks Lily for your advise but where can we charter the car? Outside the railway station? Is it safe for 4 of us are girls?
Answered by Lily | Oct. 14, 2015 04:30

0

1

Reply
Oh, many private cars are available for rental ouside the railway station. Some drivers even walk close to you and ask for hire. Generally, it is safe enough. They do this just to make a living. If you are still worried, take a taxi instead and the fee is almost the same. Good trip!
Asked by Marco from ITALY | Aug. 20, 2015 04:49

Reply
Where it is possible to buy the entrance ticket to Pingyao old city tourist spots??
Thanks
Answers (3)
Answered by Edward from CANADA | Aug. 20, 2015 22:06

0

0

Reply
Well, as I know, official website doesn't have English booking page.
So you are suggested to go to the scenic area and buy the tickets when you arriving. Generally speaking, there will be enough tickets. Don't worry.
Answered by Marco from ITALY | Aug. 21, 2015 04:10

0

1

Reply
Thank you very much for your reply. Actually, I didn't mean to ask whether it was possible to book it, but where I could buy the ticket once I get into the old town. Do you know it by chance??
Thanks
Answered by Edward | Aug. 21, 2015 04:54

0

0

Reply
The ticket service counters are located at the West Gate and North Gate of Ancient City. In addition, you can also buy the ticket at the Ecological Park of the Ancient City.