Pingyao Dining - Food & Restaurants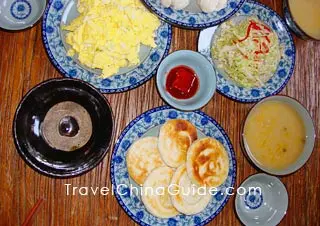 Local Staple Food in Pingyao
Local staple food in Pingyao is mainly wheaten products like noodles and clay oven rolls. Among these simple food or snacks there are many special ones:



Wantuozi: Wantuozi is a kind of traditional snack in Pingyao County made of wheat or buckwheat flour. The flour is mixed with slightly salted water until it becomes a batter; salted water and rape oil is added proportionally to make the batter thin; this thin batter is put in a saucer and steamed for about twelve minutes. Then, the Wantuozi is ready. It can be mixed cold with vinegar, garlic and sesame oil, or it can be stir-fried with yam or potato shreds. With a fresh and smooth taste, Wantuozi is popular in Pingyao and can be easily found on the streets.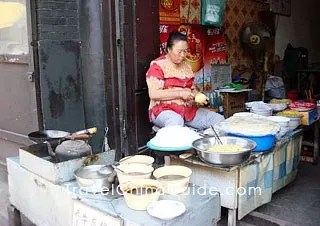 Youmian Kaolao, a staple food
made of buckwheat in Shanxi

Youmian Kaolao: 'Xiaomian' means buckwheat flour, and 'Kaolao' is the wicker basket or a kind of round storage box. 'Xiaomian Kaolao' is a staple food made of buckwheat in Shanxi. The buckwheat batter should be made with boiling water and kneaded until smooth whilst still hot; this thick batter is cut into small blocks and then rubbed into flat pieces on a smooth stone slab; the flat piece are rolled into a cylinder and placed on end in the steamer. After steaming for about 10 minutes, the delicious 'Xiaomian Kaolao' is ready. It is eaten with some flavoring like tomato or chili sauce. Buckwheat is rich in fat and calories so it is a good dish for people lived in cold area.



Yam: Pingyao has an abundance of Chinese yams which are rich in protein, starch and many trace elements like calcium, magnesium and zinc. Chinese Yam in Honey is a common dish in Pingyao. The steamed Chinese yam block is fried with hot sugar and honey. It tastes sweet, smooth and soft with a light fragrance of honey and the yam itself. Steamed Chinese yams rolled into balls with some lard is also a staple food.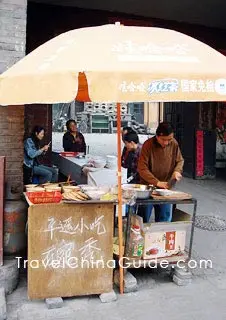 A stall sells Wantu

Beef: Another famous dish is
Pingyao Braised Beef.
It is said that Pingyao Braised Beef has been famous since early in the Ming Dynasty (1368-1644). What's different from other areas is that old ox is the best choice for Pingyao beef. The beef is divided into sixteen blocks according the structure of the ox; the beef is salted with a kind of local salt for one to three month; the salted beef is stewed with the local salt and alkaline well water for about twelve hours, Pingyao Braised Beef is then ready. With a ruddy appearance, the beef looks tempting. It is fresh and tender in texture and boasts a strong fragrance. It can be found in the super market outside the Old City as well as in the streets of
Ancient Ming and Qing Street
.

Drink:
Yellow Wine
(also
Rice Wine
) of Changshengyuan: Changshengyuan is an old shop established over a hundred years and famous for yellow wine in Pingyao. Made from yellow sticky rice and wine yeast, the yellow wine here is lighter, mellow and nutritious.

Recommended Restaurants

Yunjincheng Restaurant
Local foods are served here. It provides a comfortable environment with a warm service.
Average cost per person: CNY 40~50
Recommended dishes: Xiaomian Kaolao; Braised Beef
Address: No.64, South Avenue, Old City

Tianyuankui Guesthouse
Local food and western food is served in a comfortable environment.
Address: No.73, South Avenue, Old City
| | |
| --- | --- |
| Yunjincheng Restaurant | Tianyuankui Guesthouse |

Ju Guang Ju Hotel
The
Yue Cuisine
,
Xiang Cuisine
,
Sichuan Cuisine
and local dishes are served.
Opening Hours:
Breakfast: 07:00~09:00
Lunch: 11:00~14:30
Dinner: 18:00~21:00
Address: No.20, Shuncheng Road, Old City

Yide Hotel
Specialties and local foods are served. Various western foods are also available. The decoration and architecture is classical with a traditional appearance of Ming (1368-1644) and Qing (1644-1911).
Address: No.16, Shaxiang Street, Old City
Tips: In the Ancient Ming and Qing Street in the South Avenue of the Old City), local food is available in most restaurants. However, the prices may be higher than restaurants outside the Old City so maybe it is necessary to confirm prices before ordering. Of course, you can also dine in those restaurants outside the Old City.
- Last updated on Jul. 11, 2022 -
Questions & Answers on Pingyao Dining - Food & Restaurants
Asked by Muraj from INDONESIA | Dec. 15, 2017 09:38

Reply
Is there any moslem/halal food restaurant in Pingyao?
Hello, we plan to spend an overnight in PY from and return to Xi'an.
I think we can bring one meal from Xi'an but for later meal we should find halal/moslem food in PY.
Is there any?
Thankyou
Answers (1)
Answered by Nicole from USA | Dec. 18, 2017 00:25

0

0

Reply
Don't worry! There are halal restaurants in the city. As I know, there are two Halal Beef Noodles inside the ancient town.
Asked by IRIS2304 | May. 22, 2016 05:19

Reply
recipes for tofu grill
Hello TCG;
We just came back from our trip to China & it was such a great trip !
First of all I want to thank to Ms Hillary Gao for her kind help wih booking the train tickets

We spent 2 nights in Pingyao & we really loved that place. We loved to eat with the local people street food outside the wall. One of the dishes that we want to try at home is the grill dishes. We saw this in many places - tofu & many vegetables on the grill with speciall spices. I think it has the cooking style of Halal food.
Itried to check at the internet how to make it at home; but didnt find so much information.
I will be really grateful if you can help me to find such a recipe; or even a link for a site with good chinese recipes
Answers (1)
Answered by TravelChinaGuide from CHINA | May. 24, 2016 03:03

0

0

Reply
Dear,

Thanks for your attention on us. You can try to make the food grill vegetables in the following way.
Take grill tofu for example.

1. First, you need to prepare these things: tofu, eggs, garlic, onion, green pepper, carrot, sausage, tomato paste, salt, soy sauce, and starch.
2. Slice tofu, and put it into saline water.
3. Chop all the ingredients; whip 4 eggs; add soy sauce and salt into starch.
4. Fry the tofu until it turn gold.
5. Add a little oil in another pot. Fry the ingredients, and add some tomato paste, and the starch you prepared.
6. Add some oil to a pan, and put the egg into the pan and spread it out. Then, add the tofu, and scatter the green pepper after turning down the fire. Then, you can enjoy the delicious food!

Best Regards,
TravelChinaGuide
Asked by Javed Iqbal from TURKEY | Apr. 20, 2015 15:23

Reply
Where to find pure vegetarian food in Pingyao?
what would be its translation in Chinese language so that I may show it in restaurant.
Answers (1)
Answered by Jeremy from IRELAND | Apr. 20, 2015 20:37

0

2

Reply
As I know, there is no a pure veg. resto there. I'd suggest you walk into a regular restaurant and just order veg. food. Several good restos are available in the ancient town.
Asked by Katya from RUSSIA | Apr. 17, 2015 17:46

Reply
Hi, is there a starbucks in Pingyao.
I can't find the info online. I'm not interested in a coffe house per se. Starbucks in China just makes cool mugs with cities-I collect those))))
Thank you
Answers (2)
Answered by Adele from GERMANY | Apr. 17, 2015 20:37

1

0

Reply
Well, as far as I know, this city doesn't have starbucks. Sorry for that.
Answered by katya from RUSSIA | Apr. 18, 2015 00:02

1

0

Reply
Well. Ok,thank yoi very much for your help)
Asked by Michelle from CANADA | Apr. 02, 2015 20:22

Reply
What is the best restaurant to dine at outside the old city in Pingyao?
Answers (1)
Answered by Jim from ICELAND | Apr. 03, 2015 01:02

0

0

Reply
Outside the old city, there are a lot of restaurants near the railway station, an it's hard to say which is the best. There is one called Qingeda, located opposite the hospital.

Actually, foods in restaurants inside the town is good as well. Just choose a legal one to avoid being cheated.