Langzhong Ancient City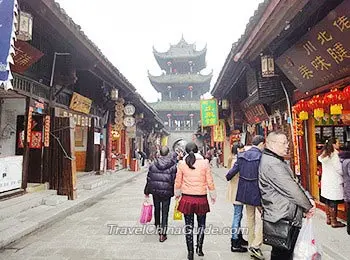 Langzhong Ancient Town
Lying in the northeast of Sichuan Basin and the middle section of Jialing River, Langzhong Ancient City is noted as one of four greatest ancient towns in China (The other three are Ancient City of Pingyao, Lijiang Old Town, Huizhou Ancient City). The city resembles a large chessboard dotted with orderly houses, which is surrounded by rolling hills and flowing rivers, considered to be quite auspicious in Fengshui. The city, with a history of 2,300 years, is also the birthplace of Chinese New Year and enjoys the fame of World Millennium City. Endowed with long history, diverse culture, and rich natural scenery, the town is worthy of visit at several scenic spots.

See more: Top 10 Ancient Cities in China

History and Culture
With a far-reaching history of more than 2,300 years, the city used to be the capital of ancient Ba Kingdom in Warring States Period (476BC-221BC). In AD 314, emperor Huiwen of Qin Dynasty (221 - 207 BC) ordered to establish prefecture in the place. Throughout different dynasties and generations since then, the city had been prefecture, state and county in the administrative system. In the early
Qing Dynasty
(1644 - 1911 AD), Langzhong had even been the capital city of Sichuan Province for 17 years. Nowadays, the archaic city turns to be a historical and cultural tourism destination.
The city is mainly characterized by its diverse culture including Feng Shui philosophy, Three Kingdom history, origin of Spring Festival,
Ancient Imperial Examination
system and various religious beliefs. The Jialing River landscape also adds more charm to this archaic city.
Core Scenic Area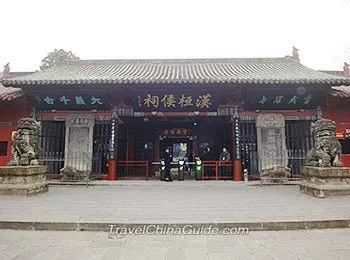 Zhangfei Temple
Zhang Fei Temple, also known as Huanhou Temple, has a far-reaching history of more than 1,700 year, which can be traced back to Three Kingdom Period (220 - 280 AD). Zhangfei used to guard Langzhong for seven years, and sacrificed a lot for the development of the city. After his death, local people constructed the temple to commemorate him. The original temple has been destroyed and the present one is a quadrangle courtyard rebuilt in Ming and Qing dynasties. Occupying an area of 1.2 acres, it is magnificent in scale and delicate in design, which becomes a notable historical site in that ancient town.

Ancient Examination Hall (Gongyuan) used to be a place for emperors to select talents. It was also the place where ambitious students took their imperial examinations in Qing Dynasty. This hall has gone through about three hundred years' history and remained well-preserved. It is nowadays the best witness to Chinese ancient imperial examination system.

Zhongtian Tower, also named Sipai Tower, is one of the landmarks of the ancient city. Originally built in Tang Dynasty (618 - 907 AD), it was restored in 2006 and opened to public in 2008. The tower is wood structure, following the Ming and Qing dynasties' architectural style. The four storied tower has a height of 82 feet (25 meters), majestic and splendid. It is the most auspicious site in the ancient town according to Fengshui rules, so all the streets in the city start here and extend towards different directions. Ascending the top, a broad scene of the Feng Shui layout of the town comes into eyes.

Huaguang Tower is reputed as the "No. One Tower in Langzhong", which occupies auspicious Feng Shui site. Located at the southern-most of the ancient town, the tower faces the Jinping Mountain across the Jialing River. As the oldest and highest tower, it is definitely the best name card for the ancient town. Atop the tower, one can have a bird-eye view of the river scenery, nearby mountain landscape and Nanjinguan Old Village.

Confucius Temple (Wenmiao) is a historical and cultural site survived from Qing Dynasty, where the great master Confucius is enshrined. Restored in 2013, the temple seems to be more magnificent and elegant. Every year, there will be a worship ceremony held to commemorate the great thinker and educator, Confucius.

Cultural Scenic Sites
Tengwang Pavilion is a splendid and grand palace complex, which was built by the order of princess Tengwang, the 22nd son of Emperor Gaozu- Li Yuan of Tang Dynasty; hence it is in typical Tang style. With a history of more than 1,300 years, the palace has appealed numerous celebrities, scholars, poets and writers to gather there and discuss about literature, music and art. Most of the masterpieces they left have become classics nowadays.
The Star Observing Tower was constructed to commemorate the great calendarist Luoxia Hong in Western Han Dynasty (202 BC – 9 AD), who made great contributions to Chinese calendar and astronomy. In front of the tower stands his statue, in a gesture of watching stars.
Built in the late
Ming Dynasty
(1271 - 1368), the thirteen-storied White Pagoda towers on a mountain by the Jialing River. Climbing up the pagoda, a panorama view of the ancient city comes into sight.
No.1 Scholar Cave is a natural rock cave, which is also called reading cave. There was a scholar named Chen Shenghua in
Northern Song Dynasty
(951 - 960), who arranged his three sons to study in the cave in order to keep them undisturbed. Finally, his sons gained brilliant accomplishment, so the cave earned the name.
Other famous cultural sites include temples to commemorate the great general Zhang Xi'an of Song Dynasty (420 - 479) and the brilliant poet Du Fu of Tang Dynasty. Tower of the God of Literature and Red Army Memorial Garden are also worth dropping by.
Feng Shui Scenic Area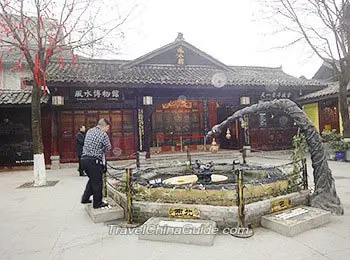 Fengshui Museum
Surrounded by rivers in three sides and leaning against mountain on its back, Langzhong city occupies the most auspicious location according to the Fengshui theory. The city's layout and landmark buildings were all arranged and constructed abiding strict rules in Fengshui, which makes the city a really stunner renowned for profound Feng Shui culture.

Rich relic sites have been left to show the Fengshui theories and commemorate the Fengshui maters. The must-see of this scenic area is the Heavenly Palace (Tiangong Palace), which was firstly built in Tang Dynasty. The present palace was restored in 1459. It is said that it used to be the place that Yuan Tiangang and Li Chunfeng studied astronomy and mathematics. Both of them were outstanding Fengshui masters and astronomers in Tang Dynasty, who worked for the feudal government.

In addition, Fengshui Museum, the Chunfeng Temple and tombs of two masters are also worth a visit.

Religious Attractions
In history, multiple beliefs have been coexisting in the ancient town, such as Buddhism, Taoism, Muslim, Catholicism and Christianity. A great deal of temples, mosques and churches survived till present days. Among these attractions, tourists are suggested to visit Yuanjue Temple, Yong'an Temple, Giant Buddha Temple, Baba Mosque and Ancestral Hall of Lv Dongbin (a grand master of Taoism, who made a great deal of contributions to people after he became an immortal).
Ecological Sightseeing Spots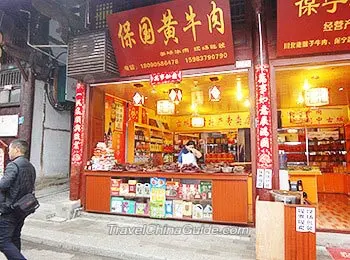 Langzhong Snack Store
Although highlighted by cultural and historical sites, the ancient town also stands out for its beautiful natural landscape.
Enjoying the reputation of first mountain along the Jialing River, Jinping Mountain scenic area is endowed with enchanting scenery. Generations of poets, scholars and celebrities left their footprint and many brilliant masterpieces there.
Panlong Mountain Forest Park is a superb destination for hiking and sightseeing. The verdant trees and fresh air as well as tranquil environment help to release stress.
Gouxi River Wetland is definitely a nature wonder, brimmed with idyllic beauty. Many rare plant and animal species survive in this natural reserve.
Themed Parks
Situated behind the Jinping Mountain and covering an area of 62 acres (25 hectare), the Spring Festival Culture Theme Park is the only scenic area showing the Spring Festival Culture in Langzhong. The park mainly composed of watchtower from Han Dynasty, Spring Festival Cultural Square, Twelve Chinese Zodiac Signs and Luoxia Hong's Memorial Square.
Luoxia Hong, a Langzhong native in Western Han Dynasty (202 BC – 9 AD), is one of the most brilliant calendar-study scholar in Chinese history, who made the first day of first lunar month as the start of Chinese year. The calendar was fixed and the present Spring Festival (Chinese New Year) came into being. Therefore, he is regarded as the father of Spring Festival, while Langzhong also gain the reputation – Origin of Chinese New Year.
Another famous theme park is Panda Amusement Park themed with fashion, dream, passion and joy. Numerous recreation items are available for both adults and kids, such as Drop Tower, Motor Roller Coaster, Speedy Windmill, Gyro Swing and Wild Water.Two pandas, Haohao and Fulong inhabit in the park. Apart from this, you can have sightseeing in Seal Museum, Dinosaur Valley and Wax Work Museum.
Ancient Towns and Folk Houses
Two ancient dwelling complexes are situated beside the main district of the ancient city, Laoguan and Nanjinguan Ancient Towns.
The well preserved Laoguan Ancient Town has a history of over 700 years, which used to be an important military pass. Historic quarters, ancient streets, unique local dwellings still reflect the prosperous scene of the past.
Nanjinguan has been commercialized gradually, and more modern factors are brought to this ancient town. Now it is a smart combination of old dwellings and modern facilities, which helps to expand its reception capacity.
Opening Hours:
1st May – 7th October: 08:00 – 18:30
8th October – next 30th April: 08:00 – 18:00
Ticket Fare
Through Ticket: CNY110 ( Zhangfei Temple, Ancient Examination Hall, Zhongtian Tower, and Confucius Temple)
| | |
| --- | --- |
| Zhangfei Temple | CNY 50 |
| Ancient Examination Hall | CNY 50 |
| Zhongtian Tower | CNY 15 |
| Confucius Temple | CNY 30 |
| Huaguang Tower | CNY 15 |
| Heavenly Palace | CNY 30 |
| Jinping Mountain | CNY 20 |
| Prayer Hall inside Spring Festival Culture Theme Park | CNY 20 |
| No.1 Scholar Cave | CNY 4 |
| White Pagoda Scenic Area | CNY 20 |
| Giant Buddha Temple | CNY 16 |
| Dongshan Garden | CNY 10 |
| Panda Amusement Park | CNY 120 |
Note:
1. The through ticket is valid for three connective days and each included spot can be visited only once.
2. Children under 3.9 feet (1.2 meters) can enjoy free entry.
3. Visitors aged 6-18 can enjoy the half price.

How to reach the city?

Bus
There is no airport or railway in the city, so traveling by land is the most ideal mode. Visitors can have easy access to buses from Chengdu, Chongqing, Nanchong and Guangyuan to the destination.

Air
The city can be reached by air through
Chengdu Shuangliu International Airport
,
Chongqing Jiangbei International Airport
and
Nanchong Gaoping Airport
. And then take a connecting bus to the city.

Train
If tourist want reach the city by rail, they can get to Nanchong or Guangyuan railway stations, where they can have easy access to another bus ride to the destination.
How to tour around?
Inside the ancient town, there are sightseeing bus and boat available for travelers to tour around. Taxis in the city charges at a low rate, which is also an economical choice.
- Last updated on Apr. 13, 2021 -
Questions & Answers on Langzhong Ancient City
Asked by Robyn Jean Emory Murray from UNITED STATES | Nov. 27, 2019 01:42

Reply
if there was indeed a bus that can take me between Langzhong and the Jiuzhaigou area?
I have seen it in a couple of places, but have not been able to verify that the bus actually runs.

If it does run, how long is the ride itself? Do you happen to know departure times?

Thanks!
Answers (1)
Answered by Emma from AUSTRALIA | Nov. 28, 2019 19:47

0

0

Reply
There is no direct bus from Langzhong to Jiuzhaigou. You need to transfer at Guangyuan City.
Asked by Robyn Jean Emory Murray from CHINA | Oct. 23, 2019 18:52

Reply
How far away is Panlongshan Forest Park from Langzhong City?
Can the park be seen in one day?

Thanks!
Answers (1)
Answered by Kira from MALAYSIA | Oct. 27, 2019 20:54

0

0

Reply
The distance is only around 4km. One day might not enough to visit the park.
Asked by Arty from AUSTRALIA | Dec. 05, 2018 12:14

Reply
Hi. What's the best way to travel from Chongqing Jiefangbei to langzhong? Thanks
Answers (6)
Answered by Josh from AUSTRALIA | Dec. 05, 2018 19:05

0

0

Reply
The best way is by land. Here is the list and you can choose one according to your convenience.
1.Chongqing Long-distance Bus Station
The bus schedule is 09:50, 12:50 and 16:00. Ticket fare is CNY91/ 102. The duration is about 4 – 5 hours.
You can take the bus No.429 from Jiefangbei to the bus station, taking about 40 minutes.

2.Chongqing North Railway Station South Square Bus Station
The bus schedule is 10:30 and 13:30. Ticket fare is CNY91. The duration is about 4 hours.
You can first walk about 450-500 meters from Jiefangbei to Linjiangmen metro stationto take the metro line 2 and get off at Niujiaotuo. Then take the metro line 3 and get off at the south sqaure. Then walk about 400 meters to the bus station, taking about 45 minutes.
Answered by Arty from AUSTRALIA | Dec. 06, 2018 05:33

0

0

Reply
Thank you josh. One more thing, I assume the return trip times are roughly the same?
Answered by Danica from AUSTRALIA | Dec. 06, 2018 19:31

0

0

Reply
Yes, they are the same.
Answered by Arty from AUSTRALIA | Dec. 08, 2018 05:32

0

0

Reply
Would I need to pre book bus tickets?
Answered by Josh | Dec. 09, 2018 17:54

0

0

Reply
I think you don't need because it is not the hot tourism season. You can buy the ticket when you arrive the bus station.
Answered by Arty from AUSTRALIA | Dec. 09, 2018 20:52

0

0

Reply
ah ok. thanks for that.

Asked by Nicola Huxley | Oct. 03, 2016 23:10

Reply
Hi do you know which number city bus serves the train station in Langzhong?
Answers (1)
Answered by Nelson from USA | Oct. 04, 2016 01:54

1

0

Reply
City bus no. 10 and 11 serves at the railway station.