Huizhou Ancient City
Huizhou ('Hui' in short), a historical region on the boundary between today's Anhui and Jiangxi Provinces, consists of six counties - Shexian, Yixian, Xiuning, Qimen, Jixi and Wuyuan. Huizhou Ancient City is the core scenic area of Shexian County in Huangshan and features a distinctive local culture. It is also the birthplace of the Huizhou merchants, a famous business group in China that flourished in the late Ming Dynasty (1368 – 1644). It is one of China's four well-preserved old cities, together with Lijiang Old Town (in Yunnan Province), Ancient City of Pingyao (in Shanxi Province), and Langzhong Ancient City (in Sichuan Province).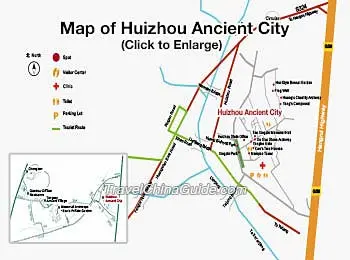 Map of Huizhou Ancient City
(Click to enlarge)
Huizhou Ancient City is famous for its unique architectural style and Three Carvings since the old days. The Huizhou-style building is one of the most important architectural schools in China, using bricks, wood, and stones as the raw materials. Buildings were always adorned with elegant patterns. In the old town, edifices were neatly built along the ancient flagstone alleys.

Xu Guo Stone Arch
Xu Guo Stone Arch, in the center of Huizhou Ancient City, was built in 1584 in honor of the local celebrity Xu Guo (1527 – 1596), a senior official in the Ming Dynasty. The eight-column arch is 11.4 meters (37.4 feet) in height, 11.56 meters (37.9 feet) in length, and 6.77 meters (22.2 feet) in width. It was made of large pieces of hard blue stone. Each stone weighs about five tons. There are carvings of dragons and beasts strutting on the top, and phoenixes and other rare birds flying between the stone beams in pairs. At the foot of the columns stand 12 stone lions in different poses.
Huizhou State Office – Symbol of the Ancient City
The State Office is the center of Huizhou Ancient City with a total area of 24,000 square meters (29,000 square yards). The complex is symmetrical along the central axis, following the typical architectural style of ancient China. There are five main constructions on the axis: Nanqiao Tower, Etiquette Door (Yi Men), Law Court, Second Court, and Magistrate Office.
Doushan Street – Most Famous Street of Jiangnan
With a length of 300 meters (328 yards), Doushan Street is plough-shaped and contains old residences, sculptures, wells, and arches. It was the centralized living place of the local merchants. The most prominent families are Xu, Wang (汪), Yang, and Wang (王). Their homesteads are magnificent with elegant shapes and exquisite carving decorations.
Yuliang Block – Origin of the Huizhou Merchants
Yuliang Block played an important role in the hundreds of years of prosperity of this famous local business group. The port there was the only access to the outside world. There is an old dam by the river, measuring 138 meters (151 yards) in length. The bottom is 27 meters (30 yards) wide while the top is 4 meters (4.4 yards) in width. The old cobblestone-paved street winds about 1,000 meters (3,280 feet) and features old-fashioned shops and houses on both sides.
Hui Garden – Grand View Garden in Huizhou
Hui Garden epitomizes the Three Local Wonders: arches, ancient dwellings, and ancestral halls. The complex is baronial and well-arranged with white walls and black tiles. The carvings there integrate the essences of brick carving, wood carving, and stone carving (the Three Carvings).
Tao Xingzhi Memorial Hall
Tao Xingzhi (1891 – 1946), born in Shexian County, was a famous educator and revolutionary. The memorial hall was rebuilt on the old site of the Chongyi School and expanded twice afterwards to an area of 1,672 square meters (2,000 square yards) at present. There is a white marble statue of Tao Xingzhi in the center of the hallway. Documents and items introducing the life of this great man are displayed on the second floor.
How to get to Huizhou Ancient City from Huangshan:
1. Take coaches in the Huangshan Bus Station (Tunxi Bus Station) to Shexian, and then take Shexian Bus 4 to Huiyuan.
2. Take trains to Shexian Railway Station to change to Shexian Bus 4 to the Huizhou Ancient City.
3. If taking a bullet train to Shexian North Railway Station, visitors can take Shexian Bus 1 to Lao Qichezhan and then change to Shexian Bus 3 or 4 to the ancient city.
Entrance Fee
Free to enter the ancient city. If you just wander in the town and don't enter the ancient buildings, the following combo ticket is not needed.
Combo Ticket: CNY 95
Covering entrance fees of West Garden & Hui Garden, Yuliang Dam, Xu Guo Stone Arch, Tao Xingzhi Memorial Hall, Doushan Street, Xin'an Monument Park, and Taibai Tower in Huizhou Ancient City.
Free for children less than 1.2 meters (3.9 feet) in height.
Opening Hours
All Day
*Partial scenic spots in the town open between 8:00 – 17:00
- Last updated on May. 17, 2022 -
Questions & Answers on Huizhou Ancient City
Asked by Stuart from U S A | Oct. 04, 2018 13:31

Reply
Kai Tak Cruise Terminal in Hong Kong to Huizhou Ancient City in Guangdong
My wife and I are old enough to need taxis rather than trains or buses. We'd like to take a taxi from Kai Tak Terminal to Huizhou Ancient City, a trip of about two hours, but after trying a long time, we've been unable to assure ourselves that a taxi will be available at a reasonable cost for that trip and the return trip five or six days later. Any guidance you can give us would be greatly appreciated. Stuart
Answers (1)
Answered by Shay from USA | Oct. 11, 2018 00:09

0

0

Reply
Dear, it is a long ride between the two places and if you don't want to take the bus or train, you can consider taking the plane: Hong Kong airport - Huangshan Tunxi airport. Then hire a car at the airport to the ancient town.
Asked by Ang from MALAYSIA | Jul. 16, 2018 00:33

Reply
Is there a Xiongcun Village in Huizhou Ancient City?
Answers (2)
Answered by Ryan | Jul. 16, 2018 18:40

0

0

Reply
Yes, but it's not in the city. It's about 10km from the city.
Answered by Ang from MALAYSIA | Jul. 17, 2018 00:09

0

0

Reply
Thanks a lot, Ryan.
Asked by trina from THAILAND | Mar. 05, 2018 07:28

Reply
Asking for transportation suggestionto Huizhou ancient city
1) Is there any taxi from Tangyue Archway to the ancient city?
2) If no, please suggest how can I go to the ancient city from Tangyue Archray?
3) How can I get back to Huangshan North Railway Station (Huangshan Bei Zhan)?
Answers (2)
Answered by Jay from SINGAPORE | Mar. 05, 2018 20:48

0

0

Reply
Yes, there are taxis or private cars to take you to the city from the archway.
To the North Train station, you also need to take a taxi or car.
Answered by Trina from THAILAND | Mar. 06, 2018 01:14

0

0

Reply
Thank you