Top 9 Things to Do in Huangshan
The name of Huangshan City derives from the famous Huangshan Mountain, No. 1 of its must-see places. Besides such natural wonders, a history of more than 2,200 years has left the city with a large number of cultural heritages. Known as Huizhou in ancient time, Huangshan is the birthplace of Hui culture as well as the hometown of Huizhou merchants who ever ruled China's commerce for over 300 years. Visiting the Huizhou style ancient villages and learning the local carving and painting art are among the top things to do in Huangshan. Let's see the list below to know the best places to visit.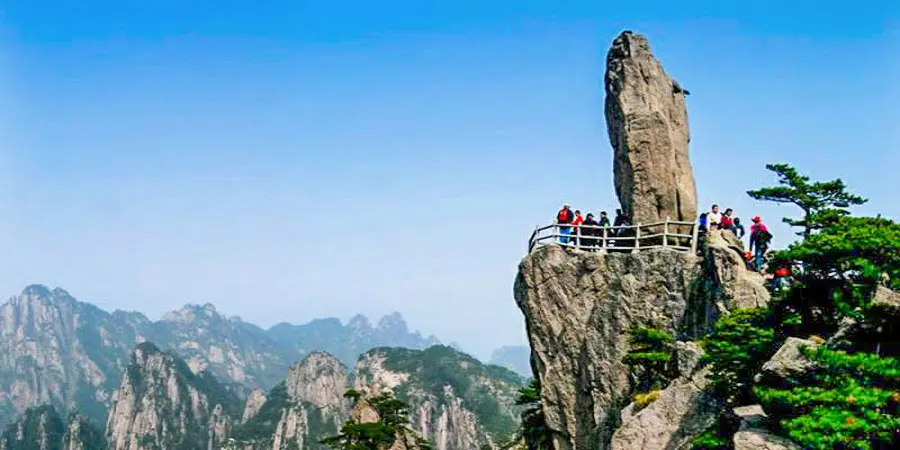 Touring the
Huangshan Mountain
, one of the most famous mountains in China, is a must-do in Huangshan. The best sights include its wondrous pines, grotesque rocks, sea of clouds and hot springs. In addition, the rime, snow and sunrise are also spectacles that you will not miss. Someone ever said, "If you have toured the Huangshan Mountain, it is no need of visiting any other mountains." That shows the unparalleled charm of the Huangshan Mountain.
Three travel routes are provided for tourists: Front Mountain, Back Mountain and West Sea Valley. Along the way, you will see amazing Lotus Peak, Heavenly Capital Peak, Jade Screen Pavilion, Guest-Greeting Pine, Thread of the Sky, Lion Peak and Flying Stone. One or two days are recommended and the trip requires enough physical strength. Cable cars are the best choice if you are too tired to walk. The weather is changeable, with more rains; the temperature on the mountain is quite different from that at the foot. Remember to tale the raincoats and warm clothes with you.

Recommended Tour:

Huangshan 3 Days Tour from

$519
2
Hongcun Ancient Village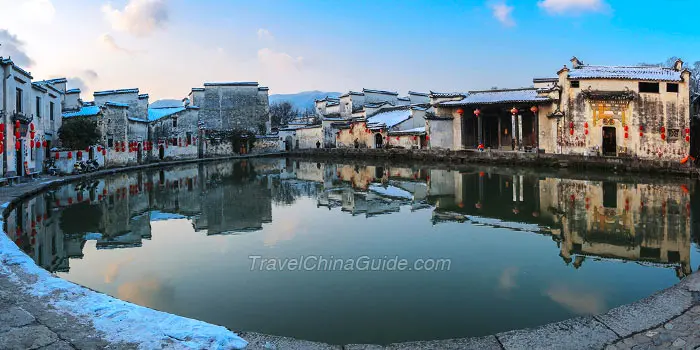 One of the best places to visit in Huangshan is
Hongcun Ancient Village
, known as "A Village in Chinese Paintings" for its beautiful views and quietness. This ancient village shows Huizhou architectural style, with hundreds of residential buildings of Ming and Qing Dynasties (1368 - 1911) standing quietly. The best foreign language film at the Oscars - Crouching Tiger Hidden Dragon was filmed here. The fun things to do in Hongcun include enjoying the beauty of South Lake and Yuezhao Lake, sketching near the river, and seeing the delicate stone, wood, and brick carvings.

Recommended Tour:

Huangshan Tour 4 Days to Hongcun Village from

$629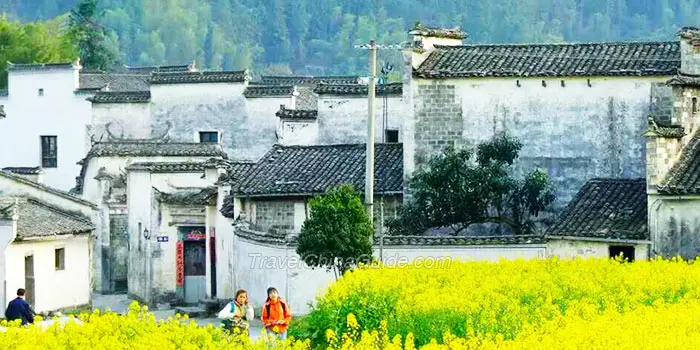 Xidi Ancient Village
has a history of nearly one thousand years and was listed as a world cultural heritage in 2000. There are hundreds of well-preserved ancient houses of Ming and Qing Dynasties, so it is reputed to be the treasure-house of ancient residences and the most beautiful village in the world. Looking at the elegant Hui-style buildings, such as Hu Wenguang Memorial Archway and Jingai Hall, and appreciating the Hui-style stone, wood, and brick carvings are top things to do in Huangshan.

Recommended Tour:

5-Day Huangshan Mountain Tour with Xidi & Hongcun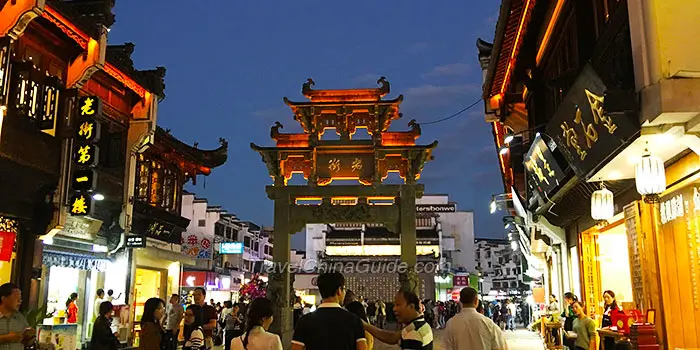 One fun thing to do in Huangshan at night is to stroll around
Tunxi Ancient Street
, located in the central Tunxi District. It is regarded as the most prosperous street in Huangshan and crowded with a lot of Hui-style stores. Here you can have a taste of the Huizhou specialties - Hairy Tofu and mandarin fish, or purchase the Huizhou ink, She inkstone and the local tea as souvenirs. Also you can drink tea while watching Huangmei Opera on the second floor of Desheng Building. Tunxi Ancient Street is also a good transit place for accommodation if you visit Huangshan Mountain, Xidi and Hongcun Ancient Villages.

Recommended Tour:

4 Days Huangshan Mountain Hiking Tour with Tunxi Old Street from

$719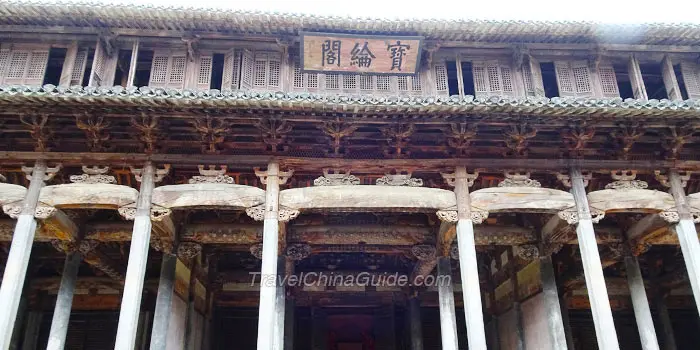 One of the best things to do in Huangshan is to visit
Chengkan Village
with a history of over 1,800 years. Built based on the eight diagrams, it is one of the best-preserved ancient villages in China. The oldest Changchun Temple of
Song Dynasty
(960 - 1279), the ancient Hui-style woodcarving and embroidery stored in Huanxiu Pavilion, and the exquisite Baolun Tower are very worthwhile for a visit. Another interesting thing to do here is to take a walk at the zigzagging quiet streets, just like a labyrinth.

Recommended Tour:

5 Days Huangshan Tour with Changkan Village & Tangyue Archways from

$959
6
Tangyue Memorial Archways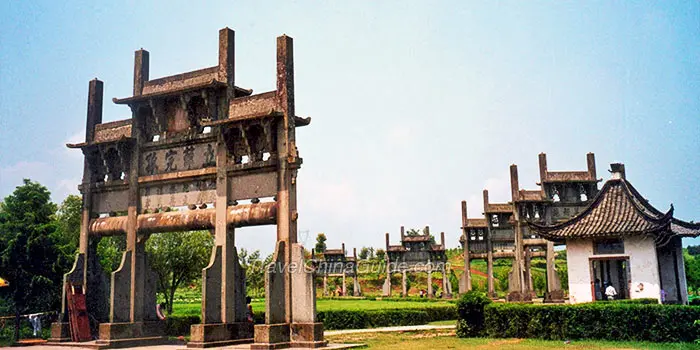 Tangyue Memorial Archways
consist of seven archways in total across the flagging. It is family monuments erected by a Huizhou business family in more than 400 years. Seven delicate archways are arranged according to the loyalty, filial piety, integrity and righteousness. Not far from the archways is
Bao's Family Garden
, where you can see many well-cut bonsais, such as the ancient banyan with over 200 years' history.
7
Night Cruise of Xin'an River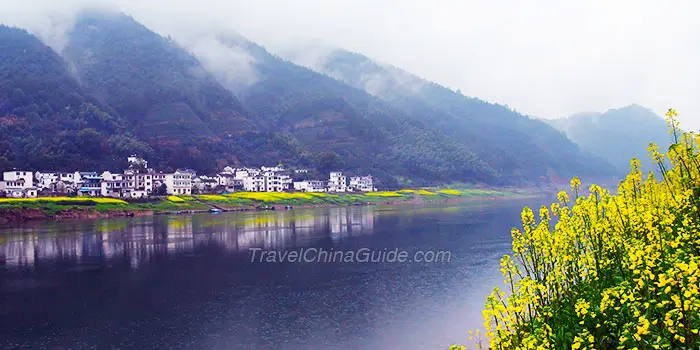 One of the top things to do in Huangshan at night is to take a boat tour on Xin'an River. On the Xin'an River, look at a myriad twinkling lights on both sides reflecting on the water, multicolored and resplendent; the lights are rippling gently as a breeze blows over. The scene makes you feel relaxed and peaceful.
8
Watch the Dance Drama 'Picturesque Huizhou' (Hui Yun)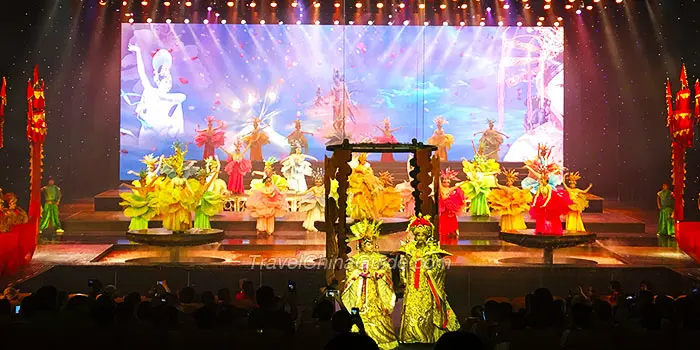 One of the best things to do in Huangshan is watching this show in Xiangming Grand Theatre. It contains the change in four seasons of Huangshan Mountain and the beautiful love story of Dongyong and Seventh Fairy. It also shows the reasons why Huizhou merchants dominated Chinese business for a long time. You will be treated to a splendid culture feast by means of music, dance, acrobatics, modern Hui Opera, Peking Opera, the local Huanggudeng Dance, and folk songs.

Video of Dance Drama 'Picturesque Huizhou'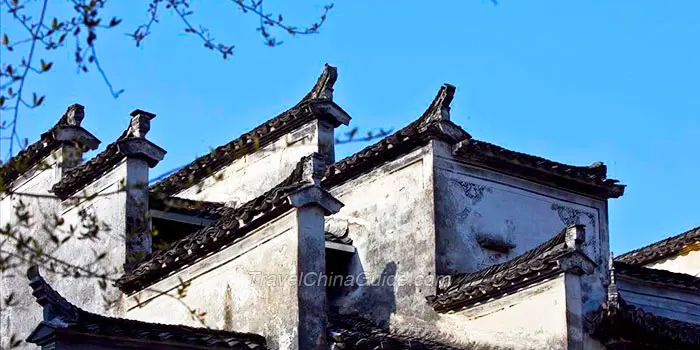 Built in Qin Dynasty (221 – 207 BC),
Huizhou Ancient City
is one of the four ancient cities in China. Its primitive residential complex makes it a magnificent history museum. The top things to do here are to visit the distinctive Nanqiao Tower, Xuguo Arch with 8 pillars and 12 stone lions, and the Yuliang Dam on Lian River. If the water level is below the dam, you can have a walk on it. The nightlife of the ancient city is also attractive with lights on. You can spend one night and taste the local delicacy, One Chafing Dish.

Recommended Tour:

4 Days Huangshan - Hongcun - Huizhou from

$589
- Last updated on May. 17, 2022 -