Bao's Family Garden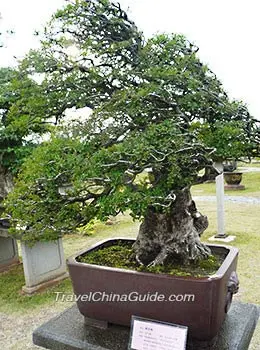 "Blowing Wind" in
Bao's Family Garden
Built in the Qing Dynasty (1644 - 1911), Bao's Family Garden is in Shexian, Huangshan, Anhui Province, about 460 meters (500 yards) away from Tangyue Memorial Archway. It was one of the three most famous private gardens in southern China in the Qianlong Period (1735 - 1796) and Jiaqing Period (1796 - 1820), the others being Humble Administrator's Garden in Suzhou and Li Garden in Wuxi. Nowadays, it is best known for its potted landscapes of different sizes and shapes.

The potted landscape is one of the traditional Chinese arts. Plants and stones are arranged in a pot to form beautiful miniature landscapes. They are valued as "solid paintings" and "silent poetries".

With an area of about 21.7 hectares (53.7 acres) and housing nearly 10,000 potted landscapes, Bao's Family Garden is to miniascape lovers what Mecca is to Muslims. Featuring quaintness, vigor and richness, the miniascape here is in Huizhou style, which springs from the Tang Dynasty (618 - 907) and become popular in the Ming Dynasty (1368 - 1644) and the Qing Dynasty (1644 - 1911). Most of the potted landscapes are made of stones, flowers and trees. Additionally, they are given names according to their characteristics. Thus we have the "Blowing Wind", with all the tree leaves growing toward one side, looking like the tree is being blown by a fierce wind. We also have the "Dancing Lovers" consisting of two half-trees, and looking like two lovers facing each other and dancing together.

Some of the most famous potted landscapes in the garden:
Southern Charm
The treasure of Bao's Family Garden, "Southern Charm" is a large banyan miniascape with a height of about 1.3 meters (4.2 feet). It has been cultivated for more than 200 years. It was once lost. In 1999, the garden keeper bought it back from the Kunming World Exposition.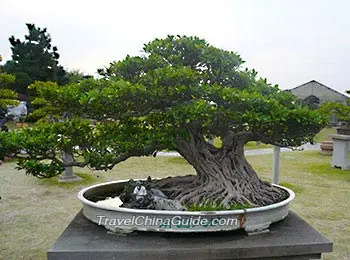 "Southern Charm" in the Garden
New Life of Withered Tree
"New Life of Withered Tree" is a ginkgo tree miniascape. The original tree was about 30 meters (100 feet) high. After a big fire, the trunk died, but the root strongly survived and new branches grew out. When Bao's Family Garden was renovated, the root and new branches were kept to make a miniascape. After years of careful cultivation, it has grown into "a ginkgo wood", showing visitors the miracle of life.

Great Beauty of the Land
"Great Beauty of the Land" is a huge potted landscape which is about 20 meters (66 feet) long, and 3.2 meters (10.5 feet) wide. It is composed of more than 100 independent potted landscapes of trees and stones, showing peaks, slopes, cliffs, caves, pools, waterfalls, pavilions, bridges, and so on, looking like the beautiful lands of China.

Additionally, there are some other sites inside the garden you can visit. You may appreciate the paintings and calligraphies in the Exhibition Hall of Anhui Culture, admire various plants in the Four-Seasons Garden, appreciate the pinewoods or relax on the Entrance Square, see exquisite root carvings as well as wood carvings in the museum. Also, to get an overview of the garden, you can go up to the Sightseeing Pavilion.

How to get to Bao's Family Garden
Bao's Family Garden is about 10 kilometers (6 miles) from Shexian, and about 27 kilometers (17 miles) from Huangshan City.

1. Take regular buses to Shexian County from Huangshan (Tunxi). Duration is about 30 minutes and ticket fare is CNY10. Upon arrival, take bus line 2 to the garden directly, or take a private car to get there at about CNY 15 per person.
2. Take a bullet train from Huangshan North Railway Station to Shexian North and then hire a taxi to reach there.
Entrance Fee
CNY 100, including Tangyue Memorial Archways and Bao's Family Garden.
* Children of 1.2 and 1.5m (3.9 - 4.9 feet) enjoy half price tickets.
* Children below 1.2 meters enjoy free tickets.
Opening Hours
07:30-17:30

Recommended Guided Tour to Bao's Family Garden:


5 Days Huangshan Photography Tour from $959

- Last updated on Jun. 26, 2018 -