Huangshan Attractions - Things to Do
Huangshan City, established as the scenic support area for Huangshan Mountain (Yellow Mountain), has become a tourist city that includes Huangshan Mountain Scenic Area and many other attractions.
Top Things to Do

Huangshan Mountain

Tunxi Old Street

Xidi and Hongcun Ancient Villages
Most tourists in the city visit Huangshan Mountain Scenic Area which is well-known for its four wonders of spectacular peaks, odd-shaped pines, hot springs and seas of cloud. It is one of the famous mountains symbolizing the Chinese nation. Huangshan Mountain abounds in miraculous scenic spots including peaks, rocks, pines, clouds, waterfalls, springs and historical sites.
| | |
| --- | --- |
| Flying Over Stone on Huangshan Mountain | West Sea Valley in Huangshan Mountain |
It takes you over one hour from the City Bus Station to Huangshan Mountain Scenic Area Bus Station by bus. It will save some time if you charter a Santana (about RMB 100).
| | |
| --- | --- |
| Hongcun Village | Xidi Village |
Shexian County, situated at the south foot of Huangshan Mountain, is a famous historical and cultural place. The county abounds in Ancient Residential Houses, memorial archways and Ancestral Temples. It is famed as Town of Arch. Most villages here show typical southern Chinese scenery featured by little bridges, murmuring streams and classical architectures.

Huizhou Ancient City

Qiankou Residence

Chengkan Village

Tangmo Ancient Village

Bao's Family Garden
| | |
| --- | --- |
| Tunxi Old Street | Tangyue Memorial Archway |
The archway has long been a symbol of China. In Chinese feudal society, the government built archways for calling people to receive recognition for merit, acts of faith or filial piety, rewards for rendering service to the country. As many celebrities in Chinese history came from this city, archways were constructed in many quarters of in this area. Many years later, over 100 well-preserved archways remain. Tangyue Memorial Archways are the most representative, including three from the Ming Dynasty and four from the Qing Dynasty. Each archway has a moving story, worthy of a visit.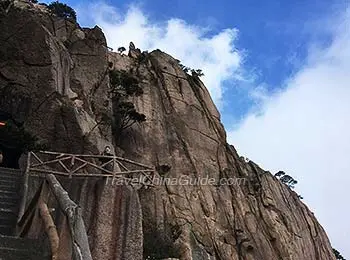 Huangshan Mountain
Xidi, a cymbiform village, and Hongcun, a cattle-like village, were ancient settlements in southern Anhui Province listed as world cultural heritage sites by UNESCO in 2000. Xidi and Hongcun Ancient Villages retain much of the appearance of the last century. The style of the street, architecture, and the development of a complete water supply are notable. Elegant residences from the Ming and Qing Dynasties, the soul of Chinese traditional residences, created a logical, spicy living environment. The water system in Hongcun especially demonstrates advanced thinking.

The largest group of stone caves in China, Flower Mountain and Enigma Caves, is in the mountains along the Xin'an River, in east Tunxi. The 36 stone caves left modern people many enigmas. Within the specially designed and logically structured caves you can feel the wisdom of the ancient people. How or why they were constructed is a mystery.

Mount Jiuhua is the first mountain in southeast China to become famous for its scenery. Mount Jiuhua, one of the four famous mountains of Chinese Buddhism, is a charming pearl in Chinese cultural heritage. Mount Jiuhua is host to temples and wreathing incense smoke, blending natural beauty with a Buddhist atmosphere.

Other attractions include Mt. Qiyun, Xin'an River, Guniu Mountain Nature Reserve and Mukeng Bamboo Forest are all worthwhile to visit.
- Last updated on Sep. 26, 2023 by Catherine He -
Questions & Answers on Huangshan Attractions
Asked by Nikki from SINGAPORE | Apr. 07, 2017 10:46

Reply
4 days in Huangshan area
Hi, thank u in advance for answering the following questions :
1. We will be going to the mountain from Shanghai by speed train and reach HS North railway station at 1313 hours on 22 April Sat. We leave HS on 25 April Wed 1350 hrs. Do u recommend that we go straight up to try to catch the cable car to go up mountain ? We will need to get lunch first in Tangkou probably, and then get the shuttle bus up to catch the cable car. Do u think we can make it n will it be long wait n crowded at the cable car queue since it is Sat ? What time do u estimate we can alight from cable car ? What time is the last cable car up ? Or should we stay the night in Tangkou n go up the mountain the next morning ?
2. If we go up next morn, what can we do in Tangkou the day we arrive , as Tangkou is small n no attractions
3. We will stay overnight on top of mountain on 23 April night n come down on 24 April. What time should we start descending so we can be in Hongcun in the evening.
4. We leave Hongcun to catch train at HS North station for 1350hrs . So we only have one morn in Hongcun. Hope it is enough ! :)
5. Which trail at mountain will u recommend which has best views ?
Thank u so much n it's so appreciated !
Regards
Answers (1)
Answered by Claire from CHINA | Apr. 11, 2017 02:34

0

1

Reply
1. You are advised to take the cable car up to the mountain in the next early morning. The cable car operates during 06:30 to 17:00 on the weekend.
2. If you decide to go up next morning, you can tour around the town and taste local snack in advance. You can visit the Yanxi Street where you can buy some specialties. Don't rush your time, you can slow down to appreciate this town, as well as take some beautiful pictures.
3. It usually needs around 3 hours to walk down the mountain and it only needs about 1 hour to Hongcun. If you will charter a car, you can just go down as your willingness. If you need to catch a bus to go there, you are advised to go down in the morning. Because there is only two buses departs from the scenic area directly. As I remember, it departs around 10:00 and 13:00.
4. It could be a little tight for your schedule. You are advised to get there earlier on April 24th, so you can visit some place in advance.
5. It is said the Taiping Cable line will have a better view of the mountain. However, each line will have different scenery, and you may choose the one you like.
Asked by Madison from UNITED KINGDOM | Mar. 05, 2016 13:38

Reply
What's the easiest way to get from Tunxi (Huangshan City) to Mukeng Village?
My boyfriend and I will be heading to China this June for a sightseeing trip and we'll be staying in Tunxi from June 11th to June 14th. We've always wanted to see a Bamboo Forest and the one near Mukeng Village looks perfect. We would also ideally like to visit Hongcun Village on the same day, as I've heard that the two are very close.

I've read that the village is only 1.5 hours from Tunxi by bus but I can't find any details on how to get the bus. Where do you catch the bus from Tunxi to Mukeng? And how would you get from Mukeng Village to Hongcun Village?

Thank you so much for any help on this matter.
Answers (2)
Answered by Betty from NEW ZEALAND | Mar. 06, 2016 19:57

1

0

Reply
You may take a bus to Hongcun Village from the General Bus Station at No. 31, Qiyun Avenue, Tunxi. The trip takes about 1.5 hours. Upon arrival, you can hike to or rent a bicycle or car to Mukeng Village to see the bamboo Forest. For the back way to Hongcun, you can use the same wya. Have a wonderful time! :)
Answered by Madison Plantier from UNITED KINGDOM | Mar. 07, 2016 03:40

0

0

Reply
That sounds like a wonderful idea! I hadn't even thought of cycling there. Thank you so much for the advice!
Asked by Monika from AUSTRALIA | Jul. 11, 2015 08:01

Reply
Shanghai to Huangshan by bus
Hello,

I am planning to to visit Ywllo Mountain in September. I will be traveling from Shanghai, how long does it take to get there by bus. How long in advance i should book the tickets? Is there any website so I can do it online? Also how long is the bus, I found various times and I am a little confused.
From Huangshan I will be going to Hangzhou

I do not plan on doing the hike, just visiting villages. I have about 4 days. Should I stay in Tunxi and travel from there for a day trip? My plan so far is to see Xidi and Hongcun. Any other recommendations?

Thank you!

Answers (1)
Answered by Grace from UNITED KINGDOM | Jul. 11, 2015 22:08

2

0

Reply
In South Bus Station, there are direct buses to the scenic area. The fare is CNY148. The bus duration is about 5 hours.

You are suggested to book the tickets at least 2 days in advance if in travel peak season. There are websites for the online booking, but there is no English version. You can ask your hotel staff to help you with the booking.

Your plan is good. Xidi Hongcun is worth visiting, which is the best choice for your extended trip.

Asked by Sara from ENGLAND | May. 07, 2015 06:26

Reply
Hello, I will be travelling from Huangshan to Xidi.
What will be the best way to get there?

many thanks
Answers (1)
Answered by Kina from DENMARK | May. 07, 2015 22:34

1

2

Reply
You need to take coach at the mountain scenic area, and get off at Qinxian County Bus Staion first. As far as I know, the schedules are 09:30 and 15:30 with the duration of around an hour. You'd better check again the schedule before you start off.
After arriving, there are lots of tourist buses that can take you to Xidi Ancient Village. It takes half an hour on the way.