Huangshan Transportation

Getting There
Air
Huangshan Airport
(TXN) is located in the Tunxi District, about 5 kilometers (3.1 miles) from the downtown Huangshan. It operates domestic flights to Beijing, Chengdu, Guangzhou, Hefei, Shanghai, Shenzhen and Chongqing as well as international flights to Seoul.
| | |
| --- | --- |
| Huangshan Airport | inside the Airport Terminal |
Train
There are two railway stations in the city:
Huangshan Railway Station
and
North Railway Station
.
The Railway Station is located in Qianyuan Bei Lu, downtown Tunxi District. Wan-gan railway line (from Anhui Province to Jiangxi Province) runs through the city. Many trains run directly to Beijing (about 19 hours), Shanghai (11 or 12 hours), Guangzhou (about 19 hours), Nanjing (five to eight hours), Hefei, Jingdezhen, Nanchang (eight or nine hours), Xiamen (about 23 hours) and Fuzhou (14 or 15 hours). If you visit southern China first, you can transfer at Hangzhou. If you come from northern China, Nanjing is your best transfer stop.
Located in Xixinan Town, the North Railway Station is along
Beijing - Fuzhou High Speed Railway
. It mainly serves bullet trains to Beijing (5.5 to 7 hours), Tianjin (5 to 6 hours), Shanghai (4.5 hours), Hangzhou (about 3 hours), Fuzhou (about 2.5 hours), and Xiamen (4.5 hours), etc. Passengers can get here by bus 10 and North Station Special Line.
| | |
| --- | --- |
| North Railway Station | High Speed Train |

Major Rail Lines from Huangshan to:

See detailed Huangshan Train Schedule
Long-Distance Bus
There are two main bus stations in the city, one in the city center and one at the foot of the Yellow Mountain Scenic Spot.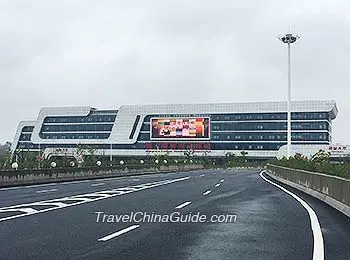 Toursit Passenger Transport Center
Huangshan General Bus Station, aka Tunxi Bus Sttaion, which is located at Qiyun Avenue is about 4km (2.5mi) away from Huangshan Railway Station. Bus no. 21 can take you straight to the bus station. The city is connected with Shanghai, Hangzhou, Nanjing, Hefei, Mt. Jiuhua, and Jingdezhen by national highways. In addition the Hui-Hang (from Anhui Province to Hangzhou City) highway, Hefei - Tongling - Mt.Jiuhua - Mt.Huangshan highway, Mt. Huangshan-Jingdezhen highway, and the round-Mt. Huangshan-highway form an efficient network. There are luxury buses leaving everyday for the main cities in south China including Hangzhou (2.5-hour journey), Ningbo, Shanghai, Wuhan, Jingdezhen, Suzhou, Wenzhou, and Hefei.

There is no direct bus from Tunxi to the Yellow Mountain Scenic Area. Visitors should take a bus from the City Bus Station to Tangkou Town near the south entrance. The fare is CNY13 per person. Then, transfer to a special tourist coach. The round-trip ticket fee is CNY13 per person. The coach will take visitors to the Ciguang Pavilion (the starting point for climbing the mountain from the front) or the Cloud Valley Temple (the starting point for climbing the mountain from the back).

New National Line Bus Station transports visitors from neighboring cities to Yellow Mountain including Anqing, Hangzhou, Yixian County and Hefei.


How to Travel between Shanghai and Huangshan
Ship
The city is located on the south bank of Yangtze River. From Sichuan or Hubei Provinces in the upper reaches of the Yangtze, travelers can cruise to Guichi City, Anhui Province, then take a bus from Guichi to here. Tourists may, however, find travel by ship slow.

Getting Around
Tunxi is the hub of tour transportation. Buses and taxis are available to spots in and around the city.
City-Bus
There are nearly 20 public bus lines in the city, taking travelers to nearly every corner of the city. Most of them run between 06:00 – 18:00 while some may run later. Nearly all the routes pass the city center – Yuzhong Garden.Buses No.1, 2, and 6 run to the Railway Station and No.18 runs to the airport.
In addition, the City Bus Station, about 64 kilometers (39.8 miles) from Yellow Mountain Scenic Spot Bus Station (Tangkou Town), and the Railway Station have buses to the Scenic Spot. Take the bus to the mountain Gate, then change another to reach one of the two entrances—the Merciful Light Pavilion (Ciguang Ge) or the Cloud Valley Temple (Yungu Si). In addition,there are coaches going directly to Shexian and Jingdezhen setting out from Tangkou Town.
Taxi
The flag-down rate of taxis in the city is CNY5 for the first 2.5 kilometers (1.55 miles) and for each extra kilometer (0.6 mile), it costs CNY1.5. Between 22:00 and 06:00 the next day, the flag-down rate is CNY6 and the price of each extra kilometer is CNY1.8. When a car runs farther than 6 kilometers (3.7 miles), extra 50% fare for empty return is automatically charged.

Note: CNY2 fuel charge needs to be paid for each ride

Here are the taxi rates from the downtown area to the main scenic spots and landmarks nearby for your reference (all for single trips):
| Destinations | Price |
| --- | --- |
| Huangshan Airport | CNY20-30 (some drivers may ask for a flat rate, CNY40) |
| Yellow Mountain Scenic Area | CNY150-180 |
| Yixian County | CNY120-150 |
| Hongcun Village (Yixian County) | CNY150-200 |
| Xidi Village (Yixian County) | CNY100-150 |
Rickshaw
Rickshaws similar to those found in the Beijing hutongs are common here. They cost CNY2 to CNY5 in the downtown area. They can be found in Tunxi Ancient Street. It is a convenient way to travel through the narrow streets. Watch out for the pullers who try to persuade you to visit some extremely expensive restaurants or hotels in the ancient street.

Others
There are two foot routes to the mountain top.
Route 1: From mountain front (the Gate)-Tiandu Peak-Jade Screen Tower-Lotus Blossom Peak-Bright Summit Peak-West Sea-North Sea-down. This route is challenging and very dangerous.
Route 2: From mountain back-White Goose Peak-North Sea-mountain front.
This route is easier for tourists and the sights along the way are especially splendid.
If you prefer to save time and energy, choose cableways. The hours of the three ropeways are 08:00-16:00 in winter, and 06:30-16:30 in the other seasons.

Cloud Valley (Yungu) Cableway: Cloud Valley (Yungu) Temple-White Goose Ridge

Jade Screen Cableway: Merciful Light Pavilion (Ciguang Ge)-Jade Screen Tower

Taiping Cableway: Lotus Peak-Paiyun Tower