Huangshan Nightlife
If you like spending night out with friends and you are visiting Huangshan City, then there are a lot of exotic places to make your stay interesting. There are a few outlanders settled in the city, so the life style of the local people is featured with bright local traits - peaceful but colorful in character and largely characterized by carefree moods constantly laced with timeless elegance.
| | |
| --- | --- |
| Theater for Huangshan Image of the Angel | Huiyun Show in Huangshan |

Video: Hui Yun - 'Picturesque Huizhou' Dance Drama

Drinking tea is an indispensable part of people's daily life, if you want to experience night life here, which is famous for tea production and drinking, then visiting a tea house should be an essential part of your visit. There are quite a number that can be visited as highlighted below:



Yilin Ge Tea House
A cultural site with simple and elegant art style offers the cultural performances of tea ceremony, Huangmei Opera (popular in Anhui Province) and Hui Opera which are always performing to the delight of visitors.
Address: Tunxi Old Street



Ziteng Tea House
It serves some of the best tea grades in Anhui Province. It is reputed to be one of the largest and the best ones in Anhui Province.
Address: No. 9-12 in Qianyuan South Road of Tunxi District



Tianzhu Tea House
Address: No. 3 in Qianyuan South Road of Tunxi District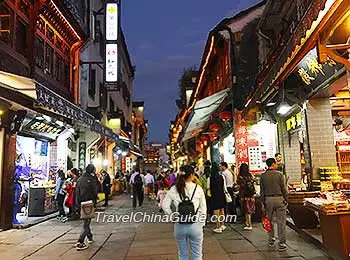 Tunxi Old Street at Night
To make your visit as memorable as possible the City can boast of many tea houses. There are also KTV, discos, internet bars, cafes and bars to make you enjoy the city.



International Hotel Dancery
Address: No. 1 in Small Mt. Hua Scenic Spot



9

C Bar
It also offers quality in all ramifications.
Address: Shangmao Emporium



Pinwei (tasting) Bar
It offers western wine, cocktail, coffee, compote, snacks and beer to delight visitors.
Address: No. 20-22 in Kangle Road of Shangmao Emporium.

In Huashan Hotel there is a two ways shuffleboard area in the health entertainment city, the largest and most complete entertain locale in this city.

Flourishing side snack booths on the Xin'an river bank are also the ideal places to spend the night with locales and people from various parts of the world. These booths are usually full and bubbling until 3 to 4 am. The side walk snack booth economy brightens the night market here.
Besides, the nice night scenery of Xin'an River, Century Square experiences can make you wallow in nostalgia for many years to come.
- Last modified on Apr. 15, 2021 -