Huangshan Travel Tips
Neighboring Areas: Jiangsu, Zhejiang, Jiangxi, Hubei, Henan, and Shandong provinces

Population: 1.47 million

Area: 9,807 square kilometers

Currency: RMB (Ren Min Bi) or CNY.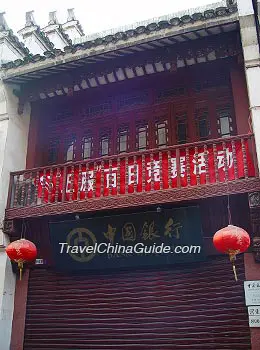 Bank of China on Tunxi Old Street
Communication: Mt. Huangshan Scenic Spot is in the communication network. Since the China Unicom signal is weak, take an IC card for emergencies through IC card telephones. In addition, there are established offices for mobile phone bill payments.

Bank: Banks include the Bank of China, China Construction Bank, Agricultural Bank of China, and Industrial and Commercial Bank of China inside the Huangshan Mountain Scenic Spot.



Postcode: 245000



Area Code: 0559



Telephones: Phone booths are available in the street and inside the scenic spot.



Dining: Some old and famous restaurants lure crowds in peak seasons; tourists should make reservations. In off seasons, it is not necessary to make reservations.



Toilets: big shopping malls; downtown fast food restaurants have sanitary toilets; some charge a fee. There are 29 free toilets open 24 hours in the scenic spot.



Hospitals:
People's Hospital: 0559-2513765
Add: No.4 in Suli Street, Tunxi District
Huangshan District People's Hospital: 0559-8532572
Address: No.19 in Taiping West Road
The Second People's Hospital: 0559-2512978
Address: No.72 in Daizhen Road, Tunxi District
Tunxi District People's Hostpital: 0559-2514824
Address: No.53 in Xin'an North Road, Tunxi District
Huizhou District People's Hospital: 0559-3511137
Address: Yanci Town, Huizhou District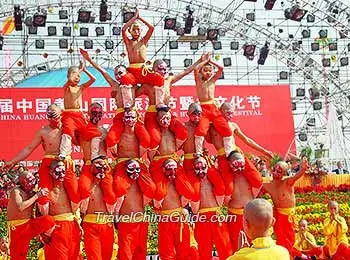 Huangshan Tourism Festival

Emergency:
Fire: 119
Police: 110
Ambulance: 120



Useful Numbers:
Consumption Complaint: 12315
Tourist Complaint: 2517464
Local Telephone Number and Long-distance Area Code Inquiry: 114
International City Code Inquiry: 116
Weather Forecast: 121
Zip Code Inquiry: 184
Passenger Transport Service of Civil Aviation: 2934111 2934144
Passenger Transport Service of Railway Passenger Transport: 2116222
Passenger Transport Service of Bus Passenger Transport: 2353952



Festival
Except for the traditional festivals, Huangshan International Tourism Festival is usually held in October or November. Tourists can appreciate the folk-custom performances in the Opening Ceremony and many exhibitions of handcrafts, paintings and calligraphies. The evening parties are also amazing.
Getting to know more tips for travel in China, please visit China Travel Advice.



Top 9 Things to Do in Huangshan
- Last updated on May. 17, 2022 -
Questions & Answers on Huangshan Travel Tips
Asked by Qyoung Cin from USA | Jul. 24, 2016 13:42

Reply
I am flying from DYG (Zhangjiajie Airport) to Pudong midnight, then to Huangshan next day.
If I miss the flight from DYG, what is the alternative?
Please give me an advice.
Answers (3)
Answered by Dave from CANADA | Jul. 25, 2016 02:41

0

0

Reply
So your purpose is going from Zhangjaijie to the Yellow Mountain, right? Well then, you can take a train to Changsha first and then transfer to the only bullet train to HS North, where many shuttle buses are scheduled to the mountain.
Answered by Qyoung from USA | Jul. 25, 2016 11:22

0

0

Reply
Thanks a lot.
The train from Changsha South to HS is 11:58 AM.
My concern is how to reach Changsha in time.
I am wondering if there is a overnight bus or train from Zhangjiajie to Changsha.
Answered by Dave | Jul. 26, 2016 03:54

0

0

Reply
Yes! You can take an overnight train from Zhangjiajie Railway Station to Changsha Railway Station (about 5 hours). Then, take metro line 2 to Changsha South Railway Station, or take a taxi for about CNY 30.
Asked by Kathleen from MALAYSIA | Jul. 19, 2016 22:51

Reply
Is mid-October good for visiting Huangshan?
Answers (1)
Answered by Lucy from USA | Jul. 21, 2016 01:33

1

0

Reply
Yes, it is a nice time for a visit. It may be cloudy, and the temperature may range from 50F to 60F at that time.
You are advised to prepare jackets, shirts, pants, and an umbrella in case of the rainy day.
Asked by Bao Quyen Doan Nguyen | Apr. 19, 2015 22:01

Reply
I'm going to go to Huangshan in this weekend
please guide me how to take a bus from HS to Hangzhou and how much per ticket?

Thank you so much.

Rachel
Answers (1)
Answered by Tim from CANADA | Apr. 20, 2015 02:26

1

0

Reply
Are you departing from the city? If so, go to Tunxi Bus Station to take a direct bus to Hangzhou and the bus fare is CNY90 per person.
Asked by Jolinda LovesNature | Feb. 02, 2015 23:56

Reply
can anyone help me to answer my question when is the west sea canyon cable car reopen for year 2015?
Answers (2)
Answered by Jenny from USA | Feb. 03, 2015 00:55

0

2

Reply
I read from the news that it will be reopen on Mar. 28.
Answered by Jolinda from SINGAPORE | Feb. 03, 2015 06:45

0

2

Reply
Thanks for your great help! :)
Asked by KENALOG | Jan. 16, 2015 10:39

Reply
Information update about the closing of the cable car on Huangshan
Where can I found the update information about which telpher/cable car will be closed?
Answers (2)
Answered by George from USA | Jan. 19, 2015 03:08

2

0

Reply
As I know, except the Yuping tephler is under reconstruction now, the others, including Taiping tephler, Yungu tephler, and the West Sea Gully tephler are all in operation.
In addition, you'd better keep an eye on the official website of the scenic area to know the latest information.
Answered by KenAlog from INDONESIA | Jan. 19, 2015 05:12

0

1

Reply
What is their official website?