Best Huangshan Tours
Top Huangshan Attractions
Top 10 City Tours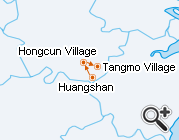 5 Days Old Villages and Yellow Mountain Hiking Tour
HS03: 5 Days Private Tour of Huangshan - Hongcun Village - Tangmo Village
From
$939
per person
Free Inquiry

Departure: From March to November

Day 1
Arrival in Huangshan
You will meet our professional guide and driver upon arrival at Huangshan North Railway Station or Huangshan Airport. After a warm greeting, you will be escorted to the downtown area by a 30 ~ 40 minutes' drive. Your 4-day Yellow Mountain private tour will begin with the
Tunxi Old Street
, a best-preserved ancient commercial street. It is composed of 4 main streets and 18 alleys with more than 300 Hui-style buildings constructed in different eras lining along the lanes. Then you will be transferred to the hotel to check in.
Meals: No meals, advice freely available

Friendly Tips
Hiking in this 5 days tour is a bit challenging, and you should be physically prepared. There is a lot of up and down hiking on the Yellow Mountain and some of the steps are very hard.
Day 2
Tunxi - Hongcun Village (Yixian County) - Huizhou District
Hongcun Village
After breakfast, drive to Yixian County by your private coach, which is praised as another "Garden of Eden" on Earth. Your hiking will start from Yuanyang Valley in
Xidi Village
, exploring the Xidi-Hongcun Ancient Pathway (8.2 km), passing by the Pan's Post, the Qishu Lake, the Zilu Temple and finally you will arrive at the end—Qishu Fairyland Zhongkun Int'l Hotel. It will take you about three hours for the whole hiking. The Xidi-Hongcun Ancient Pathway in Yixian County is a national trail for mountaineering and fitness, being one of the most beautiful hiking trails in Huizhou. When you step on this simple and quiet rural road, you will pass through the green jungle and the flowing canals, breathing natural fresh air, listening to the birds and plunging yourself into the embrace of the beautiful nature here. You will have a panoramic view of the beautiful landscapes along this ancient trail surrounded by the mountains and rivers. In the afternoon visit
Hongcun Village
(a world cultural heritage site, the unique buffalo-shaped village, one of the shooting locations for the Oskar-awarded movie "Crouching Tiger Hidden Dragon"). Then, drive to Tangmo Village in Huizhou District.
Meals: Western buffet breakfast, Lunch
Day 3
Tangmo Village - Yellow Mountain
Visit
Tangmo Village
(it is honored as "the Model Village of Tang Dynasty" for its honest and simple life style and is a unique village of tranquility and inspiration with great cultural relics) … After lunch, we will drive for 1 hour to the
Yellow Mountain
. You will firstly take the telpher to the White Goose Range with the company of our guide. Then the guide will lead you to hike for 2~3km (1~2 miles) to visit some well-known attractions, such as Beginning-to-Believe Peak, Flower Grown out of a Writing Brush Rock, Refreshing Terrace, as well as Lion Peak. At around 18:00, you will check in a hotel on the mountain top.
Meals: Western buffet breakfast, Lunch
Yellow Mountain
If weather permits, we will arrange you to appreciate the fascinating sunrise at around 06:00. Then you will return to the hotel to have breakfast at 07:30 am. After that, you will be guided to set out today's hiking route, which is about 6 kilometers (3.7 miles). We'll first admire the Cloud Dispersing Pavilion - the best place to view the peaks and stones, as well as the western section of the West Sea Valley.

After lunch, we will continue the private Yellow Mountain hiking tour to appreciate the beautiful sea of clouds Bright Summit, which is one of the main peaks of Yellow Mountain, and the famed Falling Rock from the Sky deserves a visit as well. Enjoying the charming sunset is going to end today's Yellow Mountain private tour. Then you will go back to the hotel at 18:00 to get relaxed.

Meals: Western buffet breakfast, Lunch
Day 5
Departure from Huangshan
Yellow Mountain at sunrise
In the morning, the guide will accompany you to the Heavenly Sea Scenic Area. If you have enough physical strength, we will also head westwards to the breathtaking plank road which was built along steep precipices, as well as the Buxian Bridge stretching over deep valley. The whole trip is of 2.5 kilometers (1.5 miles) long but you need to climb a lot of steps uphill, so it is quite energy-consuming.

After lunch, we will continue our tour to visit the Narrow Cliff, Lotus Peak, Celestial Peak, as well as the Guest-Greeting Pine at Jade Screen Scenic Spot, and this hiking trail is about 7.5 kilometers (4.6 miles). Then, we will take the telpher from Jade Screen Stop to the foot of the mountain at around 15:00.

Your 5 days' Yellow Mountain private tour will come to an end at this point. Our guide and driver will escort you to the railway station or the airport and see you off.

Meals: Western buffet breakfast, Lunch

Destinations
Luxury Hotels
Standard Hotels
Huangshan
Crowne Plaza Huangshan Yucheng
Huangshan International Hotel
Huizhou District
Tangmo Gites de France
Tangmo Gites de France
Mt. Huangshan
Xihai Hotel

- South Building

Xihai Hotel

- North Building
Tour Prices
With Luxury Hotels
2-3 travelers
4-5 travelers
6-9 travelers

$1179

$1029

$859
With Standard Hotels
2-3 travelers
4-5 travelers
6-9 travelers

$1099

$939

$769
Prices are per person in US Dollars based on double occupancy.
Any part of the itinerary e.g. tour length, activities & hotels can be tailored to your individual interests.

Price Includes
Hotel accommodation with breakfasts
Lunches as itinerary specifies
Private English-speaking guide
Private driver & air-conditioned vehicle
Entrance fees to tourist sites
Price Excludes
Airfares of arrival and departure
Entry visa fees
Tips or gratuities for guide and driver
Peak season surcharge (public holiday, Lunar New Year, etc.)
Itineraries you may also like: