Best Time to Visit Huangshan Mountain (Yellow Mountain)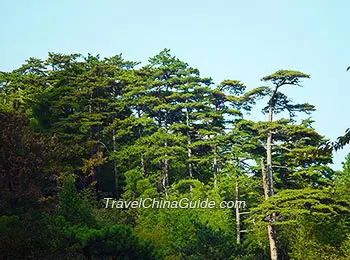 Huangshan Mountain in Spring
In general, it's recommended to tour Huangshan scenic area from April to November within its peak season because of the comfortable climate. But actually, each of the four seasons on Huangshan Mountain (Yellow Mountain) has its respective beauty and distinct natural landscapes. Springtime brings fresh greenery and blossoming wildflowers, spectacular waterfalls and pretty sunglow in summer, colorful trees and mysterious sea of clouds in autumn and snow-white mountains and frosted pines in winter. This means it won't disappoint you any time during the year when making a trip to the Huangshan Mountains. Remember to avoid Chinese holidays such as October 1-7 for a less crowded sightseeing environment.

Best Time to Visit in Spring - Mid-Mar. to May
In the spring, Mount Huangshan is like a maiden - all is new, fresh and tender, and full of wild flowers as well as sprouting plants. The sound of birdsong is also pleasant in this quietness while you are enchanted by a great show of vitality. However, you are not suggested to go there during May Day, when Huangshan usually receives more visitors than usual. For instance, there were almost 1.6 million sightseers within the 3-day vacation in May Day Holiday of 2018.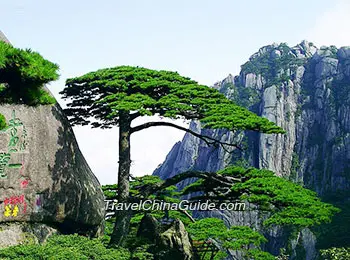 Huangshan Mountain in Summer
Best Time to Visit in Summer - Jun. to Sep.
Due to increasing rainfall, numerous streams and waterfalls compose an exciting and vigorous symphony for you to enjoy in summer. If you are lucky you will see a vivid rainbow flying over two peaks. Dawn in summer is the most splendid as the rising sun lights the sky while the peaks, the plants and the whole world take on a brilliant glow. Sunset is no less enchanting than sunrise. Between July and August, Huangshan is a paradise-like summer resort in which to escape high temperatures of southern China. However, thunderstorms are also frequent during this time period and the growing number of tourists will increase hotel expenses and waiting times in queues for cable cars or buying tickets. It would be advisable to tour Mount Huangshan in June and September.

Best Time to Visit in Autumn - Sep. - Nov.
As the magical fall season approaches, it is easy to appreciate the colorful autumn plants on Huangshan Mountain, such as green pine and cypress, red maples as well as other thick yellowing autumn leaves. In addition, it would provide an opportunity for you to indulge in the miraculous sea of clouds while visiting Huangshan at this time. Try to avoid the Golden Week Holiday in the early October since large volumes of people will be touring Huangshan at this time which may cause issues with traffic and hotel availability.
| | |
| --- | --- |
| Autumn Scenery of Mount Huangshan | White Mountain in Winter |
Best Time to Visit in Winter - Dec. to Mid Mar.
A poem has it that Huangshan Mountain is beautiful all year round but with the winter scenery being the best because of the spectacles of sparkling frosted trees, frequent Sea of Clouds and silver icy peaks in this crystal palace. Winter is also the most economical time for visiting as the prices for hotels and the entry fee are lowered by 15% to 40% compared to those of the peak season. However, Spring Festival is an exception during which the price is the same as normal seasons, and the tourists are more abundant.

Best Times and Locations to See Sunrise
Time:
Spring: 05:30-06:00
Summer: 04:40-05:10
Fall: 04:50-05:20
Winter: 05:30-06:00
Locations:
Dawn Pavilion, Refreshing Platform, Lion Peak, Rosy Clouds Peak, Bright Peak Summit, Jade Screen Peak, Lotus Blossom Peak and Heavenly Capital Peak

Best Times and Locations to See Sunglow
Before and after sunrise is the best time to see sunglow. As with viewing the sunrise, you should be in position early.

Best Times and Locations to See Seas of Clouds
From September to next May is the best season for cloud viewing, especially on a clear day after rainy or snowy weather. Seas of clouds are infrequent in summer. To best experience the beauty of seas of clouds, tourists should change their viewing locations points according to the height of clouds.

Huangshan Mountain

Best Time to Visit

Four Wonders

Scenic Areas

Cable Cars

Travel Tips

Winter Tour Tips

Huangshan Weather
- Last modified on Apr. 15, 2021 -
Questions & Answers on Best Time to Visit Huangshan Mountain (Yellow Mountain)
Asked by Dave from UNITED KINGDOM | Jun. 05, 2019 10:13

Reply
Weekend visit Huangshan Mountain in November
We have read that its best to avoid visiting the Yellow Mountains during the weekends due to lots of visitors. How busy is it likely to be over the 2nd weekend in November? We may have flexibility in the rest of our China trip to go during the week, but its makes travel easier if we visit mountain area over the weekend. Thanks
Answers (1)
Answered by James from USA | Jun. 05, 2019 20:13

0

0

Reply
Don't worry, it is available. At that time, it will be not very crowded since November is not a very popular time to visit Huangshan.
Asked by ESan from SINGAPOREE | Feb. 12, 2019 01:18

Reply
i would like to travel to huangshan from 7th Sep to 11 Sep.
can someone advise me on the weather and is it worth going during this period. Or when is the best period to visit huangshan ?
Answers (1)
Answered by Wanda from CANADA | Feb. 12, 2019 21:58

0

0

Reply
ESan, the temperature may range from 20C to 30C at that time. It will be ok for you to climb the mountain. Actually, the best time to visit is four season. Thus don't worry.
Asked by Lea | Nov. 29, 2018 02:12

Reply
Is there bus from Huangshan Tangkou to Taiping cable car?
As I'm traveling in March and the Yungu Cable Car will be closed at that time as I know, I plan to go up by Taiping cable car and down at Yuping Cable way.
Is there any bus to Taiping cable car from Tangkou and how much is the fare?
Answers (1)
Answered by Vernon from AUSTRALIA | Nov. 29, 2018 23:13

0

0

Reply
There is no direct bus from Tangkou to Taiping cable way. First, take the bus at Tangkou(South Gate) to Huangshan District Bus Station. The bus ticket fare is CNY12 per preson. The departure time is from 06:30 to 17:00. The duration is about 1 hour. Then transfer to the scenic spot car to Taiping cable way (North Gate). The car ticket fare is CNY20 per person. The departure time is from 06:00 to 17:00. The duration is about half an hour.

Asked by Aamir from PAKISTAN | Jul. 05, 2018 11:18

Reply
Is there any Car parking lots near Mt. Huangshan entrance?
I am going to Huangshan by personal car from Hangzhou, please suggest me the suitable car parking near the entrance, and which entrance gate should I use.
Answers (1)
Answered by Nick from USA | Jul. 05, 2018 20:56

0

0

Reply
You can park at Zaixi transfer Center or South Gate Parking Lot, both are very convenient for you to go to the scenic area.
Asked by Kumar from INDONESIA | Sep. 30, 2017 00:43

Reply
travel to yellow mountain with baby
I am planning to visit yellow mountain as a group tour with local chinese tourist and local chinese tour agency. I have a 1.5 yr old baby to go with us along with my daughter and wife. Any suggestions or list of precautions or comments?
Answers (1)
Answered by Harry from CA | Sep. 30, 2017 03:46

0

0

Reply
As you are traveling with your baby, much hiking should be avoided, so I suggest you take cable car up and down. If you wanna have a full visit, you may consider staying in a hotel on the summit, such as Paiyunlou Hotel and Xihai Hotel.