Huangshan Mountain Scenic Areas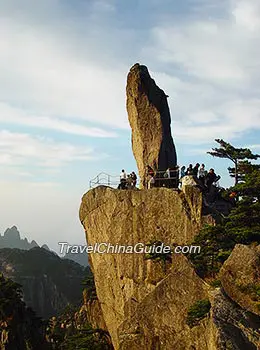 Flying Stone
Over four hundred scenic spots are to be found on Huangshan Mountain (Yellow Mountain) and they can be divided roughly into the following six areas.
Huangshan Hot Springs
It was named Xanadu. With the Grasping Beautiful Scenes Bridge as its hub, it has Peach Blossom Stream and Xiaoyao Stream flowing through it. It is 1.5 km (0.93 miles) to the entrance to the Merciful Light Pavilion and 7 km (4.35miles) to that of the Cloud Valley Temple. You can simply walk to the first of these while there are buses to the latter one.
Here you can enjoy the Huangshan hot spring as well as the waterfalls. Also worth mentioning is the Singing String Spring. A rock of 9 meters (29.5feet) long has tweedle-like sounds when struck by the spring water. The name carved on the rock was the handwriting of Li Bai (701-762), one of China's most brilliant poets.
North Sea
It has plenty of wonders. Before your eyes flash the Shixin Peak, the Lion Peak, the Refreshing Terrace, the Monkey Gazing at the Sea, the Flying Stone and more.
It is said that only when you come to Shixin Peak that you will believe the magic of the mountain. Or you won't see the Huangshan pines until you come to this Peak.
Bright Peak (1,860 meters, i.e. 6,102 feet), the second highest peak, is the most ideal place to watch the sea of clouds as all five seas will surround you.
Refreshing Terrace on the Lion Peak is the optimum place for watching the sea of clouds and sunrise.
In addition, Black Tiger Pine, Lovers' Pine, Two Immortals Playing Chess, etc, can all be enjoyed here. Let your imagination fly through those pines and rocks and you may find the views unique and unforgettable.
All in all, the North Sea is the most important. So never miss it. Hotels are abundant here, too.
Jade Screen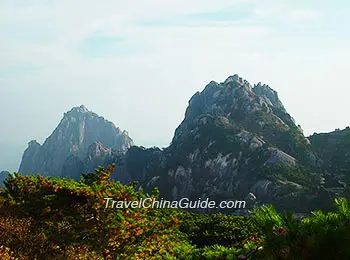 Lotus Peak
It has Jade Screen Pavilion as its center and the Lotus Peak and the Heavenly Capital Peak as the main body. This is the Front Mountain as people usually call it. Along the road you will find Peng Lai Three Islands, 100-step Scaling Ladder, the Thread of the Sky and the New Thread of the Sky. "Splendid is the landscape", handwritings by Chairman Mao Ze Dong, are inscribed on the Jade Screen Peak.
The Heavenly Capital Peak is the steepest of the three main peaks with an elevation of 1,830 meters (6,003feet). An ancient poet has it that even travelers that have visited wu yue will be amazed by this peak. The beautiful view, however, comes at a cost. You have to go along an arduous road and cross the Carp's Backbone before you reach the peak. The most exciting news may be that after 6 years' closedown, the Heaven Capital Peak was re-opened to the public on 16th April 2005. The Lotus Peak is the highest peak. This 1,864-meter (6,115-foot)-high peak looks like a blooming lotus, hence the name. On the way to the peak, you will be greeted by Huangshan Pines and azalea. In clear weather, you may be lucky enough to see Mt. Tianmu in the east, Mt. Lushan in the West, Mt. Jiuhua and the Yangtze River in the north. Or after rain, you will see the sea of clouds surging around you.
Pine Valley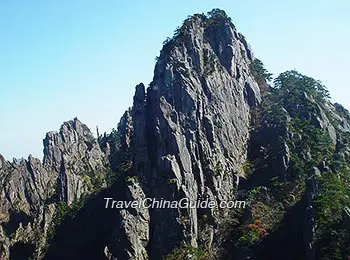 Beautiful Scenery on Huangshan
Located in the north slope, it covers 12.5 km (7.77miles) with a fall in altitude of 1,100 meters (3,609 feet) made up of over 6,500 steps. Rocks and ponds are the highlights. Among this refreshing world, the Emerald Pool, the Five-Dragon Pond, and the rock of Guan Gong Resists Cao Cao (both were famous generals during the Three Kingdoms Period) are the main scenic points.
The Emerald Pool is surrounded by rocks, with a crystal stream from the Pine Valley flowing into it. The reflections of the mountains and trees create another fairy world in the water. No matter how tempted you may feel Do Not swim in this 10-meter (33-feet) deep pool for the water is far too cold even in summer.
In addition, it is located at the North Gate with Taiping Telpher starting here.
Cloud Valley
With an elevation of only 890 meters (2, 920 feet), it does not lose out to other scenic areas for beauty. The pride of this area is the Cloud Valley Villa, old trees, oddly shaped rocks and the Nine-Dragon Waterfall and the Baizhang Spring.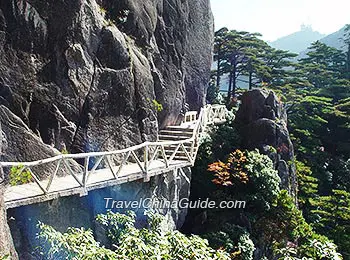 Narrow Path
The Cloud Valley Villa is a modern hotel with typical Hui- architectural style of grey tiles and horse-head walls.
There are three precious trees here. The Eastern China Douglas Fir that is 500 years old and the Southern Hemlock which is 800 years old; both stand firm and stately through their long history. One common feature of these two trees is that they both have two kinds of branches and two kinds of leaves, conifer and broad-leaf. The third super star is a ginkgo tree calculated to be 1,000 years. It will certainly catch your eye owing to its height of 26 meters (85 feet) and huge girth measuring 3.1 meters (10.17 feet).
The Nine-Dragon Waterfall plunges all of 300 meters (984feet) from the cliff top between the Incense Burner Peak and the Arhat Peak. The waterfall has nine leaps, each leap forms a waterfall and each fall feeds a pool, hence the name.
This area is the so-called Rear Mountain and it is possible to climb all the way up.
White Cloud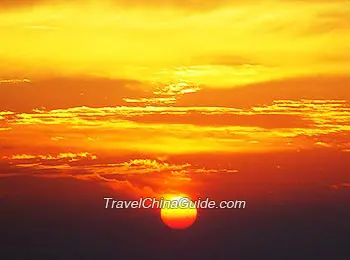 Wonderful Sunset
It covers 16.5 square kilometers (6.37 square miles). The newly developed Dream Scenic Area is also included in it. Besides all its fascinating views, this area enjoys a tranquility that is lacking in other areas. You can take your time and idle around, fully grasping the beauties of nature.
This is also the best place for watching clouds and the sunset glow in both autumn and winter. Before the sun sets, the clouds turn pink, rose or red forming lines or layers in a variety of changing combinations. The clouds roll like waves when the weather clears after rain and you will find yourself completely lost in this dreamland.
In a word, it is beautiful in all weathers and charming at all times.



Huangshan Mountain


Best Time to Visit


Four Wonders


Scenic Areas


Cable Cars


Travel Tips


Winter Tour Tips
- Last modified on Apr. 26, 2020 -
Questions & Answers on Huangshan Mountain Scenic Areas
Asked by Luke Simons from THE U.S. | Apr. 24, 2020 21:19

Reply
Non-touristy areas of Huangshan Mountain
Hello,

Which way to hike up the mountain has the least amount of tourists?

Which scenic areas at the top of the mountain have the least amount of tourists?

Thank you
Answers (1)
Answered by Micah from DENMARK | Apr. 26, 2020 20:52

0

0

Reply
Well, to be honest, the hiking routes will always have crowded tourists. Thus you are suggested to take the cable car up and down. Hope helpful!
Asked by bing from INDONESIA | Apr. 03, 2019 19:20

Reply
if I visiting huang shan in mid April , it is possible to see clouds and mists?
Answers (1)
Answered by Amber from NEW ZEALAND | Apr. 10, 2019 23:37

0

0

Reply
Yes, it is. Generally speaking, November to May are all good time.
Asked by susi from INDONESIA | Feb. 16, 2018 22:41

Reply
Huangshan Hot Spring
Dear,

Wish to know any information about the hot spring? anyone ever go to the hot spring? if yes, how to go there if i stay at huangshan chengjin hotel, tangkou? What time is the best to go there?

Thanks & regards
Susi
Answers (2)
Answered by Reina from GERMANY | Feb. 22, 2018 01:33

0

0

Reply
As I know, the ticket price is 298RMB and it's available from 15:30 to 23:00.
You can take Bus Xinguoxian Line to Ciguangge and then walk for several minutes to the hot spring.
Answered by susi from INDONESIA | Mar. 06, 2018 22:37

0

0

Reply
thank you reina
Asked by Jolan from CANADA | Jun. 26, 2017 17:09

Reply
Is there a bus early morning from Tangkou to Taiping Cableway?
If there is no bus, what would a taxi or motor rickshaw cost (or can I find one in early morning?)
Answers (3)
Answered by David from FRANCE | Jun. 27, 2017 01:43

0

1

Reply
Yes. You can catch the bus opening from 6:30 to 17:00 to Huangshan Bus Station at a cost of CNY12/person, and the whole way takes 1 hour. Then, you can take bus line to the Taiping Cableway. The ticket price is CNY8.5/person, and it takes about half an hour.
Answered by Jolan from CANADA | Jun. 29, 2017 14:17

0

0

Reply
My hotel is in Tangkou (not Tunxi). I would like to know when the first bus is leaving from TANGKOU to Taiping Cable car (Pine Valley, North Gate).
Answered by Tom from CANADA | Jul. 03, 2017 21:07

1

0

Reply
As I know, you may head for Xinguoxin Transfer Center which is quite near from Tangkou, and then take a direct bus to Pine Valley. I am so sorry that I didn't find the specific timetable. You can dial their service line 0559-2566666 to get the information.
If you charter a car there, the fare will be around CNY150-200.
Asked by Nola Brown from AUSTRALIA | May. 05, 2017 22:31

Reply
Mobility in Huangshan Mountain
I am not very mobile but wish to go up at least one of the telphers for a view which do you suggest?
Answers (1)
Answered by Luna from CANADA | May. 09, 2017 02:08

0

0

Reply
Generally speaking, Cloud Valley Telpher will be a good way to go up the mountain.