Cable Cars on Huangshan Mountain
To fully experience the beauty of Huangshan Mountain, you have to reach the peak areas. With the assistance of cable cars, this is made much easier. This scenic area has developed this kind of transport since 1986. Now there are totally four on it. They can be described as follows:
1. Cloud Valley Cable Car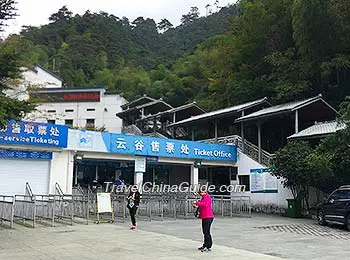 Ticket Office of Cloud Valley Cable Car
Completed at the end of 2006, it runs from Cloud Valley Temple (Yun Gu Si) to White Goose Peak (Bai E Ling), taking eight minutes for a single trip. The whole route is about 1.7 miles (2,666 meters) in length. It can transfer 2,000 people in an hour with 69 eight-seat cable cars. On your ride, you can encounter the Begin to Believe Peak, Monkey Gazing at the Sea, Refreshing Terrace as well as the West Sea Scenic Area, Cloud Dispersing Pavilion, Red Sunglow Peak, etc.
2. Jade Screen Cable Car
It was established in 1996, running from the Merciful Light Pavilion (Ci Guang Ge) to Jade Screen Pavilion (Yu Ping Lou). One cable car can accommodate six persons at one time. Within 6 to 10 minutes, you can cover a distance that otherwise takes 3 hours on foot to reach the essential scenic area including the symbol of Huangshan Mountain - the Guest Greeting Pine.
3. Taiping Cable Car
It connects the Pine Valley Nunnery (Song Gu An) to the Pine Forest Peak (Song Lin Feng). It is 2.3 miles (3,709 meters) long, boasting the longest in Asia. 100 people can be taken in one carriage and a single trip takes about eight minutes. It is regarded as the one which offers the best scenery. Sitting in the carriage, you can pull the clouds and fog into your arm and overlook the world aloof. It may leave you a totally different feeling.
4. West Sea Valley Cable Car
The construction started in April, 2011 and eventually completed in June, 2013. This route is 0.55 mile (892 meters) long from the bottom of the West Sea Valley to the Stone Bed Peak (Shi Chuang Feng). It is said that 800 tourists can be taken in one hour and a single trip just takes around three minutes.
How to choose the appropriate one among the four? It depends on the location of your hotel and your sightseeing plan. If you climb from the north gate, your only choice is the Taiping Cable Car starting at Pine Valley Nunnery (Song Gu An). If you plan to enter from the south gate, the other three are available. Jade Screen Cable Car is recommended if you lodge in the Yupinglou Hotel or Guangmingding Resort on the summit, or you want to climb Tiandu Peak on the first day after your arrival. If the hotel you booked is on the back mountain such as Beihai Hotel, Shilin Hotel or White Goose Resort, we suggest you take the Cloud Valley Cable Car.

Note: The cable cars will be out of service in turn for a month during winter times for maintenance. Visitors should pay attention to the notices published on the official website if they want to visit in winter.
Operation Time
Cable Car
Time
Cloud Valley, Taiping, Jade Screen
Mar 2 - Oct. 31:
06:20 - 17:40 from Monday to Friday; 06:00 - 17:40 on weekends and public holidays

Nov. 1 - March 1:
07:20 - 16:40
West Sea Valley
08:00 - 17:00; closed from December to March annually
Ticket Price
| Single Trip Ticket | Mar. - Nov. | Dec. - next Feb. |
| --- | --- | --- |
| Cloud Valley | CNY 80 | CNY 65 |
| Jade Screen | CNY 90 | CNY 75 |
| Taiping | CNY 80 | CNY 65 |
| West Sea Valley | CNY 100 | CNY 80 |
Note: Free for children below 1.2 meters (3.9 feet).

Best Time to Visit

Four Wonders

Scenic Areas

Cable Cars

Travel Tips

Winter Tour Tips

Huanshan Weather
- Last updated on May. 09, 2023 -
Questions & Answers on Cable Cars on Huangshan Mountain
Asked by Stephanie from AUSTRALIA | Dec. 12, 2019 19:02

Reply
Best location and time for photographing sea of clouds
Hello,
I'd like to know when and where (and which cable car is the best option to get there) is the best place to photograph the sea of clouds in Huangshan. I'd like to visit in January.
Thank you
Stephanie
Answers (1)
Answered by Henry from AUSTRALIA | Dec. 15, 2019 23:30

0

0

Reply
Bright Summit Peak, Lion Peak, Lotus Peak are all great spots to take pictures.
Asked by Lukas from GERMANY | Aug. 05, 2019 03:44

Reply
How do I know which Huangshan cable cars will be out of service during Dec. 2019 for maintenance?
Also will the operation times be different during December? Thank you
Answers (2)
Answered by Celia from USA | Aug. 07, 2019 19:42

0

0

Reply
There will be official announcement in December. You can pay attention to the news before going there.
Yes, the maintenance time will be different.
Answered by Lukas from GERMANY | Aug. 10, 2019 13:38

0

0

Reply
Thanks Celia, do you know where the official announcements / news will be published? Any website?
Asked by ElsSan from SINGAPORE | Jul. 05, 2019 02:44

Reply
What is the cost for a return trip cable car from Cloud Valley to White Goose ridge?
Answers (1)
Answered by Tina from USA | Jul. 10, 2019 21:44

0

0

Reply
The fare is CNY160 for the round trip.
Asked by Emilianic from INDONESIA | Jun. 18, 2019 01:41

Reply
Is Huangshan Scenic Area wheelchair access?
Which one the best route for senior citizen visitor who want to see the mountain?
Answers (2)
Answered by Samy from USA | Jun. 18, 2019 19:31

0

0

Reply
You can take the cable car up the mountain and Beihai scenic area is relatively flat than other areas.
Answered by Emilianic from INDONESIA | Jun. 19, 2019 03:15

0

0

Reply
Thanks samy
I will follow your advise
Asked by Edward Robbins from UNITED STATES | Jun. 04, 2019 00:00

Reply
Getting to Huangshan Taiping Cable Car (Songgu Nunnery) in Morning?
How far (long) is it from West Tangkou Town to the Taiping Cable Car? I can't find any clear information on transportation to there in the early morning. It seems very far on the map, Thank you Ed from USA
Answers (1)
Answered by Andrew from CANADA | Jun. 04, 2019 20:53

0

0

Reply
Firstly, you need to take bus from Tangkou Town to Huangshan Tourist center. The bus operated from 6:30~17:00. It takes about 1 hour and costs CNY12. Then transfer to a tourist to the Taiping Cable car. The bus operates from 6:00~17:00. It takes about 30 mins and the bus fare is CNY20.