Mianshan Mountain
Mianshan Mountain is 12 miles (20 kilometers) away from Jiexiu City, Shanxi Province. It has also been named Jieshan Mountain after Jie Zitui, a famous official in the Spring and Autumn Period (770 - 476 BC). The mountain is renowned as the location of both Buddhist and Taoist temples, and also famous for its unique natural scenery. Covering an area of 113.8 square miles (294.75 square kilometers), the highest peak of Mt. Mianshan is 8,420 feet (2,566.6 meters).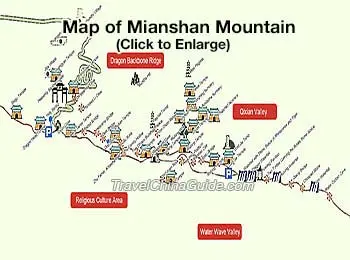 Map of Mianshan Mountain
(Click to enlarge)
A thorough tour to this huge mountain takes one or two days. There are over 360 scenic spots scattered over 14 areas including Dragon Head Temple, Dragon Backbone Ridge, Princess Li Cave, Honeycomb Spring, Daluo Taoist Temple, Heavenly Bridge, One-Cup Spring, Zhu Family Hollow, Yunfeng Temple, Zhengguo Temple, Lord Jie Ridge, Qixian Valley, Ancient Vine Valley, and Water Wave Valley. The mountain is also the birthplace of the Cold Food Festival (the day before Qingming Festival), with an exhibition hall showing the local traditions of this time-honored Chinese festival. The following is an introduction to the most famous sites that tourists should be sure to visit.
Yunfeng Temple and Baofu Rock
Yunfeng Temple was built during the
Kingdom of Wei
Period (220 – 265). Located in the 'arms' of Baofu Rock, it also called Baofu Temple. Baofu in Chinese means holding the belly. The rock got its name because it looks exactly like this posture, holding about 200 palaces in its arms. Hailed as the 'Only Cave Holding the Temple', Baofu Rock is 197 feet (60 meters) in height, 591 feet (180 meters) in length and 164 feet (50 meters) in depth. Many Buddhist figures are in the palaces for people to pay homage to. Many stone tablets and sculptures can be seen there, dating from the
Tang
,
Song
,
Yuan
and
Ming
Dynasties (618 – 1644). There are numerous bells hanging on the cliffs, enabling people to pursue blessings in a traditional way.
| | |
| --- | --- |
| Entrance Archway of Mianshan Mountain | Qixian Valley |
Daluo Taoist Temple
Daluo Taoist Temple hangs on the Lion Mountain with a height of 361 feet (110 meters). In Taoism, the heaven contains 36 levels. Of these, the highest level is called Daluo. Therefore, Daluo Temple means the highest Asgard. The total area of the complex is 36,000 square yards (30,100 square meters) while the main construction covers an area of 12,000 square yards (10,000 square meters). Known as the Greatest Taoist Temple in the world, Daluo Taoist Temple has many painted sculptures made in the Tang, Song, Yuan, Ming and
Qing
Dynasties. There is a natural cave on the Lion Mountain named White Cloud Cave, because clouds come out from the cave during the summer. White Cloud Nunnery is next to the cave with stone inscriptions of Diamond Sutra, which dates from the Tang Dynasty (618 – 907).
Qixian Valley
Qixian Valley is a winding gorge with one-line sky. The narrow passages, jagged rocks and streams create a mysterious and secluded environment. Visitors need to climb more than ten ladders to go through the valley. The ladders are made of wooden boards. One end of each is embedded in the cliff face while the other is unsupported and appears to hang in the sky. As there is no handrail, visitors need to hold onto the rocks to pass the narrow valley. There are many unique plants growing on the vertical precipices, attracting numerous butterflies.
| | |
| --- | --- |
| Steep Mianshan Mountain | Water Wave Valley |
Honeycomb Spring
Honeycomb Spring hangs on the cliffs with many stalactites. The water drops tinkle down into the pool, which sounds like a melody played by strings. Many poets came to this place, leaving numerous poems praising the Honeycomb Spring, and giving the spring a strong ambience of literature.
Qingming Cold Food (Hanshi) Culture Hall
In olden times, the Cold Food Festival was held annually to commemorate Jie Zitui on the day he died. The use of fires was forbidden, so people only ate cold food. The day after the Cold Food Festival was Qingming Festival. Nowadays, these two festivals are combined as one event. Using high-tech methods like touchable screens and electronic interactive activities to reproduce the real scene, Qingming Cold Food Culture Hall demonstrates the historical development and folk customs of the two festivals, such as tomb-sweeping, sacrificing, spring outing, and sticking willow branches.
Transportation
The mountain is 23 miles away from
Pingyao County
, and 97 miles from
Taiyuan
. With the opening up of
Beijing-Pingyao
and
Pingyao - Xi'an
High Speed Railways, it is very convenient to get to the scenic area from
Beijing
and
Xi'an
.
1. From Pingyao or Taiyuan:
Take trains in
Pingyao Railway Station
or
Taiyuan Railway Station
to Jiexiu Railway Station. Get out of the station and take Tourism Bus to the scenic area.
Take coaches in Pingyao Coach Station, or Taiyuan Jiannan Bus Station to Jiexiu. Then take Tourism Bus to the scenic area.
2. From Beijing or Xi'an:
Take high-speed trains in
Beijing West Railway Station
or
Xi'an North Railway Station
to Jiexiu East Railway Station. Get out of the station and take the Special Line to Jiexiu Bus Station, and then take Tourism Bus to the mountain.
Admission Fee
Entrance Fee
April 1 to October 31: CNY 110
For adults and children over 3.9 feet (1.2 meters).
November 1 to March 31: CNY 90
Free for children under 3.9 feet (1.2 meters).
Sightseeing Bus
(available from April to October)
CNY 50 for adults and children over 3.9 feet (1.2 meters).
Free for children under 3.9 feet (1.2 meters).
Cable Car
Dragon Backbone Ridge
Upward
CNY 35
Downward
CNY 25
Lord Jie Ridge
Upward
CNY 45
Downward
CNY 35
Elevator
Daluo Taoist Temple
Upward or Downward
CNY 5
Heavenly Bridge
Upward or Downward
CNY 5
Qixian Valley
Upward or Downward
CNY 15
Zhengguo Temple
Upward or Downward
CNY 15
Opening Hours:
8:00 - 19:00
- Last modified on Apr. 29, 2021 -
Questions & Answers on Mianshan Mountain
Asked by Suriati from INDONESIAN | Jan. 01, 2020 05:55

Reply
What is the fastest way from Shanghai to Mian Shan ?
We're group of 4
Answers (2)
Answered by Tam from SINGAPORE | Jan. 02, 2020 18:17

0

0

Reply
Well, maybe you can take airplane to Yuncheng Guangong Airport, then take taxi to Yuncheng North Railway Station, and take high speed train to Jiexiu Railway Station. Then you can take direct bus near the train station to Mianshan.
Answered by TD | Apr. 29, 2021 09:38

0

0

Reply
Plane to Taiyuan and High Speed to lingshidong
Asked by Mkini from MALAYSIA | Jun. 13, 2019 06:04

Reply
Jinzhong Mianshan Mountain Entrance fee validity period
May I know how many days is the entrance ticket to mianshan valid for ? If I want to visit most of the sites over more than one day, do I have to buy a new entrance ticket for each day ? Thanks
Answers (1)
Answered by Harry from UNITED KINGDOM | Jun. 13, 2019 20:59

0

0

Reply
Generally, it is valid on the day of issue only. However, if you stay in hotels in the scenic area and don't get out of the exit of the mountain, you can stay several days as you like.
Asked by Uri Feldman from ISRAEL | Apr. 20, 2019 05:19

Reply
Are there hotels on the mountain? I want to be two days in Mianshan.
Answers (3)
Answered by Alva from UNITED KINGDOM | Apr. 23, 2019 23:41

0

0

Reply
Yes, as I know, there are several hotels inside the mountain area. Don't worry.
Answered by Uri Feldman from ISRAEL | Apr. 24, 2019 02:41

0

0

Reply
Can you name them for me?
I want to reserve a room in advance

Thanks much
Uri
Answered by Alva | Apr. 25, 2019 22:44

0

0

Reply
I know there is one named Yunfeng Shuyuan (云锋墅苑).
Asked by Pavel from RUSSIA | Nov. 26, 2018 22:41

Reply
Is it possible to visit Mianshan on 5th of February, 2019 (Chineese New Year)/ Does it open?
Answers (1)
Answered by Yates from UNITED KINGDOM | Nov. 27, 2018 18:50

0

0

Reply
In general, you can visit during Chinese New Year. But if it snows, the mountain would be closed.