Shuozhou Travel Guide
Shuozhou Facts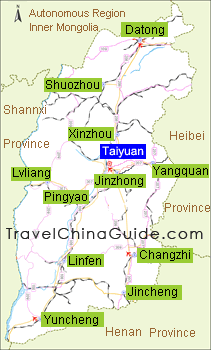 Chinese Name: 朔州 (shuò zhōu)
Population: 1,781,200
Area: 10,639 square kilometers (4,093 square miles)
Location: in the north of Shanxi Province, north China
Administrative Division: 2 districts (Shuocheng, Pinglu); 4 counties (Shanyin, Yingxian, Youyu); 1 county-level city (Huairen)
Area Code: 0349
Zip Code: 036000
GDP (2018): CNY 106.56 billion (USD 16.10 billion)
Famous for China's Oldest Wooden Pagoda
Located in northern Shanxi Province, Shuozhou neighbors Datong to the north and is bordered on the northwest by Inner Mongolia. Shuozhou is a new type of industrial base in China, with coal reserves accounting for 1/6 of Shanxi Province. While developing industry, Shuozhou made tremendous efforts in the construction of shelterbelts and sand control because it is an important ecological barrier for Beijing, Tianjin and Hebei. With the increasing greening rate of the city, Shuozhou's ecological environment has been greatly improved, and it has become a summer resort.

Shuozhou also features many historical scenic spots including ancient pagodas, temples and Shahukou Pass. The most famous is the Yingxian Wooden Pagoda which is the tallest existing all-wood high-rise tower building. With a history of nearly a thousand years, it is also the oldest wooden pagoda in China. In addition, the Shentou Spring with clear water and luxuriant flowers and trees not only provides beautiful scenery for the locals and tourists, but also relieves the summer heat.
Shuozhou Attractions - Things to Do

Yingxian Wooden Pagoda: It was constructed in the year of 1056 located in the Fogong Temple northwest of Yingxian County. As the oldest and highest extant wooden pagoda in China, it is a rare treasure in Chinese ancient architecture. The exquisite structure with fine subtle Buddha statues sacrificed inside brings great value on the research of the pagoda in terms of religion and architecture.

Chongfu Temple: Commonly known as the Damiao Temple, it is seated at East Jie in the Shuocheng District. It was first built in the Tang Dynasty (618-907), being the most intact and largest ancient building complex in Datong and Shuozhou Region.



Other Scenic Spots: Qingliang Mountain, Yanmenguan Pass, Shahukou
How to Get to Shuozhou
Shuozhou is about two hour's ride from Datong. Visitors can have the aid of Datong Airport in Zaobei Town of Datong County. The most convenient way to the Wooden Pagoda is taking bus from Datong City which is about 80 kilometers (50 miles) from Yingxian County. Shuozhou's passenger transport bus station is opposite to the railway station in southeast of the city proper is the traffic hub of the Shuozhou, operating many interprovincial and intercity bus lines.
Weather
-
Bearing a typical continental monsoon climate, the city has an annual average temperature of about 6.5℃ (43.7℉). The winter of Shuozhou weather is very cold, and summer is comparatively cooler. Spring and summer are best time for sightseeing.
Shuozhou Travel Tips

History: As early as twenty-eight thousand years ago, human settlers had moved in this area. During the Warring States Period (476BC-221BC), Shuozhou was a part of the Zhao Kingdom. After the Qin Dynasty (221BC-206BC) unified China, the central government began to establish counties and prefectures to administrate this area. Shuozhou was authorized as a municipal city in 1989.



Physical Features: Basically, Shuozhou belongs to the Loess Plateau. Mountainous and hilly areas occupy over sixty percent of the city's entire territory. No less than one hundred and forty mountain peaks are more than 1,600 meters (5,249 feet) above the sea level. Rivers runs through almost every district of the city. However, most of these rivers are seasonal belonging to the drainage area of the Yellow River and the Haihe River.

Special Local Products:
Food: rainbow trout, buckwheat, oatmeal, sea buckthorn juice
Handicraft: flour sculpture, black jade dark porcelain
- Last modified on Aug. 13, 2020 -
Questions & Answers on Shuozhou Travel
Asked by ANTON_RUS98 | Apr. 15, 2016 09:54

Reply
How I can be reached by bus from Yingxian Railway Station to Wooden Pagoda and then to Hunyuan?
Regards
Answers (1)
Answered by Felicia from DENMARK | Apr. 16, 2016 01:09

0

0

Reply
Well, I cannot find the public bus between these two places. For your convenience, you are suggested to hire a private car to the wooden pagoda directly. And let the driver wait you outside. After touring around, you can take the same car to Hunyuan. :)
Asked by Frank A. Lojewski from CANADA | Sep. 04, 2013 21:14

Reply
I want to take a bus from Shuozhou to to Wutaishan on the 30th of September.
That close to National Day, would that pose a problem? How long would it take?
Answers (1)
Answered by Hillary from UK | Sep. 07, 2013 04:17

0

2

Reply
Don't worry! It will be fine to take the bus. People start crazy trip from Oct. and most of them choose to set off on Sep. 30 night.