Xinzhou Travel Guide
Xinzhou Facts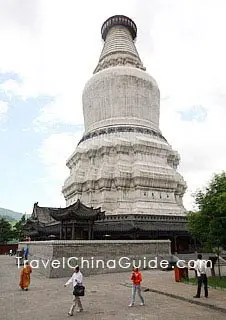 White Dagoba, Mt.Wutai
Chinese Name: 忻州 (xīn zhōu)
Population: 3,172,900
Area: 25,180 square kilometers (9,722 square miles)
Location: in the north-central of Shanxi Province, north China
Administrative Division: 1 district (Xinfu); 12 counties (Dingxiang, Wutai, Daixian, Fanzhi, Ningwu, Jingyue, Shenchi, Wuzhai, Kelan, Hequ, Baode, Pianguan); 1 county-level city (Yuanping)
Area Code: 0350
Zip Code: 034000
GDP (2019): CNY 100.16 billion (USD 14.52 billion)
Famous for Buddhist Holy Mountain - Mt. Wutai
Xinzhou City lies in north-central Shanxi Province, neighbors Datong to the north and Taiyuan to the south. In the west, it is separated from Shaanxi Province and Inner Mongolia by the Yellow River, and it is separated from Hebei Province by Taihang Mountains to the east. Like many cities in Shanxi, Xinzhou is rich in coal, iron ore, bauxite and gold resources. It is also covered by lush mountains, springs, caves and numerous ancient sites such as temples and passes. Mt. Wutai, one of the four Chinese Buddhist holy mountains, is a must-see place where visitors can see many temples and enjoy the sunset and cloud sea. The Nanchan Temple and Foguang Temple are very precious Tang Dynasty (618 - 907) buildings which preserve many exquisite paintings and murals.
Xinzhou Attractions - Things to Do

Mt. Wutai
Located in northeast Wutai County, can be considered the top natural scenery in Shanxi. It is also a famous sacred Buddhist mountain in China characterized by a grand Buddhist temple complex, beautiful mountain scenery and folk customs. The mountain is made up of a cluster of five peaks with the north peak being the highest, 3,058 meters (10,033 feet) above sea level, ranking at the head of the four famous Buddhist mountains in China. There were more than 360 temples in Buddhism's prime. Among the extant temples, the oldest was constructed in the Eastern Han Dynasty (25-220). Wanghai Peak in the east, Guayue Peak in the West, Jinxiu Peak in the south, Yedou Peak in the north and Cuiyan Peak in the center are galaxies of Mt. Wutai.

Other Scenic Spots: Guancen Mountain
| | |
| --- | --- |
| Yuanzhao Temple, Mt.Wutai | Shuxiang Temple, Mt.Wutai |
How to Get to Xinzhou
Transportation in the area is convenient. Xinzhou Wutaishan Airport operates flights to/from more than 20 doemstic cities, including Changsha, Chongqing,Guangzhou, Hangzhou, Kunming, Shanghai, Xiamen... airport shuttle buses travel between the airport and downtown & Mount Wutai.

Taiyuan is only 75 kilometers (47 miles) from the city and can be reached in thirty minutes. With the construction of an expressway network around this area, only two to four hours are needed from Xinzhou to Beijing, Tianjin, Tangshan and many other cities in Hebei Province.
Visitors can take a bus from Taiyuan Bus Station and Taiyuan Railway Station directly to Mt. Wutai, a trip of three hours. Xinzhou city proper is about two hours' drive to the mountain. During the sixth to the seventh lunar month, high season to travel to Mt. Wutai, towns and counties around the mountain will open tourist bus lines.

Xinzhou Bus Station: 5, Wutaishan Nan Lu, Xinfu District
Xinzhou Passenger Transport station: 1, Yingbin Jie, Qiyi Bei Lu, Xinfu District



See more Xinzhou to Beijing Train
| | |
| --- | --- |
| Xiantong Temple, Mt.Wutai | Bronze Hall, Xiantong Temple, Mt.Wutai |
Weather
-
Enjoying a temperate continental monsoon climate, the region has an annual average temperature of 4.3-9.2℃ (39.7-48.6℉). Xinzhou weather is favorable, warmer in winter and cooler in summer. Summer and autumn are the best seasons to admire the beautiful natural sceneries here under bright sky.
Xinzhou Travel Tips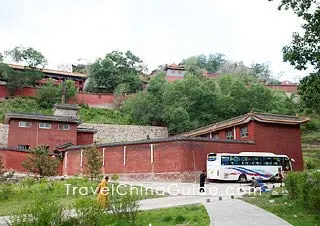 Shancai Cave, Mt.Wutai

History: Xiurong was the ancient name for Xinzhou. Before it was brought into the shires that the Qin Dynasty (221BC-206BC) established in this region, it successively belonged to the Jin and Zhao kingdoms. It gained the present name in the early Western Han Dynasty (206BC-24AD). Since the Tang and Song dynasties, it had become a town of great military importance in northern Shanxi.

Physical Features: Xinzhou is a part of the Loess Plateau with a mountainous region occupying over fifty percent of the city's territory. The interior of the city is rugged and uneven. The terrain is higher in the northeast from the Taihang Mountains; Mt. Wutain is situated in eastern Xinzhou.

Special Local Products: mushrooms, Codonopsis Root (Dang Shen), Mt. Wutai mineral water, apricots, pears and Daixian County yellow wine, sea buckthorn fruit
- Last modified on Apr. 08, 2021 -
Questions & Answers on Xinzhou Travel
Asked by AtthAtth from THAILAND | Jan. 23, 2020 23:25

Reply
Suggest please on one day trip plan in Xinzhou
I will be staying in Xinzhou, and am planning for 1 day trip.
Can Ice Cave, Hanging Coffin, Hanging Village, and Cliff plank road all fit in 1 whole day?
Thank you in advance for advise.
Answers (1)
Answered by Stanley from AUSTRALIA | Feb. 01, 2020 19:33

0

0

Reply
Well, generally speaking, the time is a little bit tight. You are suggested to tour around these places in two days.
Asked by GAPALINA from RU | Aug. 31, 2016 15:10

Reply
I'm going to Ningwu from Piangun on the 22nd of October by bus.
Could you advise me on the best way to get to Ningwu on this day? Do you think I will have enough time to visit both Luyashan and Wannian caves? Or shall I chose one of them, which of the caves do you recommend? Do you you know the prices for visiting the caved? Just a couple of other questions if you don't mind: what's the price for the taxi includin the waiting time? Are there any buses from Ningwu to Taiyuan early in the morning? I know there is a train, but it departs quite late - I have to be in Qikou by evening.
Thank you very much in advance!
Answers (2)
Answered by Lee from GERMANY | Sep. 01, 2016 22:51

1

0

Reply
As I know, you can take a direct bus to Ningwu from Pianguan. The bus departs at 13:30, and the fare is about CNY 33. If by taxi, the fare may be around CNY 300.

Well, Luyashan is the name of a mountain, and Wannian Cave is an ice cave. To visit Luyashan, you need to spend one or two days. To see the cave, you may spare half a day. If you have enough time, you can cover both of them.

The combo ticket of Luyashan and Malun Grassland is CNY 80; and the ticket of the cave is CNY 96.

Yes, there are several buses to Taiyuan from Ningwu. But I have no idea of the exact schedule. You may ask the staff at the station. Good luck!
Answered by GAPALINA from RU | Sep. 02, 2016 00:03

0

0

Reply
Thanks, Lee!
Asked by Marry from INDONESIA | May. 19, 2016 02:25

Reply
Ningwu (Xinzhou, Shanxi Province) in one day
Hi,
Can I visit these sites (Wannian Ice Cave, Malun Grassland, Hanging Coffin and Hanging Village) in one day?
I'll be staying at night in Ningwu and thinking to leave Ningwu at midnight on next day.

Any recommendation for clean hotel?

Thank you in advanced for your help.
Answers (2)
Answered by Lily from AUSTRALIA | May. 20, 2016 02:11

1

0

Reply
You can arrange your one-day trip this way: Wannian Ice Cave- Hanging Coffin- Hanging Village . But the Malun Grassland is in Pianguan County, about 93 miles (150km) from Ningwu. So, you are advised to skip it. For accommodation, you can consider Century Express Hotel at No. 0111, Fenghuang West Street. It costs about CNY 100 per night. You can dial at 86-0350-4788999 to book a room.
Answered by Marry from INDONESIA | May. 20, 2016 03:42

0

0

Reply
Well noted and thanks, Lily!

Asked by Marry from INDONESIA | May. 03, 2016 23:14

Reply
May I know if the Ice Cave in Ningwu County, Xinzhou are available all year around?
Or the ice only for winter time? When is the best time to visit?

Thank you in advance for the help
Answers (1)
Answered by Joseph from USA | May. 04, 2016 04:13

1

0

Reply
Yes, it is available all year round. The best time for a visit may be summer from June to August. Remember to bring some warm clothes to enter the cave. You will be amazed by the beautiful cave. Have fun! :)
Asked by Elisa from ITALY | Apr. 18, 2016 14:11

Reply
Hello, I would like to know how to reach the Ningwu ice cave.
Is better from Xinzhou or from Datong?
Thank you
Answers (1)
Answered by Henry | Apr. 18, 2016 20:52

0

0

Reply
Hi, it is better to go from XZ, which is much closer to the ice cave, and there are more buses on schedule. Just go to local Passenger Transport Center and get a ticket to Ningwu. Transfer to a bus to Dongzhai. Then hire a car or taxi to the ice cave.