Changzhi Travel Guide
Changzhi Facts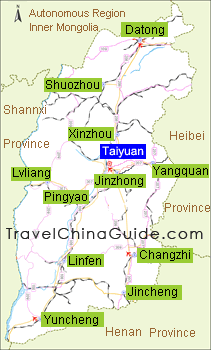 Chinese Name: 长治 (cháng zhì)
Population: 3,478,000
Area: 13,955 square kilometers (5,388 square miles)
Location: in the southeast of Shanxi Province, north China
Administrative Division: 4 districts (Luzhou, Shangdang, Tunliu, Lucheng); 8 counties (Xiangyuan, Pingshun, Licheng, Huguan, Zhangzi, Wuxiang, Qinxian, Qinyuan);
Area Code: 0355
Zip Code: 046000
GDP (2019): CNY 165.21 billion (USD 23.95 billion)
A Quaint City Highlighting Taihang Mountain Gorges
Changzhi City stands in the southeast of Shanxi Province, neighboring Hebei and Henan provinces to the east. Jincheng and Jinzhong are respectively linked by Changzhi in the south and north ends. Changzhi has the meaning of long-term peace and stability. Once you walk into the city, you can see the Lu' anfu City God Temple which has been guarding the city for more than 700 years. It features many ancient buildings built in the Yuan, Ming and Qing Dynasties (1368 - 1912) which worth taking a closer look. The Shangdang Gate on West Street stands toweringly where you can enjoy the panoramic view of Changzhi. This city also highlights Taihang Mountain Gorges which showcase beautiful scenery composed of forests, cliffs, rivers waterfalls, caves and temples.
Changzhi Attractions - Things to Do

Taihang Mountain Gorges: The scenic area lies in the southeast of Huguan County, boasting the most stunning natural beauty of Changzhi, including imposing peaks, arduous crags, elegant pools and waterfalls, secluded limestone caves and astonishingly shaped rocks, accompanied by moving, time-honored legends. Meanwhile, this is an excellent tourist destination containing profound, accumulated cultural content. For instance, the Zhenze Palace built in the Tang Dynasty (618-907) is a well preserved complex of Taoist buildings with its historical and artistic value is widely acknowledged.


Shangdang Gate: Shangdang Gate is in the southeast of city proper, being the office gate of the ancient Shangdang Shire. The present gate tower was rebuilt in the Ming Dynasty. In the west and east sides of the gate stand the bell tower and the drum tower. Nowadays, it is seen as a representative building of the city.

Other Scenic Spots: Faxing Temple, Xiantang Mountain, Lingkong Mountain and Huangya Cave
How to Get to Changzhi
1. Changzhi Wangchun Airport is 7 kilometers (3 miles) north of downtown. Routes to Beijing, Shanghai, Guangzhou and Taiyuan have been opened. Taiyuan can be reached in 30 minutes.

2. Changzhi Passenger Transport Center is situated in the Fuhou Xi Jie, from which buses to Taiyuan will depart every 15 to 30 minutes. From the Taiyuan Long-Distance Bus Station in the east of the Wuyi Square, Yingze Da Jie, visitors can find buses which go to Changzhi. The whole journey will take about three hours.
Weather
-
The city is situated in the interior of China and belongs to a warm temperate zone. Hence, it has a typical continental monsoon climate. Temperature differences are distinct in each of the four seasons. Winter is dry and summer has more rainfall. The annual average temperature of Changzhi weather is constantly between 5℃ (41℉) and 11℃ (52℉). Spring and autumn are suitable time for sightseeing.
Changzhi Travel Tips

History: Primitive agriculture in this area began extremely long ago. Its old name Shangdang was given during the Warring States Period (476BC-221BC). The name of Chanzhi was given in the Ming Dynasty (1368-1644) symbolizing long-term peace and stability.



Physical Features: Due to the Taihang Mountains in the east and the Taiyue Mountains in the west, the terrain of the city slopes downward from the eastern and northern parts to the western and southern parts. The central area is comparatively flatter and, is scattered among several basins.



Special Local Products: Shangdang preserved donkey meat, Codonopsis pilosula (panax ginseng)
- Last updated on Aug. 10, 2020 -
Questions & Answers on Changzhi Travel
Asked by EDWIN SWIFT from UNITED KINGDOM | Jan. 14, 2018 08:12

Reply
Which is the nearest Railway Station to Changzhi Airport? Can you get bus or taxi?
I understand there is a CZ Station and a North Station. Maybe travelling from Zhengzhou to arrive in one of these stations. Thank you.
Answers (1)
Answered by Alice from CANADA | Jan. 15, 2018 00:52

1

0

Reply
The nearest should be CZ Train Station and the North Train Station follows. U can take a taxi and the drivers prefer flat rate. You will reach the former by taking the train from Zhengzhou.
Asked by GAPALINA from RU | Jul. 09, 2016 13:18

Reply
Visiting Huguan Taihang Grand Canyon.
I have a reservation at the hotel in the Qiaoshang village (near Huguang Taihang Grand Canyon Eighteen Bends). Can you please advise me how to get there: from Jiexiu at Changzhi, and later in Huguan? Probably is not a direct route there? Through Yushe xian (榆社县)? I could not find the names of the bus stations in these cities on Chinese language (for taxi). Very little information. Which is the name of the bus Station in cities? Help me please. Thanks so much in advance.
Answers (4)
Answered by Barry from USA | Jul. 11, 2016 02:24

1

0

Reply
There is no direct route. You need to make a transfer at CZ and Huguan, not Yushe. Take a bus to CZ East Passenger Transport Station (长治客运东站) from Jiexiu Bus Station (介休汽车站). The buses depart at 7:40, 10:00, 14:00, and 16:00. Upon arrival, take bus line 9 to Jun Fen Qu Station, and change to bus line 101 to Huguan Bus Station (壶关汽车站). Afterwards, take a bus to the Grand Canyon. Have a nice trip!:)
Answered by GAPALINA from RU | Jul. 11, 2016 14:00

0

0

Reply
Thanks you for the valuable information. Excuse me, Is the Jun Fen Qu Station the last stop of the bus line 9? How many days needed to see all interesting attractions in Huguang Taihang Grand Canyon Eighteen Bends (for 1 or 2 days)?
Answered by Barry | Jul. 12, 2016 00:54

1

0

Reply
Jun Fen Qu Station is not the last stop. It is the 14th stop. You are suggested to spend two days there. Have fun! :)
Answered by GAPALINA from RU | Jul. 12, 2016 04:37

0

0

Reply
Ok, thank you.
Asked by Linheng Li from USA | Jun. 21, 2016 09:26

Reply
I will take a train from xian to Taiyuan, then plan to take a bus from taiyuan to changzhi.
I am wondering whether there is bus service from Taiyuan train station to CZ?
Answers (1)
Answered by Mia from ITALY | Jun. 22, 2016 03:34

0

1

Reply
I am sorry that there is no bus to the city from Taiyuan Railway Station. But you may take bus line 859 from Taiyuan Railway Station to New West Bus Station (Xin Xi Ke Zhan). Then, take a bus to CZ. The buses depart at 8:30, and 15:00. :)
Asked by Jeff from SOUTH AFRICA | Feb. 24, 2016 14:19

Reply
Hi. I am considering moving to Changzhi to take up a job offer.
Are there any English-speakers there who can inform about the place? I am from South Africa and looking to meet new people. I intend learning Mandarin asap but it would help me to settle to find fellow foreigners there.
Answers (5)
Answered by Jacobs from NEW ZEALAND | Feb. 25, 2016 02:06

0

0

Reply
Oh, I heard that there are many foreigners in that city. You can find some in cafe, halal & western food restaurants and bars. In addition, you can try to ask help for the Community/Forum of this website. Maybe you can find fellows in that city now. :)
Answered by Jeff from SOUTH AFRICA | Feb. 25, 2016 05:01

0

0

Reply
Hi Jacobs. Thanks for your reply. Have you been to the city before? Who have you heard from?
Answered by Jacobs from NEW ZEALAND | Feb. 25, 2016 20:41

0

0

Reply
I have never been to the city. I heard of this from one of my friends. He went there last September, and spent a wonderful time there! You can fit in well! Don't worry! :)
Answered by Jeff from SOUTH AFRICA | Feb. 26, 2016 00:51

0

0

Reply
Thanks for the reassurance.
Answered by LIBRARYCHICK | Jul. 23, 2017 20:24

2

0

Reply
I would say there are less than foreigners here. I worked there for a couple of years in the college. People are generally pretty friendly and helpful. There's a KFC, Pizza Hut and some nice bakeries there if you wanted Western style food. The foreigners there pretty much kept to themselves. It's a great experience and well worth it.