Jinzhong Travel Guide
Jinzhong Facts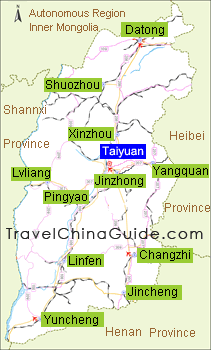 Chinese Name: 晋中 (jìn zhōng)
Population: 3,050,000
Area: 16,400 square kilometers (6,332 square miles)
Location: in the east-central of Shanxi Province, north China
Administrative Division: 1 district (Yuci); 9 counties (Yushe, Zuoquan, Heshun, Xiyang, Shouyang, Taigu, Qixian, Pingyao, Lingshi); 1 county-level city (Jiexiu)
Area Code: 0356
Zip Code: 048000
GDP (2019): CNY 146 billion (USD 21 billion)
Famous for Outstanding Shanxi Merchants and Ancient City of Pingyao
Jinzhong is situated in east-central Shanxi Province, neighboring Taihang Mountains to the east and Hebei Province to the north. It is separated from the capital city Taiyuan by the Fenhe River to the west. Merchants from Jinzhong once created remarkable economic achievements. From the beginning of the 17th century to the middle of the 19th century, Jinzhong merchants set up exchange shops all over China's major cities and even expanded to Japan, West Asia, Russia and Mongolia. In 1824, the first financial institution in Chinese history, Rishengchang Bank, was born here.

In the Ancient City of Pingyao, China's financial center in the late Qing Dynasty (1636 - 1912), tourists can feel the cultural atmosphere of Shanxi merchants and visit all kinds of time-honored shops and ancient buildings of the Ming and Qing Dynasties. If you want to know more about the stories of famous Shanxi merchants, you can go to visit several super luxurious Shanxi merchants' compounds.
Jinzhong Attractions - Things to Do

Ancient City of Pingyao: It is one of the most intact ancient cities in China with a history of more than 1,500 years. It is also known as the 'Turtle City' suggesting longevity and never declining. The 6 kilometers (3.7 miles) long brick City Wall has wall towers and turrets positioned along its length which would be effective in wartime and have a decorative function on the framework of the wall. The ancient city is made up of four major streets, eight lesser streets and seventy-two lanes. The South Street, also called the Ancient Ming and Qing Street, is the busiest commercial center of Pingyao. Along the street stand stores of Ming and Qing architectural styles.
For more attractions in Pingyao, please click Pingyao Attractions.
For more about tours to Pingyao, please click Pingyao Tours.



Qiao's Compound: Located in Qiaojiabao Village 12 kilometers (7.5 miles) northeast of Qixian County, the compound of the Qiao Family was first built during the regime of the Emperor Qianlong of the Qing Dynasty (1644-1911). Going through over 250 years of growth and decline, the Qiao's Compound, together with many other compounds of the big families in Shanxi, tells us vivid stories about Shanxi businessmen.



Cao's Compound: It is also known as Sanduo Hall and is located in the northern part of Beiguang Village, 5 kilometers (3 miles) southwest of Taigu County, and 60 kilometers (37 miles) from Taiyuan City, Shanxi Province. With a history stretching back more than 400 years, it is remarkable for its noble, simple and unpretentious construction.



Wang's Compound: It is located in Jingsheng Town, Lingshi County, about 35 kilometers (22 miles) from Pingyao Ancient City and about 140 kilometers (87 miles) from Taiyuan City, Shanxi Province. This scenic area is a luxurious residence built during 1762-1811 by the descendants of the Wang Family.



Other Scenic Spots: Mianshan Mountain, Qu's Compound, Shuangling Monastery, Zhangbi Ancient Fortress
How to Get to Jinzhong
Downtown Jinzhong is about 30 kilometers (19 miles) from Taiyuan and only about 15 kilometers (9 miles) from Taiyuan Wusu Airport. Visitors can find long distance bus station in Yutai Lu of Yuci District.
Weather
-
Enjoying a temperate continental monsoon climate, Jinzhong has dry and chilly winters, torrid and wet summers. The annual average temperature of Jinzhong weather falls to around 9 degrees centigrade (48.2 degree Fahrenheit). On the whole, its rainfall is mainly concentrated in summer. As to the spatial distribution, the rainfall in southeast Jinzhong is more than that in the northwest. Autumn is the most ideal period to pay a visit.
Jinzhong Travel Tips

History: The history of Jinzhong can be traced back to thirty thousand years ago. In the late years of the Shang Dynasty (16th - 11th century BC), cities and towns had taken shape in this area. During the Spring and Autumn Period (770BC-476BC), county level administrative units started to be established here. Since the Eastern Han Dynasty (25AD-220AD), shires and prefectures have appeared. Historically, this region was usually subordinate to Taiyuan, Fenzhou or other prefectures.



Physical Features: Jingzhong lies in the middle section of the Taihang Mountains, eastern Taiyuan (Jinzhong) Basin. The Taihang Mountains, Qinlu Plateau, Taiyue Mountains and Taiyuan Basin stand east-west constituting the basic setup of Jinzhong's terrain. Mountainous terrain occupies over eighty percent of the city's territory.

Special Local Products: walnut of Zuoquan County, Huping Jujube, dried beef of Pingyao County, oil cake
- Last updated on Aug. 10, 2020 -
Questions & Answers on Jinzhong Travel
Asked by Linda Lambert from USA | Mar. 07, 2018 22:19

Reply
Do you know anything about this supposedly rural area called Yun Zhu Lake of Jinzhong City?
How to get there? What to do there? Thanks, Linda
Answers (2)
Answered by Peter from CANADA | Mar. 08, 2018 01:40

1

0

Reply
It is a beautiful scenic area and cycling around the lake is the highlight. You can take a train from Taiyuan to Yushe County first in about 2.5 hours. Then take a taxi to Yun Zhu Lake with the fare of CNY80-100 for a round trip.
Answered by Linda Q Lambert from USA | Mar. 08, 2018 10:33

0

0

Reply
Thanks so much! Do you have a guidebook recommendation that would include info on the region AND Yun Zhu Lake?
Asked by Happy from USA | Jul. 31, 2017 15:51

Reply
I heard there is front and back Mt. for Mianshan

One day Front Mianshan and 2nd day back mianshan.
Is 2 days enough to see? or 1 day is enough?
Answers (1)
Answered by Hady from AUSTRALIA | Jul. 31, 2017 20:31

0

0

Reply
As I know, one day is not enough for a total enjoy, so you are suggested to spend two days there. And it is fine to stay in a hotel in the mountain for a night.
Asked by Jon from CANADA | Aug. 11, 2015 22:53

Reply
Easiest way to travel from Taiyuan (Shanxi) to Jinzhong/Yuci (Shanxi)?
I am wondering if anyone knows of any easiest way to travel between Taiyuan and JZ/Yuci? Is it worth it to take a train, or would taxis be able to drive me from one city to another, since they are quite close?
Answers (1)
Answered by Susanne from RUSSIA | Aug. 12, 2015 04:54

2

0

Reply
Yes, you are suggested to take Inter-City Bus.
From Taiyuan Railway Station, Bus no. 901 and 902 can take you to Yuci (Jinzhong) directly. The ticket fare is CNY 3 per person. Or you can take direct bus no. 903 at New Area of Provincial Colleges and Universities. It costs CNY 4 per person. The public bus takes around 70min.

In addition, you can surely take a taxi to cover the distance and the fare is CNY50-70.
Asked by Arpad from CANADA | Aug. 25, 2013 05:25

Reply
Car or bus service at Mianshan
I saw a map of that mountain and it seems that the scenic area is too big just walking to the different sites. Is there any bus service for the visitors or I need a car?
Answers (1)
Answered by Kate from USA | Aug. 26, 2013 02:28

0

1

Reply
There is bus service inside the scenic spot, so please do not worry. For the bus service, you need to pay the bus fare seperately.
Asked by Arpad from CANADA | Aug. 22, 2013 13:34

Reply
I want to take a 2-day trip from Shanxi Pingyao to Mianshan scenic area. Is 2 days enough to see all the sites there or I need more time?
Answers (1)
Answered by Lilian from AUSTRALIA | Aug. 22, 2013 22:16

0

1

Reply
Yeah, two days are sufficient for the two attractions. Don't worry!